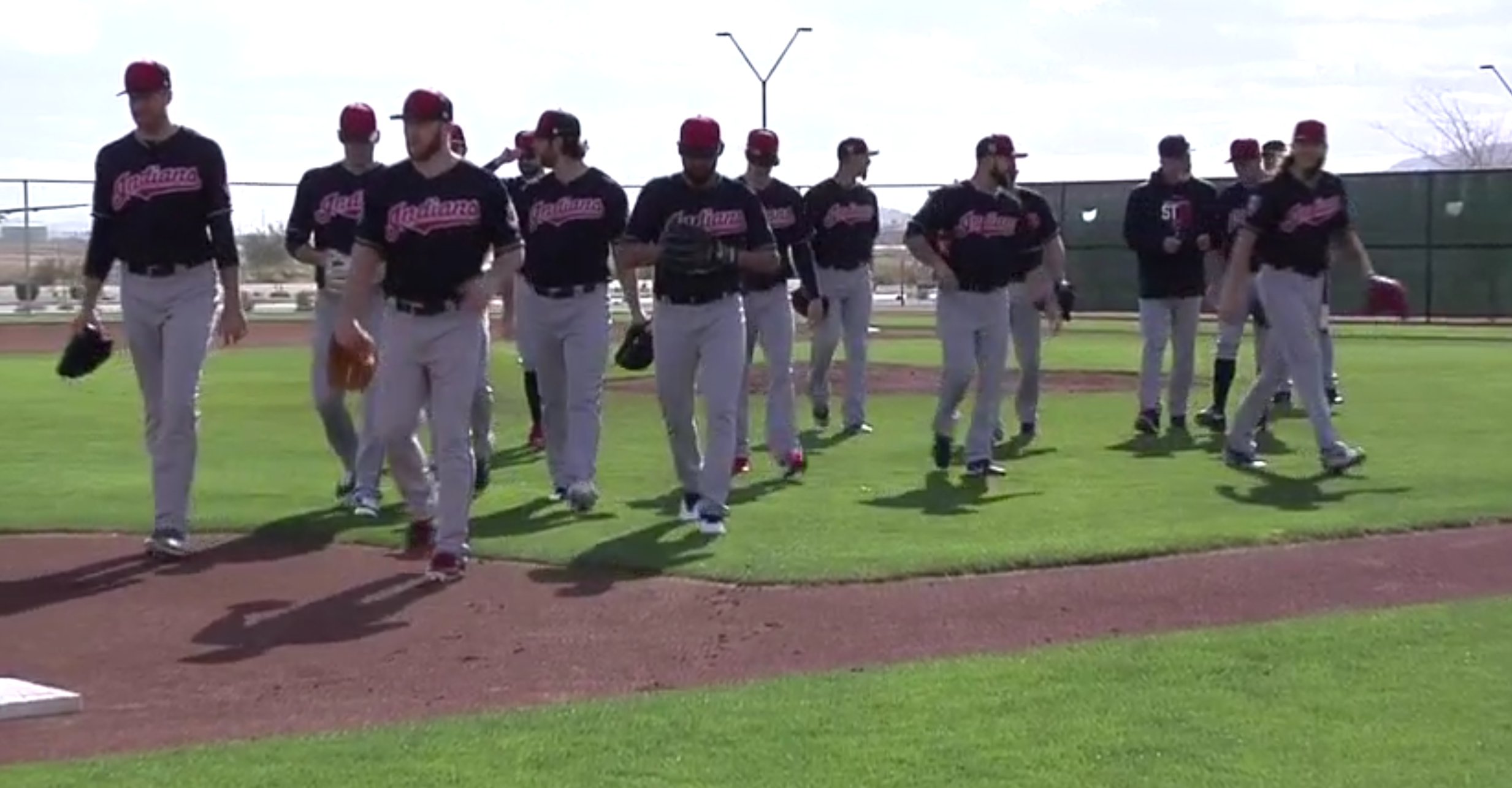 GOODYEAR, Ariz.– As the Indians wrapped up Cactus League play today, we wrap up our spring training roundups. Here's the final news from Goodyear as the team heads north to get ready for Opening Day on Thursday against the Seattle Mariners.
omw, @Mariners

✈️✈️✈️
☁️☁️☁️☁️☁️☁️☁️☁️
✈️ ✈️
✈️ ✈️
?? ??️#OpeningDay pic.twitter.com/59MCS01aPn

— Cleveland Indians (@Indians) March 28, 2018
** The Indians played the Arizona Diamondbacks to a 3-3 tie on Tuesday. Trevor Bauer got the start, giving up three hits, one run and one walk while recording seven strikeouts in five innings.  Mike Napoli came up with a solo homer in the sixth inning, while Mark Mathias recorded one in the seventh. The Indians' final spring record stands at 19-13-3. Read a recap of the game from Paul Hoynes at cleveland.com.
** In Tuesday's contest, Jose Ramirez cut his left middle finger reaching for a bat. He left the game in the second inning, but per the team, he is expected to play on Opening Day. Jose also chimed in:
I'm ok.

— Jose Ramirez (@MrLapara) March 27, 2018
** Josh Tomlin has experienced just about everything imaginable with the Indians, and as the longest-tenured player with the team, he has seen plenty as well. Tomlin sat down for a Q&A with Jordan Bastian, talking about the year ahead and whether or not he thinks the Indians' window may be closing:
Q: Does it feel like the window could be closing for this team?

JT: "I don't think you can ever say that when you have guys up the middle like you have with Frankie, Josey, Zim, Naquin. You have these young guys. 'Berto. And then you've got guys in the Minor Leagues that have shown promise. I think our front office has done a good job of acquiring players and having talent behind them to be able to come in and take their spot. As many young players as we have, and guys with controllable years, especially the young superstars that we have on this team, I don't think it's closing to that extent. You might not have a veteran presence, but those guys will be getting a little bit older, too, when we all leave. They'll be veterans in their own right. And you've got Carrasco and Kluber locked up. And you've got [years of control] with Clevinger. Bauer's young. Merritt. And you've got guys coming who can do the job. So, I would never say the window is ever closing for the group of guys you have in the clubhouse right now."
** Just days away from the official start to the 2018 season, Bastian also wrote about the team's quest for a World Series, considering there is now a "heightened sense of urgency" compared to the previous two seasons in that regard.
"We had a great year," Indians shortstop Francisco Lindor said. "But to me, it wasn't a successful season. I want to win. That's not a successful season because we didn't finish. We were healthy and we learned a lot from what we went through in the season, and we're blessed. But we didn't win. At the end of the day, it's a season you don't remember."
** Zack Meisel wrote a profile on Ramirez over at The Athletic, examining his background growing up in the Dominican Republic, as well as how the Silver Slugger stays hungry for another All Star season.
"Are you a celebrity back home now?" The Athletic asked the stocky All-Star.

The fans in the Dominican Republic can supply a better answer, he says. (The answer is yes, though.) When Ramírez returns to his native Bani, the kids in town follow him around, like a mother and her flock of ducklings.

"It's a great example for them," Ramírez said through an interpreter, "because I played on that exact same field, and those kids' coaches can say, 'Look, there's José Ramírez. He used to play here.' So, it's a great example for those little kids."
** The organization also made some roster moves today, including trading Rob Refsnyder to Tampa Bay for cash considerations. Most of the moves affect Triple-A Columbus, and our Eli Mooneyham wrote about them here.
** Finally, in case you missed it, the Indians announced their probable pitchers for the first series against Seattle. Here are the matchups:
March 29, 10:10 p.m. SportsTime Ohio/ESPN/WTAM/WMMS/IRN
RHP Corey Kluber vs. RHP Felix Hernandez
March 31, 4:10 p.m. SportsTime Ohio/WTAM/WMMS/IRN
RHP Carlos Carrasco vs. LHP James Paxton
April 1, 4:10 p.m. SportsTime Ohio/WTAM/IRN
RHP Trevor Bauer vs. RHP Mike Leake
We will be back on Thursday with our first takeaways of the 2018 season.

NEO Sports Insiders Newsletter
Sign up to receive our NEOSI newsletter, and keep up to date with all the latest Cleveland sports news.