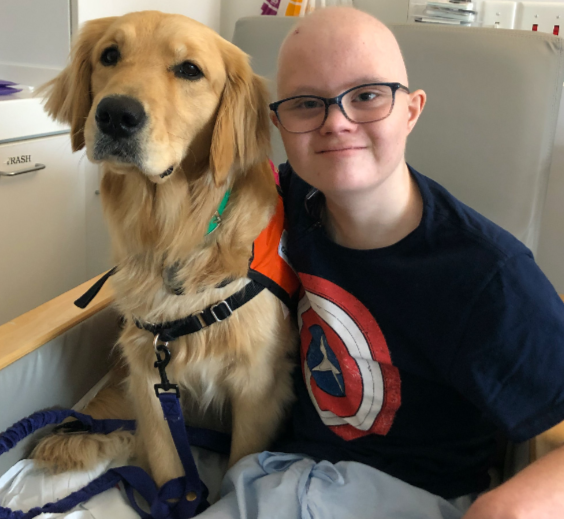 Conor Cable, the starting goalkeeper for the professional Cleveland Soccer Club, says as a soccer goalie, "I never had to run much." Now, he's training to run not for staying fit as an elite goalkeeper for Cleveland SC in the National Professional Soccer League. He's running for a young man's battle with leukemia and the strength of his family!
Team Mick
On October 1st, Conor will run in The 24 in 24 for Team Mick, a young man battling B-cell lymphoblastic leukemia. Conor is part of a team of over 30 people who will run one mile, every hour on the hour, for 24 consecutive hours, raising funds to help grant Mick's Big Wish. 
Mick was born with Down syndrome and a hole in his heart. After open heart surgery, Mick spent time growing up as a young boy playing many sports, especially taekwondo, where he earned a first degree black belt! In January 2022 he started experiencing leg pain and the doctors diagnosed the cancer. He suffered a stroke while getting his treatments and was admitted to the hospital where he is still today.
The 24 in 24
The 24 in 24 is a non-profit charity event that raises funds for A Special Wish Northeast Ohio Chapter. The event is held at the Lake County Captains stadium in Eastlake, where teams will run around the track for the entirety of the 24 hour event. Each team runs for a Northeast Ohio child battling a life-threatening illness.
Anna Dey, the executive director, was the brains behind this event.
She and her husband owned a fitness company. The running group that met at their store wanted to raise funds for a young child and their family battling a serious illness. "They (the running group) are our soldiers who started this." She continued, "We gave all the cash raised to the family in 2015."
The idea of running one mile every hour came to her at a strange time. "I couldn't sleep one night and I began to think about this. Has anyone tried this? What would this look like? How would the body respond? I went downstairs and began writing names of people who might be able to help me."
Running on Treadmills
"Our first event was on treadmills. Now, we have partnered with the Captains for the past six years to use their facilities and run around the field."
What started out as 15 challengers, the name given to those running for a child, has morphed into over 300. "The first 15 were my family and some friends." She later added, "We want to grow this event incrementally, but it fills up in a 48 hour window!"
Go Luke #the24in24 #proudaunt pic.twitter.com/5HC26mGzeE

— Mary Del Valle (@marydelvalle65) October 10, 2020
This year's run will benefit not just the 10 children and their teams. There are over 250 children and their families that will see help from the donations of family, friends and sponsors.
This is the eighth year of the event and with over 65 volunteers to make sure food is ready for the runners every hour, major corporate sponsors like Smoothie King who help with major funding for the run, and the other corporations that sponsor "teams" the event is truly a year-long endeavor!
Conor's fiancée, Amanda, was scheduled to do the event last year but was involved in an accident. Conor still volunteered but not by running. He realized then that "it's something I can give back. I've been fortunate." He realized last year that "I want to get out of my comfort zone and help…"
Conor's story
Conor has won many awards in his playing days in the US. He holds most of the records for William Woods University in men's soccer. He currently sits #1, 2 and 3 in season and career shutouts. "I'm in first with 27. The next closest is with 13." In 2021 he won the prestigious Renegade GK Goalkeeper of the Year award from NPSL as his Cleveland SC team made the national semifinals.
When asked about his soccer travels from an English Premier League academy in England to Cleveland, OH, Conor started with this important idea that resonates with him today. "I'm a realist."
Everything I've done has a huge story with it!
In high school in Spalding, England, Conor had visions of being a professional soccer player. "I wanted to be a pro. But I wanted to do this in England." He was a member of a professional club but they sent him on loan to another Premier League team. It was then he had an inkling that this dream would be hard and making it in England might be difficult.
Every English club has a benefit that Conor's family had not heard of…namely an agency that was on retainer with the club and could offer him advice and help on his future and his development "at half price," as Cable stated. So he and his family started there.
"My parents were vacationing in Mexico and met this couple from west St. Louis, who mentioned soccer over there. It sounded pretty good [to go overseas]," Conor stated. He put together a promotional video of himself while on loan with Cardiff City, at the time in the English Premier League, and the agency shared this with schools in the US. 
Soon after, Conor received a call. A university in St Louis was interested in him after viewing some of those videos Conor sent out. The coach was going to be in the UK and wanted to meet with Conor and his family.
William Woods University
 "The coach from William Woods [University] called me and asked me to meet him. I told him I can't! I'm in training in technically another country!" 
And what the coach said changed Conor's life. "[He] offered me a place on the team over the phone!" 
While contemplating the offer he called the club's agency to discuss this. But no one got back to him! William Woods really wanted Conor, so he decided to do something crazy: He accepted the invitation. Not bad for an 18 year old who never had been on a plane until that day he left England for Missouri.
"Before getting on the plane I wondered, 'What am I doing? This is crazy.'"
His parents also gave him advice. No coming home like many college students might do. "My mum and dad said you are in or you are out! That helped me make my mind over it."
Hello, St Louis. Anyone home?
So how was his first plane ride without mom and dad? "When I landed in St Louis, it was 100 degrees. The grass was long and since it's a college town five days a week…no one was there! And it was starting to rain." What started as a dream was now a reality…for better or worse! 
"I absolutely loved my time in college!" He credits that decision for the success he's had and developing him as a player and person.
A quick recap of Cleveland SC's year
When asked to give a short review of the past season for CSC, Conor made it clear: "This was a tough one." But you could say it also pushed him and his teammates outside their familiar club surroundings.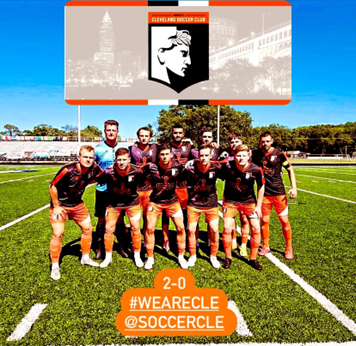 The year started with coach Lewis Dunne trying to get CSC back to the National Semifinals for NPSL. But he left shortly after the season began for IUPUI and Division 1 soccer. "Lewis always set high standards for the team and club."
New coach, Vlad Muresan, was brought into a situation where the prior coach had a specific way to run training sessions and planning games. As a coach with Lake Erie College and their soccer program, Conor knows it takes time for a new manager and players to get to jell and understand the style of play the new coach would like to implement. And the season was already a few weeks old. "We all had to learn about each other."
And yet there were a few things that sometimes just happen with a team in the NPSL where the players do NOT get paid. Specifically, injuries, age and life outside soccer that pays your bills are just a few that affected the club!
Conor and his teammates play for the love of the game
Again, the realist, Conor pointed out that "We are an older team[, and] we have other commitments where the college students on the roster don't." The men who play for CSC work full time jobs and sometimes cannot make a game due to those commitments. The injuries to key players were tough and made putting a team on the pitch sometimes difficult. They often get only a few days vacation each summer, and sometimes a team had a game on one of those days.
On top of that, if one player gets married, his closest friends are often his teammates, and the club would be down a few players for a game. "We had a continuous change in roster. I don't know if we had two games in a row with the same roster until Michigan!" He was referring to the game against Muskegon, Michigan where the quarterfinals were played.
"We all understand it," said Cable. "We all have things going on. And we don't take things personally when [players] need off for reasons." And through all the craziness of this past season he and his mates endured, Conor kept coming back to his growth as a person. "I want to get out of my comfort zone."
Why this organization?
"Amanda signed up for it last year. I couldn't because that was my busy time for Lake Erie College. She didn't get to run it due to the car accident. I was going to be in person floating around to help." 
"But I want to get out of my comfort zone. I want to help Mick and his family in the big picture. I want to get involved and do more things for all these folks. And the folks like Anna (Dey) who organize this amazing event are wonderful."
Fundraising for Conor
When you agree to be a challenger, you tell the organization what your goal for fundraising would be. "My goal was 750 bucks. Others are higher! Some have raised over $5,000. People are more creative than myself. They make tee shirts, have raffles and such. I'll get there soon enough."
Goalies in soccer usually don't run the distances other players on the pitch do. "It's gonna be tough, but I couldn't imagine anyone having to live in that condition! I have the opportunity to do it and it's a good feeling!"
When asked how he was preparing for this task, he said, "Kickboxing, playing with my cat and running in the 5K First Responders Race last weekend in Mentor."
So as he nears the event, Conor knows that this will be a test of his physical and mental abilities. But being the realist he is, he is quite aware this is bigger than soccer.
"Everyone can battle, and these kids do more so than any of us. It's a pleasure to be able to help them, even in just the smallest way.
How to donate!
If you wish to contribute to Conor Cable, his web site is here. Conor has promised that if you donate, he will ask you to include songs for him to listen to while running. Each hour will be dedicated to your gift and song(s). 
Information on the Event
What: The24in24
Where: Lake County Captains Classic Park
When: October 1, 2022
Time: First mile is noon Saturday, the 1st. Last mile is 11am Sunday, the 2nd.
What else: The last mile is open to the public and there you can cheer on the runners with the Wish Families and volunteers and sponsors.

NEO Sports Insiders Newsletter
Sign up to receive our NEOSI newsletter, and keep up to date with all the latest Cleveland sports news.