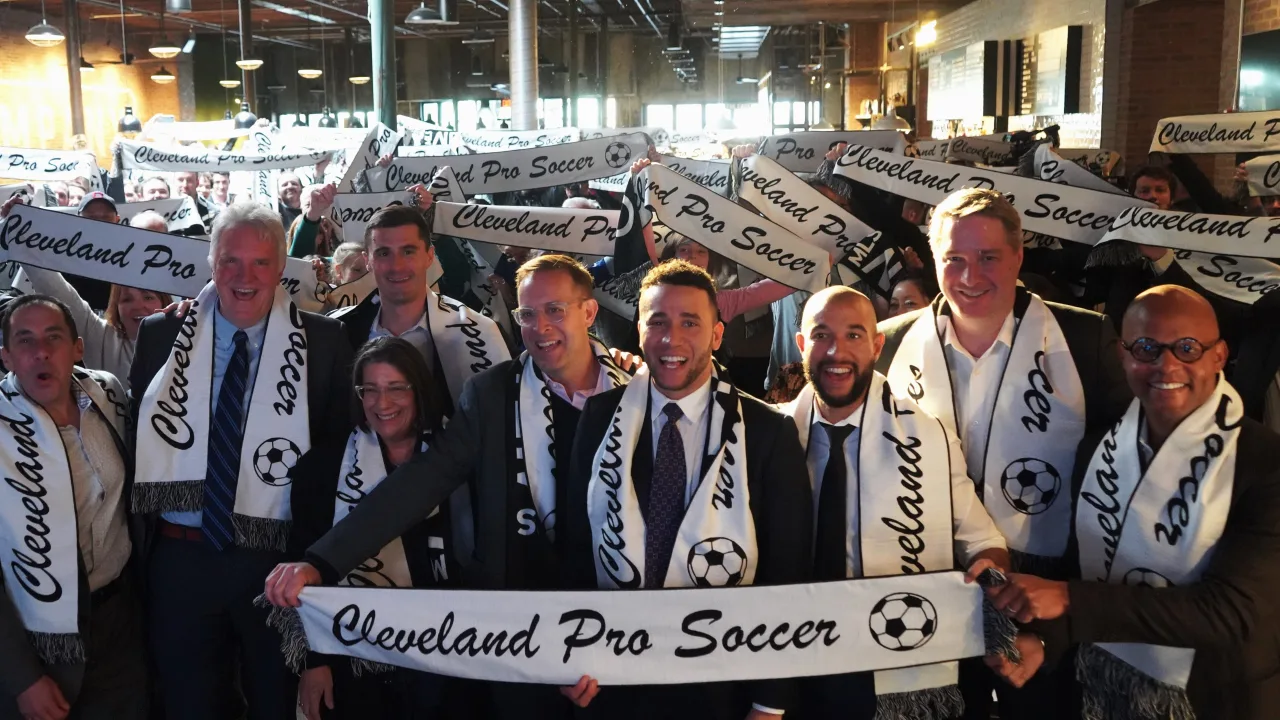 City officials Monday unveiled that they will be an independent team in the MLS Next Pro organization. Monday's announcement with city officials, fans, the group responsible for this venture, Cleveland Soccer Group, and representatives from MLS veered towards a pep rally. The club will begin play in 2025 in a soccer-only stadium planned somewhere in the community.
MLS Next Pro has arrived! pic.twitter.com/lv3fzVOleK

— Bradford Davy (@Bradford__James) November 21, 2022
Also, the Cleveland Soccer Group, CSG, headed by Michael Murphy and Nolen Gallagher, also mentioned that they wish to bring an NWSL team to the area. They have already submitted their bid.
This has the makings to shake up the soccer community on the North Coast. Cleveland SC and the Cleveland Crunch have been active in this community for quite some time now. This announcement surely will impact these clubs and the cities around town.
Cleveland Soccer Group
Co-Founder of the Cleveland Soccer Group, Michael Murphy, said this to Scene magazine reporters:
"We're super excited! It's a huge step to get MLS NEXT Pro here. Cleveland's going to have professional outdoor men's soccer. We're going to compete. We're going to put butts in seats. We have a brand in Cleveland that travels around the world. Fans are going to be excited."
Charles Altchek, President of the MLS Next Pro, shared his thoughts about Cleveland's venture.
"They have a big vision of what they want to achieve in Cleveland with professional soccer and our visions aligned with what MLS NEXT Pro is going to be now and in the future. It's not just about soccer. It's about everything that's happening  on and off the field and creating opportunities for all those who want to get into the game, from underrepresented groups and from around the world. What better way to bring everyone together than soccer?"
Nolen and Michael are also members of the US Soccer Federation Development Council. Their reasons for starting this project are listed on their website.
What's MLS Next and MLS Next Pro?
MLS Next
MLS Next is a youth soccer league basically run by Major League Soccer. There are some independent clubs that do NOT feed their players to an MLS club. In many ways, this is very similar to how MLB ran their minor leagues until just recently.
The league has U13, U14, U15, U16, U17 and U19 clubs. (The U stands for players under the age of 13, 14, etc.) Currently, the number of clubs sits at 133 with 590 teams competing.
MLS Next Pro
Lift it, @ColumbusCrew2! 🏆

Here's to the MLS NEXT Pro Cup champs. pic.twitter.com/Mn9bD4uDDy

— MLS NEXT Pro (@MLSNEXTPRO) October 8, 2022
The Columbus Crew 2, the Crew's MLS Next Pro club, won this year's inaugural championship. There are 21 teams currently in the league and with expansion like Cleveland, there will be over 30 teams in the next three years.
MLS Next Pro is the third tier in US soccer. The table below gives the breakdown by level.
| Division | League | Abbreviation | Teams | First Season |
| --- | --- | --- | --- | --- |
| I | Major League Soccer | MLS | 29 | 1996 |
| II | USL Championship | USLC | 24 | 2011 |
| III | USL League One | USL1 | 12 | 2019 |
| III | National Independent Soccer Association | NISA | 8 | 2019-20 |
| III | MLS Next Pro | MLSNP | 28 | 2022 |
Most MLS teams have a team in the Next Pro league. It allows for injured players to get work in and gives their young players a chance to develop following the main club's philosophy.
What's next for Cleveland's MLS Next Pro team?
Finding a place to play
The group will be looking over potential places to build a smaller sized stadium in the community. There will probably be a public component to the offsetting of the cost for building this stadium. Jumping into the fray now will help get the project moving quickly for the first games scheduled in 2025.
Coaches/Staff
This will take some time, but finding a staff for the product on the pitch will be important to the success of the venture.
Women's Team
CSG had stated that their intention is to share the facility with a NWSL team. They are currently waiting approval by the NWSL for this potential team.
Bottom line
All told, this has the makings of being a big boon to Cleveland. But a study in 2018 looking at new soccer stadiums being built in early 2010's shows that citizens of these communities just move their spending from one entertainment venture to the new one. Very little new business is driven. 
"If anything, these findings lend support to the contention that any increased shopping and dining out activity in the vicinity of a new sports facility is simply a replacement for similar activities that would have happened elsewhere in the city."
There is a short term increase in wages and construction while the stadium is being built but long term is not clear. Also, citizens of the cities and counties will most likely see an increase in taxes for assisting the club in the development of the area in and around the stadium.
The bottom line of this 2018 study reads:
While fans of these teams may enjoy boasting about the quality of their stadium, data show that the costs are likely to outweigh the benefits when it comes to the construction of new sports facilities.
Though the news Monday about the MLS Next Pro team coming out was met with raucous fans, it's too early to tell what the impact will be for the city. 

NEO Sports Insiders Newsletter
Sign up to receive our NEOSI newsletter, and keep up to date with all the latest Cleveland sports news.