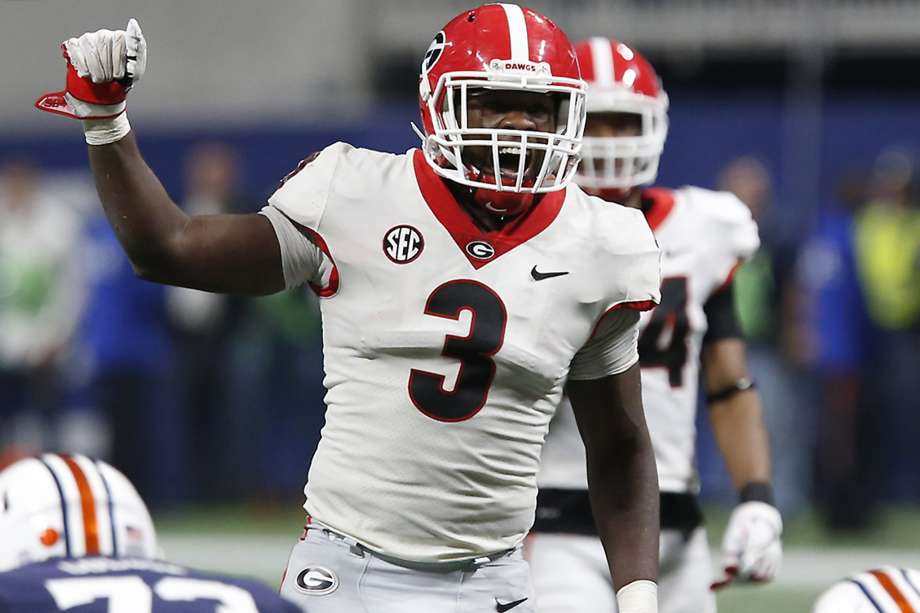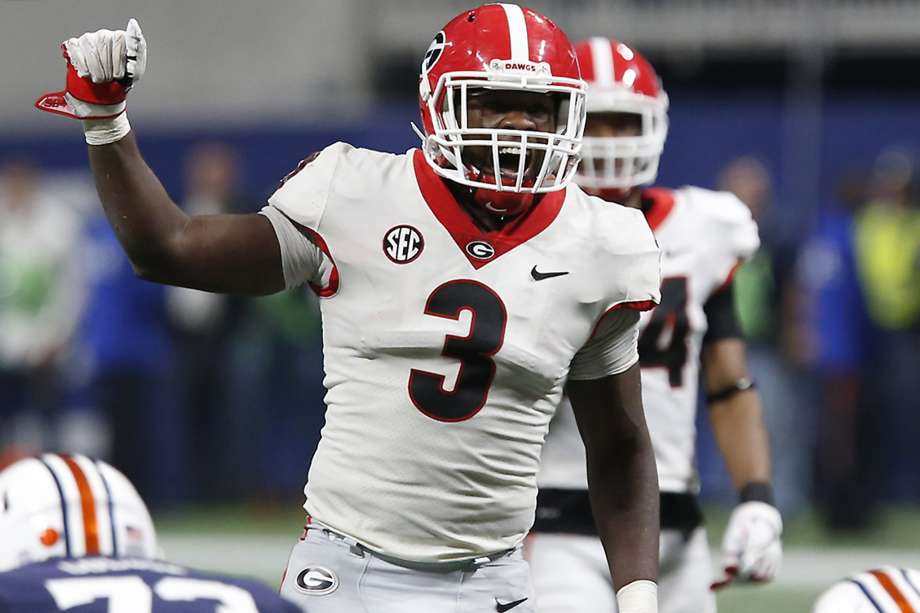 11.) Miami Dolphins- Roquan Smith LB Georgia
Miami is rebuilding the whole team. Adding a LB like Smith who can go end to end and cover is the top choice.
Previous: Tremaine Edmunds LB Virginia Tech
12.) *Trade Indianapolis Colts- Marcus Davenport DE UTSA
Indianapolis moved down again to keep getting shots at early picks that can start for them right away. The biggest need they have right now is a pass rusher. With only a few great pass rushers early and more picks to come they can take a chance on a riskier small school pass rusher in Davenport that can develop into a really good one.
Previous: Denzel Ward CB Ohio State *Trade Cleveland Browns
13.) Washington Redskins- Vita Vea NT Washington
Washington needs a run stuffer in the middle of that defense. Yea is a big boy that can completely plug up gaps and help a run defense that has been hurting for years.
Previous: Vita Vea NT Washington
14.) Green Bay Packers- Minkah Fitzpatrick S Alabama
Green Bay is praying they get one of the safeties, Ward, or pass rusher to fall to them. There is a chance Washington can pass on Fitzpatrick as he may slide and the Packers would gobble him up.
Previous: Marcus Davenport Edge UTSA
15.) Arizona Cardinals- Mike McGlinchey OT Notre Dame
Without having an heir to the QB in Arizona yet they better do something to make sure Sam Bradford can stay healthy. Arizona has been a place for rejuvenating QB careers with Kurt Warner and Carson Palmer so maybe Bradford can be next.
Previous: Lamar Jackson QB Louisville
16.) Baltimore Ravens- Lamar Jackson QB Louisville
Signing RGIII proves that the Ravens may be interested in a QB like Jackson's skill set. He is the same kind of unorthodox QB like RGIII that can be more of a running threat and the complete opposite of Flacco. Having that next QB in place may be worth the shot now.
Previous: James Daniels C Iowa
17.) Los Angeles Chargers- Da'Ron Payne DT Alabama
Los Angeles drafting a guy in the middle to eat up blocks and compliment the already elite pass rushers they have in place will improve the front seven. With Rivers at the helm, if the offense can stay healthy the Chargers have a good chance to make some serious noise in the AFC.
Previous: Da'Ron Payne DT Alabama
18.) *Trade Cleveland Browns- Connor Williams OT Texas
Seattle has to trade down from this pick. They do not pick until 120 so it becomes a matter of what team has the assets to trade up for something. New England and Cleveland would make sense but I think the Browns will be the more aggressive of the two to land their next LT.
Previous: Mike McGlinchey OT Notre Dame *Trade Cleveland Browns
19.) Dallas Cowboys- Calvin Ridley WR Alabama
Dez is gone so now my mock of Ridley to Dallas makes even more sense. They have their choice of WR so go with which one you feel is best. Most will probably say Ridley.
Previous: Calvin Ridley WR Alabama
20.) Detroit Lions- Derrius Guice RB LSU
Detroit can certainly look for an upgrade to their defense here but there is some depth in the next round along the defensive line. Meanwhile the Lions can beat out the run on RBs that will be starting shortly and get their pick of the litter.
Previous: Derrius Guice RB LSU
21.) Cincinnati Bengals- James Daniels C Iowa
Cincinnati messed up by going with the speedy John Ross in last year's draft who didn't have a single catch last season as the ninth overall pick. They can't make a similar mistake this year and the smartest thing to do is fix the offensive line. Daniels can play center or guard and is coming from a great system in Iowa.
Previous: Jaire Alexander CB Louisville
22.) *Trade Indianapolis Colts- Leighton Vander Esch LB Boise State
Indianapolis picks up another first rounder this year from Buffalo. With switching to a 4-3 defense they need the parts to fit it. They added a pass rusher with the first one but they need a MLB which can be hard to find as well. Vander Esch has a lot of potential to fill that role in fixing that defense.
Previous: Courtland Sutton WR SMU *Buffalo Bills


NEO Sports Insiders Newsletter
Sign up to receive our NEOSI newsletter, and keep up to date with all the latest Cleveland sports news.