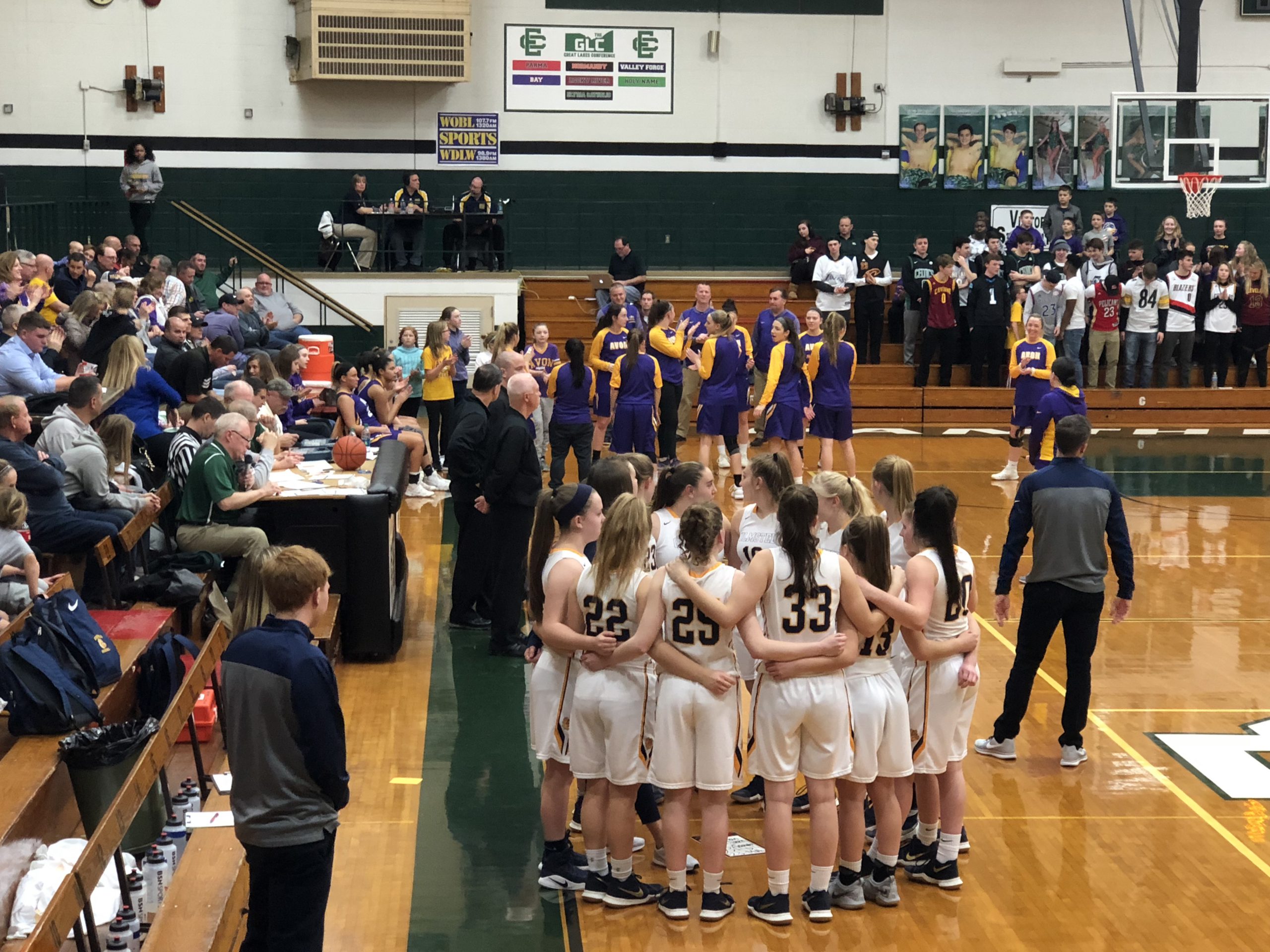 ELYRIA, OHIO– The No. 2 seeded Olmsted Falls Bulldogs defeated the No. 3 seeded Avon Lady Eagles, 54-34, in a game that seemed to be over almost immediately.  Olmsted Falls' defense played very well in the first quarter, only giving up seven points.  The Bulldogs shot 4-of-9 from beyond the arc in the first quarter to take a 16-7 lead into the second quarter.  Three of those 3-point shots were from Shannon Carr, who finished with 17 points and shot 5-of-9 from 3-point range.
While the first quarter was great for Olmsted Falls, it wasn't as impressive as the second quarter.  The Bulldogs held Avon to just three points in the quarter while scoring 12 of their own.  Clare Kelly found her rhythm in the quarter shooting 3-for-4 from deep.  Kelly finished with a game-high 22 points on 7-of-14 shooting, going 5-of-9 from deep.  Olmsted Falls took a 28-10 lead into the locker room at the end of the first half.
"Defensively I was really really proud of them today," said Olmsted Falls Coach Jordan Eaton.  "We really grind every day and preach working as hard as we possibly can defensively and they buy into that.  It's not easy to buy into that. If you look at our girls we have a lot of floor burns and bruises.  They embrace that commitment and they embrace the sacrifice.  That's how you can have a 10 point half and a couple of single digit quarters to start a district semifinal game against a good Avon team."
If there were any positives about the game for Avon, it would be the third quarter.  Avon outscored Olmsted Falls 14-11 in the quarter, led by senior Juliann Walker and sophomore Ashlee Torbert, who combined for nine points in the quarter.  Despite the impressive quarter, Olmsted Falls carried a 39-24 lead into the final quarter.
The Bulldogs didn't let Avon get back into the game outscoring the Lady Eagles 15-10 in the quarter.  Clare Kelly scored eight in the quarter and never let the Lady Eagles back into the game.
Olmsted Falls held Avon to 30 percent shooting from the floor and just 18 percent from three-point range.
"The one thing they've been doing a really good job of especially in the last month is paying attention to our scouting reports and our player personnel reports," Eaton said. "In practice when we try to simulate things they've done a really good job of staying locked in and knowing personnel.  We try to force all our kids to know the other team by name and not just by number so they really know who we're talking about at all times.  They've really bought into that and they trust us to make the right calls and sometimes that's hard for a high school basketball team to get on board with."

Olmsted Falls will play No. 1 seeded Strongsville for the district championship on Thursday with tip-off scheduled for 7 p.m.  It should be an instant classic.

NEO Sports Insiders Newsletter
Sign up to receive our NEOSI newsletter, and keep up to date with all the latest Cleveland sports news.