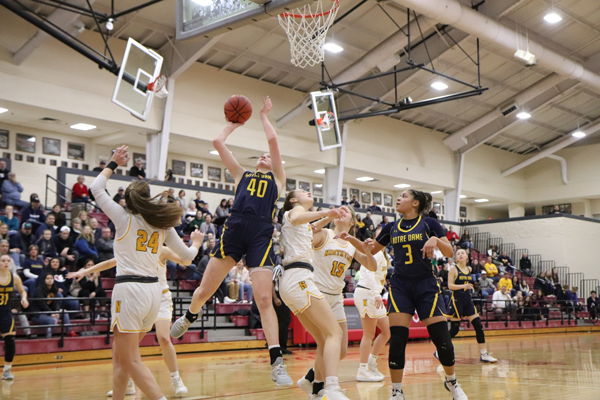 By Paul Ross
This season NEO Sports Insider looked to expand its coverage of the Ohio Girls Basketball Tournament. We hit the road and covered 4 games over two days.
We covered three DI District Finals (Medina, Toledo, and Millbury) and the DII District Final at Nordonia.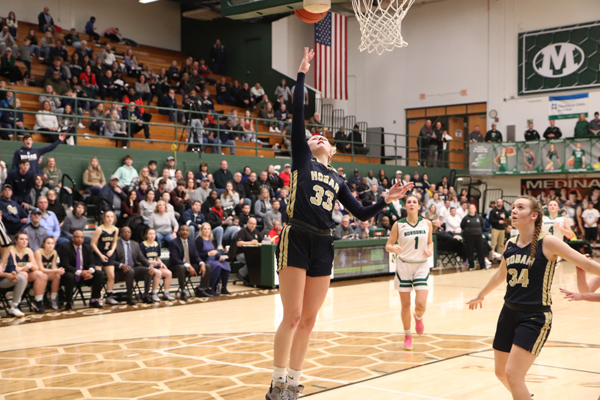 First up was the Medina DI District Final (2/28/2020) in the first quarter both teams found it hard to get on track by the low scoring quarter.
At the end of the 1st quarter Nordonia held a slim three point lead at 6-3. Behind a strong 2nd Quarter from Seniors Hannah Schill and Jackie Roberts (6 points each). Hoban went into half up by two at 16-14. In the 2nd half it was a back and forth match with great all around play from Nordonia Junior Madison Cluse and Senior Jackie Roberts.
It was an even third quarter with both teams scoring 16 points each.For Hoban (20-5) it came down to making free throws to hold on to their lead and to get the victory late. Going cold from beyond the arc was the difference for Nordonia (21-3).
Final Score
Hoban 46 – Nordonia 43
Leading Scorers:
Hoban
Jackie Roberts – 19
Hannah Schill – 11
Emma Rasmussen and TaNayja Gooden-Wesley – 5 apiece
Nordonia
Madison Cluse – 17
Lizze Imrie – 10
Ella Gorta – 8
In the first of three District Finals on Saturday (2/29/2020) we had the Toledo DI District Final. Toledo Notre Dame Academy (NDA) got off to a hot start behind Sophomore Grace VanSlooten. VanSlooten had 15 of the 22 points scored by NDA in the first half.
It was a even third quarter for NDA and Northview. But in the 4th quarter Northview (15-10) turned up its defensive pressure. The 4th quarter rally was led by Junior Kacee Baumhower who scored 8 of Northview's 11 points in the quarter. In the end NDA (20-3) did enough to escape with the hard fought victory.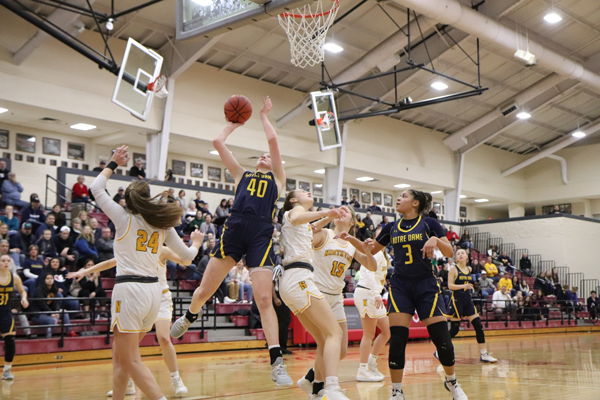 Final Score
NDA 37 – Northview 35
Leading Scorers:
NDA
Grace VanSlooten – 23
Ray Armstrong – 6
Oliva Sims – 4
Northview
Kacee Baumhower – 18
Madi Taylor – 7
Carly Maple – 5
In our second game of the day we had the Millbury DI District Final. This game was close throughout. In the first quarter Perrysburg ended the quarter with the one point advantage 10-9. Toledo Start had a strong quarter with Kayiona Butler going 4-4 from the Free Throw Line to give Start (15-9) the 22-20 lead. Perrysburg was able to outscore Start 6-4 in the 3rd quarter to tie the game up at 26 apiece.
It was more of the same in the 4th quarter with both teams battling it out to score 9 points each and the game tied at 35. For Perrysburg Junior Macie Stringfellow chipped in 5 points in the quarter and for Start Junior Sincere Nicholson proved 5 points as well.
In overtime it came down to the last shot as time was winding down, with a baseline drive from Stringfellow her shot was blocked by Start Senior Alasia Easley. Stringfellow collected the rebound and put it back up as time expired to give Perrysburg (19-6) the overtime victory.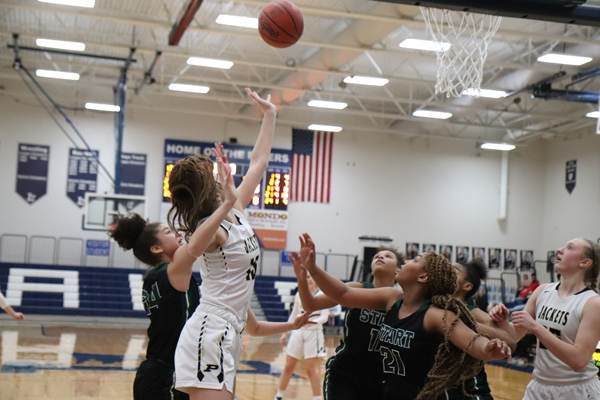 Final Score
Perrysburg 40 – Start 38 (OT)
Leading Scorers:
Perrysburg
Macie Stringfellow – 14
Kylie Griggs – 10
Gracie Mitchell – 8
Start
Alasia Easley – 10
Kayiona Butler – 9
Keyaira Burroughs – 8
In our final game of the day we had the Nordonia DII District Final. The atmosphere in the building was amazing for both teams. This set the stage for a match up between two of the top teams in DII in Northeast Ohio. It was Offense (Laurel) versus Defense (CVCA).
A strong defensive effort kept the game close in the 1st quarter. Laurel was able end the quarter with a three point lead at 13 – 10. In the 2nd quarter Laurel Junior Taylor Thierry got it going, providing 13 of Laurel's 20 points in the quarter.
Laurel (22-3) out scored CVCA 20 – 8 to take a 33 – 18 lead into Half Time. Taylor Thierry kept it up on the offensive and defensive ends in the 3rd quarter scoring 7 of Laurel's 11 points to give them a 44 – 24 lead. CVCA
rallied in the 4th quarter to out score Laurel 18 – 12 behind Freshman Gia Casalinova with 10 points in the quarter. Thanks to one of the Toughest Schedules in Northeast Ohio
Laurel was able to prevail against a scrappy CVCA team.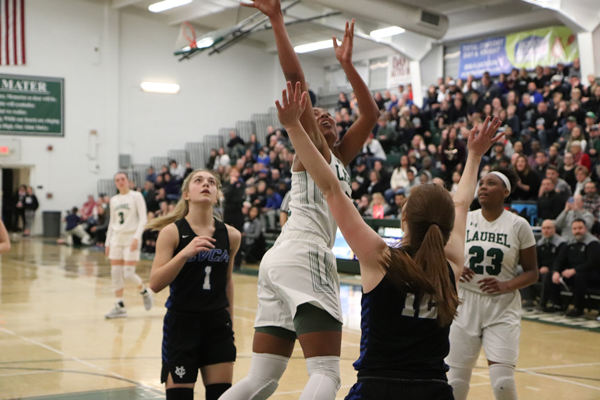 Final Score
Laurel 56 – CVCA 42
Leading Scorers:
Laurel
Taylor Thierry – 24
Mari Bickley – 11
Giuliana Marinozzi – 9
CVCA
Gia Casalinova – 23
Kylie Bettinger – 9
Nina Shaffer – 6

NEO Sports Insiders Newsletter
Sign up to receive our NEOSI newsletter, and keep up to date with all the latest Cleveland sports news.