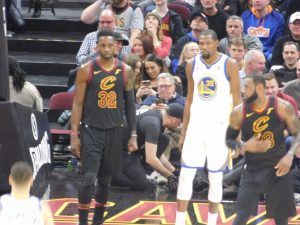 1. The fourth quarter
Coming into the last quarter, the Cavs were out-shooting the Warriors, going 37-of-71 from the field (52.1 percent) compared to 31-of-66 (47 percent).
During the final frame, however, the Cavs simply couldn't maintain their offense. They opened by going just 2-of-17 from the field, and shot just 6-of-23 total during the last 12 minutes. Overall in that quarter, the Cavs seemed to attack the paint less than they did in the first half, and were instead settling for outside and mid-range shots.
"The slow start to start the fourth," James said. "It seemed like the rim just got smaller and smaller."
Against the league's best defense, it was clear that the Cavs were moving less without the ball than they had for the first three quarters.
"I think we got a little stagnant," Thomas said. "It definitely got stagnant. We weren't getting good shots. … In that situation when we're not really scoring we got to execute a lot better. I think that's when it kind of opened up a little bit."