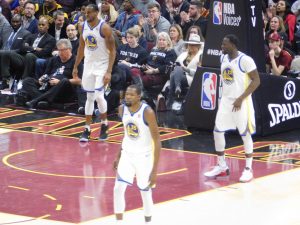 3. Almost… but not quite
Let's be 100 percent honest here: almost only counts in horseshoes, not basketball. The Cavs were almost there, and almost put together a good enough game on Monday night, but it still wasn't enough. As Warriors head coach Steve Kerr said before the game, nothing is decided in January. Even though that is true, the Cavs are light years from where they need to be to win an NBA Title.
Through three quarters, they showed glimpses. They played with pace in the first quarter and had a 37-35 lead. They carried that momentum into halftime, and led by seven, 64-57. The Cavs set a lot of screens and essentially relied on Golden State mismatches to get to the hoop. They did a decent job of limiting the Warriors in transition as well, only giving up seven fast break points in the first half.
But in the third quarter, the wheels began to come off slightly as the Warriors opened on a 5-0 run to cut Cleveland's lead to two. They continued to attack in transition and eventually wore the Cavs down. In the end, their pace was just better and more consistent.
"I thought the effort and intensity was there," Lue said. "But their speed was definitely a factor in this game. When we miss a shot or a 3 and they get it, they're off to the races. And also, the 50-50 balls. If it dribbles once or twice and we don't have it, they're going to come up with the basketball. So I thought their speed and their quickness gave us problems throughout the course of the game."
Lue: "I thought we did some really good things the first 3 quarters" pic.twitter.com/VC08PKkRCI

— Ashley Bastock (@AshleyBastock42) January 16, 2018
On Monday the Warriors proved they are still very much the team to beat for all of the reasons we already knew.
"You want to play well versus them every time," James said. "Because at the end of the day, it's the last three Finals appearances. You want to play well, you want to see where you are, because for the most part they've been playing well for a long time now. So you want to try to get better and better and see the things you need to work on going forward, things you need to get better at, things you can continue getting better at. It was a good game for us for 36 minutes, 40 minutes maybe, but we had some opportunities we just couldn't cash in."
LeBron says the Cavs had a good game for 36 minutes but couldn't capitalize down the stretch pic.twitter.com/iPzC6oJkeT

— Ashley Bastock (@AshleyBastock42) January 16, 2018