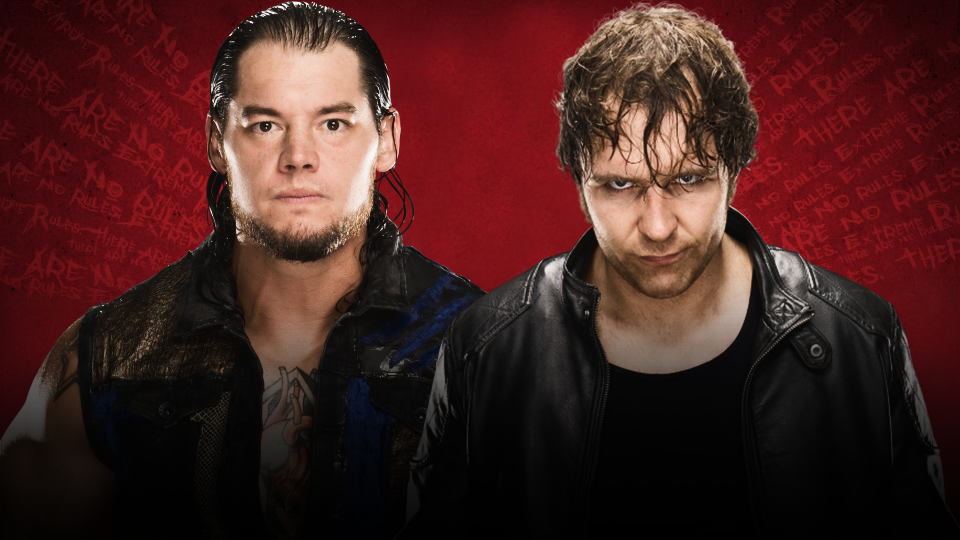 This year's WrestleMania card is filled with matches – lots of them. More than ever, it will be difficult to stand out among the rest when the smoke clears. I think I've found the match which given the right circumstance could do just that.
What's the match I have in mind, you ask? Is it Roman Reigns versus The Undertaker? What about Chris Jericho versus Kevin Owens? Maybe AJ Styles versus Shane McMahon? If you guessed any of those, you would be wrong. The match that I think could exceed expectations and steal the show is Dean Ambrose versus Baron Corbin!
The elements that give this match the potential to stand out are the unique characters, the booking of the feud, and the freshness of the feud.
I think it's fair to say that there are no characters in WWE like Dean Ambrose and Baron Corbin. Dean's character is often unpredictable, and diabolical, yet wildly popular. He wrestles in a tank top and blue jeans, and at times looks like he really may not be playing with a full deck.
Dean's a former WWE Champion that's proven he's a main event player. Baron's equally distinct, perhaps even more so. From a professional wrestling standpoint, he has all of the things a promoter would look for in a world champion. He's physically imposing, yet not in an 80's big man sort of way.
He's deceivingly fast and athletic, with a legitimate professional football and fighting background. He's an old school heel, with a distinct look, who loves to smack talk. Baron's been one of the strongest booked characters in the company since arriving on the main roster.
The booking of this feud to date has been one of the highlights of Smackdown Live. Kudos to the Smackdown Creative Team for that. Until Baron can be moved into the main event picture, I think Dean is a great opponent for him. The build to this feud has been great – plenty of smack talk, and an escalation of physical violence, which climaxed with Baron squishing Dean with a fork lift.
The seriousness of the feud has allowed Dean to portray the serious elements of his character, which are far more compelling than cheap comedy. Based on the feud, I can only hope the match at WrestleMania entails a special stipulation, so they can have the match Brock Lesnar and Dean Ambrose were supposed to have last year.
On top of this being a great feud, it's fresh. Fresh feuds matter. How many times have we seen Goldberg and Brock Lesnar square off on television, or a bunch of the superstars in the multi-person matches? When you've seen the same match over and over, you already know what to expect, and sometimes that gets boring.
Compelling, unique characters, who want to fight on the biggest stage in professional wrestling, to destroy each other.
Sign me up for that any day.

NEO Sports Insiders Newsletter
Sign up to receive our NEOSI newsletter, and keep up to date with all the latest Cleveland sports news.