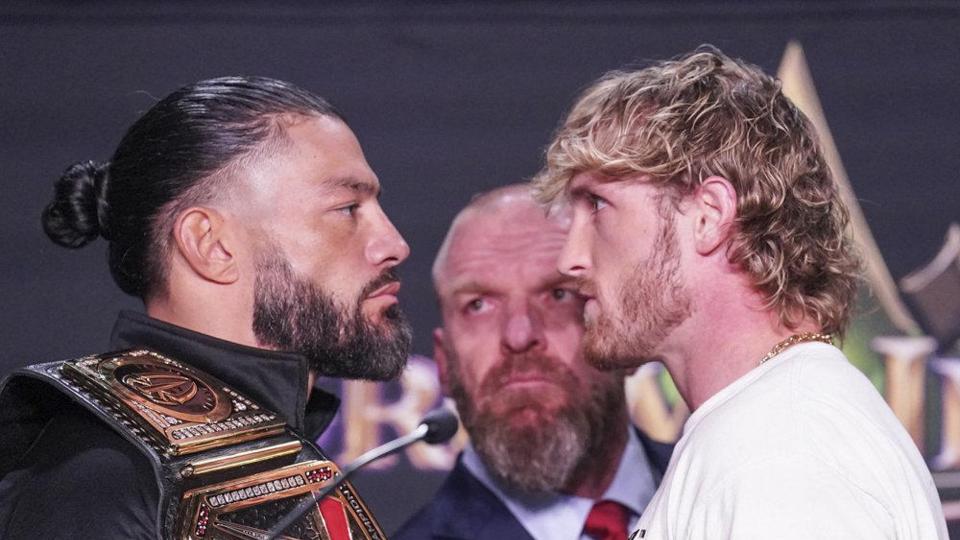 Bobby Lashley vs. Brock Lesnar.
The beginning part of this match reminded me of a Goldberg match: a lot of spears from Lashley on the outside and not much else. We finally got back in the ring with a heavy dose of suplexes from Lesnar and an F5. The crowd is very pro Lesnar.
Brock countered the Hurt Lock by kicking his feet off the top turnbuckle and landing on Lashley who's shoulders were down for the 1 2 3. Lashley put Brock in the hurt lock again after the match. Lashley largely dominated the match. This doesn't appear to be a one off and the feud will continue. Also, the finish looked like it was botched. Lashley had his shoulder up, but the referee still counted to 3.
Winner- Brock Lesnar
2.5/5 ☆
Damage Control (Dakota Kai & Iyo Aky) vs Alexa Bliss and Osuka (c)
Before the match we saw a short flash on a TV screen behind Alexa Bliss of Bray Wyatt's new symbol hinting at their past relationship and potential of a reunion. Michael Cole acknowledged this.
Crowd was behind Osuka. The match was back and forth with nothing of note through the beginning to middle. Alexa Bliss then got the hot tag and showed a mean streak. A lot of striking and high impact moves. I like this version of Alexa. Nikki Cross interfered and DDT Alexa Bliss off the top turnbuckle and damage control regain the WWE women's tag team championships. A very short title reign for Osuka and Bliss. Damage control are 2-time Champs.
Winner- Damage Control
2.5/5 ☆
Drew McIntyre vs Karrion Kross in a Steel Cage.
Hard hitting, heavy contact between Kross and McIntyre. Very expected with these two. Very slow pace and that's not a criticism. I appreciate wrestlers slowing down.
McIntyre came back from a Kross jacket and Kross Hammer showing resilience. Scarlett would get involved and mace McIntyre as he was trying escape the cage. Drew then stopped Kross from getting out the door in that same sequence. Scarlett then locked the cage door with a padlock. McIntyre was unable to get out and climbed over the top. Scarlett took time to unlock the door and McIntyre beat Kross to the floor.
Winner- Drew McIntyre
3 / 5 ☆
Judgment Day vs The OC
It's great to see Karl Anderson and Luke Gallows back in WWE. These guys have been quality workers all over the world and they need to be used accordingly. The crowd was decently into the match, and it was solid with some good spots. Damian Priest has a ton of potential. There was also a lot of effort to get Rhea Ripley over.
Rhea Ripley interfered leading to Finn Balor hitting the Coup de Gras on AJ Styles to get the pin.
Winner- Judgement Day
3.5 / 5 ☆
Omas vs Braun Strowman
I'm going to try and be as objective as possible with this, but I can't stand these big man vs bug man matches and programs. I just don't think it works. The match opened with a brief test of strength. Something that harkens back to the 1980s. Omas dominates early, who showed more personality than I've ever seen out of him, jaw jacking constantly with the crowd.
This was what you would expect from a match with two giants. Nothing to really write home about. A running powerslam wins it for Strowman in the end. I hope this feud is over quickly.
Winner- Braun Strowman
2.5/5 ☆
The Usos (c) vs Brawling Brutes
Back and forth match, a lot of physicality. The crowd wants Sami Zayne then they mock the Usos chanting "Ucey." If you haven't seen the origin of the 'Ucey" stuff on Smackdown please do so. It's hilarious. Several solid false finishes and an overall solid match. Usos hit the 1D from the top rope and the retain.
Winners- The Usos
3.25/5 ☆
Last woman standing match: Bayley vs Bianca Belair (c)
Early in the match Bayley grabbed a kendo stick, a chair, and a latter. None worked. Bayley had a spot where she ran the top of the barricade and clotheslines Bianca sitting a chair. A spot Jeff Hardy used quite a few times. Bayley would also use a table and a golf cart. You read that right. Bayley drove a golf cart on the top of the stage and tried to hit Bianca. Bianca puts Bayley on top of the cart and drives the cart all the way back to the ring. This is tremendous.
The Crowd seemed uninterested throughout the match for some reason, but this was solid and entertaining. Bayley was put under a ladder trapping her and also under the ring ropes. She was stuck and could not a seer the 10 count. Bianca retains.
Winner- Bianca Belair
3.75/5 ☆
Bray Wyatt comes out and does what he does best: cuts a great promo. He talks about coming from a wrestling family and wanting to be great, but this wasn't good enough and he wanted to be the greatest. He gave in so much that he made a monster out of himself. He says people don't love him and neither does he. He's here to rewrite the ending of his story.
The mysterious Uncle Howdy shows up on the Tron telling Wyatt to hurt others and don't take the mask off. We cut away with Wyatt watching the Tron.
Logan Paul vs Roman Reigns
I can't believe this match is happening, but I will again try to be objective. I'm not a fan of Logan Paul or anyone who is famous for being famous on social media. I understand the crossover appeal, but I disagree with it.
The crowd is hot for this match throughout. I'll give credit where it's due, Logan Paul is a hell of an athlete and entertainer. Paul had several ultra-athletic spots; it was really impressive. He even used the buckshot lariat during the match, which is used primarily by AEW star Hangman Adam Page. That was weird to see.
Paul got had several false finishes on Reigns and executed several dynamic moves. One spot saw Paul hit Reigns from the top turnbuckle to the announce table on the outside while taking a video on his phone. Logan's brother Jake Paul comes out and knocks out the Usos. Who came down to interfere. Reigns would hit the spear for the win.
Winner- Roman Reigns
4 / 5 ☆
Kudos to Logan Paul. I mentioned my feelings above, but I can't ignore his performance. Great athlete with potential, but it's still exceedingly difficult for me to take him seriously. Especially being thrown into a match with Roman Reigns who hasn't been pinned in 3 years. Unless WWE is planning to bring Logan Paul to the company full time, all they really succeeded in doing is making Roman look weaker and beatable. Paul has wrestled 3 matches and took Roman to his limit. I don't like that look and I don't believe Paul deserved that kind of rub. I'm always open to being wrong, but this did not sit right with me.
Overall, the show mirrored other Crown Jewel events. It seems like a creative dead end. Very little gets furthered from a storyline perspective. There are some payoffs, but not many. I view it as "kicking the can down the road." WWE does just enough to put on a show without jeopardizing storylines. Overall, 3 / 5 ☆ show. Solid, but not special.

NEO Sports Insiders Newsletter
Sign up to receive our NEOSI newsletter, and keep up to date with all the latest Cleveland sports news.