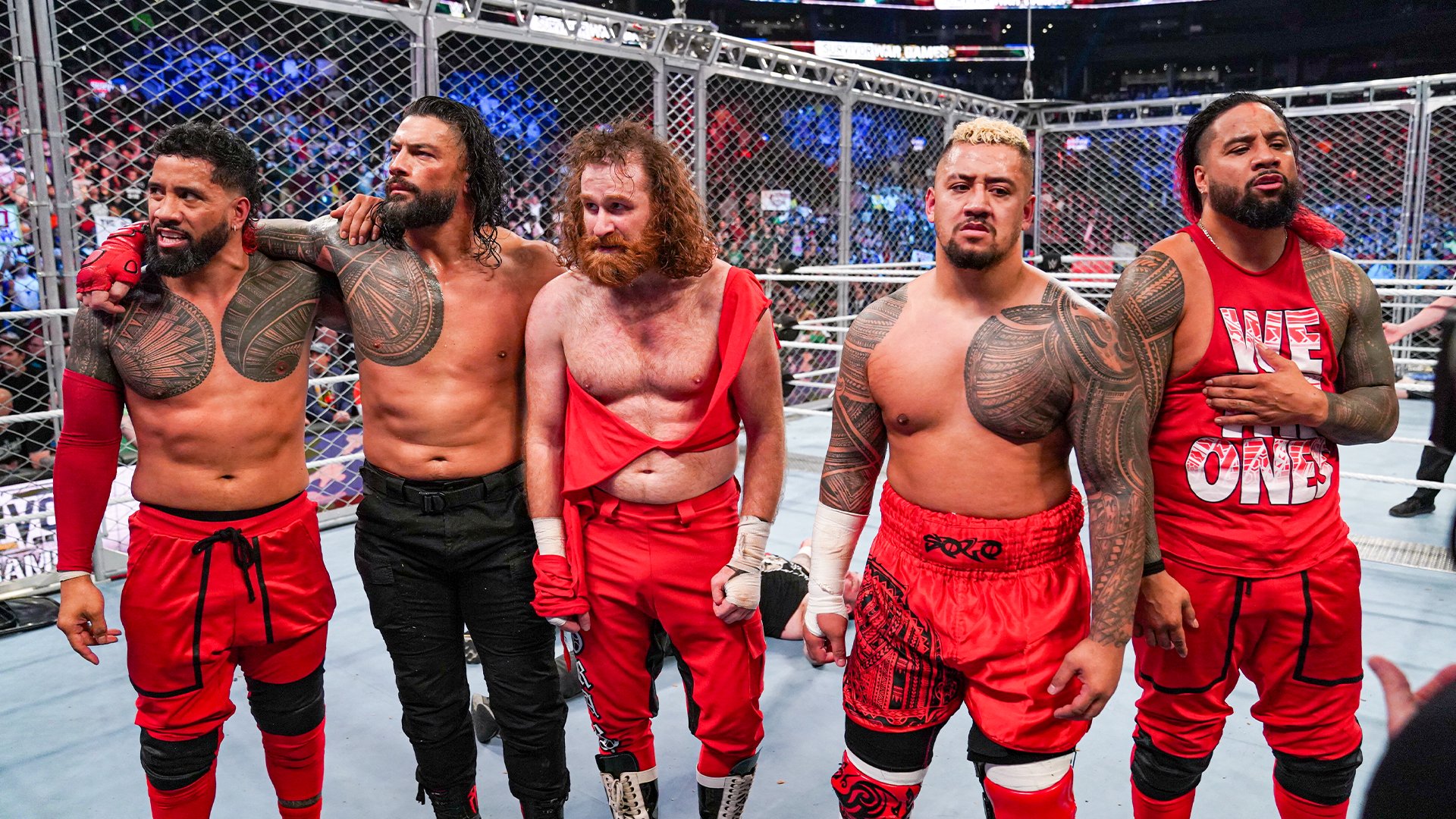 For the first time on the WWE main roster, we will see War Games. NXT had several War Games matches, but finally, we see one of the most unique matches in the business find its way to a WWE premium live event here at the 36th Survivor Series.
Women's War Games Match:
Becky Lynch, Bianca Belair, Alexa Bliss, Asuka, and Mia Yim vs. Bayley, Iyo Sky, Dakota Kai, Rhea Ripley, and Nikki Cross.
The match starts with Bianca Belair and Dakota Kai for the first 3min. Michael Cole interestingly references Tegan Nox, who has been rumored to be brought back to WWE under the Triple-H regime. She and Kai had a good rivalry several years ago.
A back and forth and uneventful first 3 minutes. Iyo Sky is next in the cage giving Sky and Kai the advantage for the next 3 minutes. The women's tag team Champs largely dominated. Asuka is next up to even the odds. Bianca and Asuka dominate this 3min period.
Nikki Cross is next as she grabs kendo sticks and trash can lids and throws them in the cage. This version of Cross is much more entertaining than the Nikki ASH persona she sported for a while. This is Nikki Cross from back in her days with Sanity in NXT. Really nothing happened in that 3 minutes.
Alexa Bliss hits the ring and it seems like everyone found the weapons at the same time. Nikki Cross climbs to the top of the cage and jumps onto all 5 women. Good high spot. With everyone down, Bayley is next up. She immediately goes under the ring for 2 ladders and a table, which gets a pop from the fans in Boston who have cheered more for the prospect of a table than they have for anything that's happened in the match to this point.
Mia Yim is next and grabs a couple trash cans. Yim has, in my opinion, gotten a very lukewarm response since her return, which is disappointing. The crowd did not react when Yim hit the ring. The competitors pull off 4 separate suplexes from 4 separate top ropes. Rhea Ripley hits the ring with everyone down and dominates.
Becky Lynch is the last competitor in War Games. She gets the best reaction of anyone in the match upon her entrance, but that's not saying much. That is not an indictment of any of the women in the match, the crowd has been dead. I think I heard someone spill their drink at one point. It's that quiet.
Crowd comes alive a bit when Becky and Bayley paired off. Chaos and finally some pinfall attempts. Iyo Sky with an awesome moonsault from the top of the cage. The crowd in Boston chanting "this is awesome" after not making a peep until now. Feels odd and forced.
The Finish- Rhea Ripley puts Mia Yim through a ladder. Becky and Bianca take control. Becky climbs to the top of the cage with Sky and Kai on a table. Becky puts both through the table and covers Kai for the win.
Winners- Bianca Belair, Alexa Bliss, Asuka, Becky Lynch, and Mia Yim.
3.25/5 ☆
Finn Balor vs AJ Styles
This match-up is incredible for me. Going back to NJPW (New Japan) and both men being of Bullet Club fame. Very strange to hear Michael Cole talk about Bullet Club. I don't know that I've ever heard it referenced on a WWE program.
Both men putting on a clinic early on and the crowd must be checking their Facebook app because that's how they're responding. Solid match so far.
Gallows/Anderson and Dominik Mysterio/Damian Priest get into a melee at ringside. They fight through the crowd leaving Styles and Balor alone in the ring. The crowd starting to wake up a little bit from their hibernation and give both men a brief round of applause. They should, this has been a really solid match.
The finish- Balor missed the Coup de Gras and Styles catches him in the Calf Crusher, which was broken by Balor. Back and forth for a few minutes until AJ Styles hits Finn with a Phenomenal Forearm for the 1, 2, 3.
Winner- AJ Styles
3.75/5☆
Shotzi vs Rhonda Rousey (c) – Smackdown Women's Championship.
WWE has spent a lot of time recently portraying Shotzi as someone who doesn't have a chance. The match is very clunky in the first 2-3 minutes. I can't think of another word to describe it. I believe I heard a "we want Sasha" chants from the crowd in reference to Sasha Banks. Shows you the crowd isn't interested in anyone in the ring right now.
A pretty cool spot where Shotzi jumps from the barricade into the crowd where Shayna Bazler and Rousey had gone. Oh yeah, Shayna is at ringside.
The Finish- Rousey hits Piper's Pit on Shotzi then gets Shotzi to tap out to the armbar. That was… painful.
1 / 5 ☆
Backstage
The most entertaining thing that's happened so far is a great backstage segment between Roman Reigns and Sami Zayne. Great stuff. Sami promises he is with The Bloodline after being questioned about a conversation Sami had with Kevin Owens last night. Sami is criminally underrated as a performer.
Bobby Lashley vs Seth Rollins (c) vs Austin Theory- United States Championship.
By far the loudest pop of the night thus far goes to Seth Rollins. Heel or babyface, Rollins is over.
Through the first 5 minutes or so, Austin Theory has been treated as an afterthought. He's been engaged at times, but nothing meaningful. Michael Cole and Corey Graves pushing a new and more aggressive Austin Theory who is more serious and ditched all the selfies as he is finally getting some offense in. Theory's gimmick was getting very old anyway and I couldn't take him seriously.
The crowd has been pretty good since Rollins came to the ring. Good solid match. Rollins is so darn good.
The Finish-. Rollins gave Theory a super suplex then was looking for the Falcon Arrow when Lashley speared Rollins. Theory falls into the cover, literally, for the win.
Winner and new United States Champion- Austin Theory.
3.75/5 ☆
Men's War Games Match
Kevin Owens, Drew McIntyre, Ridge Holland, Burch, and Seamus vs Roman Reigns, Jimmy, and Jey Uso, Solo Sikoa, and Sami Zayne.
The Bloodline has such a great entrance. Reigns has been WWE Champion for over 800 days and if I was booking for WWE, he would keep it for another 800.
We will start off with Butch and Jey Uso. As is usually the case, the first 5 minutes was uneventful. Ridge Holland is next in the cage. Holland and Butch dominating Jey Uso. Roman Reigns pulls Jimmy Uso back and sends Sami Zayne to the ring next as a "Sami Uso" chant goes up from the crowd. Zayne and Jey Uso still at odds in the ring.
Drew McIntyre hits the ring next. Zayne and Uso are the only ones standing. McIntyre is dominating. Sami Zayne has made the save for Jey Uso 2 or 3 times now trying to show his loyalty. Good storytelling.
Jimmy Uso enters the fray and grabs a table. Getting an immediate pop from the Boston crowd. 3 tables now in the ring. Jey and Sami getting into a shoving match.
Kevin Owens is next and he grabs chairs. Owens wearing jeans and a Dusty Rhodes t-shirt paying tribute to the American Dream. Owens and Zayne come face to face for a moment. Very good storytelling in this match. Solo Sikoa is next into the match. Sikoa runs through everyone for a good 3 minutes.
Seamus is the final member of his team in the match. He hits the ring, and his team dominates The Bloodline. Roman Reigns now makes his slow walk to the ring and the mood instantly changes. His entire team is on their backs in the ring. Both teams now on their collective feet and go at it. Reigns levels everyone. The Brawling Brutes return the favor and we're even up.
Butch ducked a Jey Uso super kick and nailed Sami Zayne. Again, good storytelling. Can't say it enough. Sami Zayne saves Roman Reigns from being pinned by Kevin Owens after a pop up powerbomb and stunner. Ownes and Zayne now face to face again as Sami has made is loyalty known without a doubt. He hits Owens with a low blow and seems to regret it.
The Finish- Zayne with a Helluva kick on Owens, Jey Uso hits the splash for the win. Reigns and Jey Uso hug Sami.
Winners- The Bloodline
4 / 5 ☆
Overall Show- 3 / 5☆
I was never a fan of the War Games matches. They're too long and drawn out. Without elite storytelling those matches have a good chance of being stale. It's impossible otherwise to keep viewers engaged throughout a nearly hour long match. War Games has a unique set-up and is visually appealing but is handcuffed by its rules and length. The men's match was better than the women's only because of good storytelling between Sami Zayne, Kevin Owens, and The Bloodline. It saved the match. It looks like War Games is here to stay, so I'll have to get used to it.
Kevin Owens and Sami Zayne are incredibly underrated. Wrestling is just as much about storytelling as it is in-ring action, and those two guys can tell a story. They're also great performers. I hope Sami and KO find their way on the same side at some point. Their storylines are gold, and both are incredibly entertaining.

NEO Sports Insiders Newsletter
Sign up to receive our NEOSI newsletter, and keep up to date with all the latest Cleveland sports news.