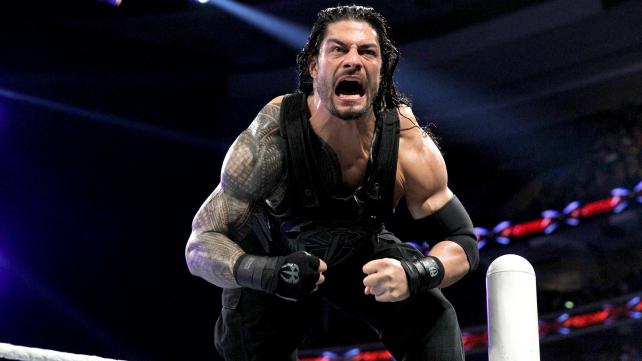 Opening Segment:
Roman Reigns gives his daughter a happy birthday shout out. Reigns getting slapped 10 times got annoying, I understood the concept but that was kind of dumb. Vince McMahon appearance happening during RAW for the first time in over a year was something exciting.

Singles Match
Dean Ambrose (c) vs Dolph Ziggler
I think that he should have won the title back at WrestleMania 31. A great back and forth match that kept you engaged throughout. Kevin Owens interfering in this match only makes sense for the guy he is. Two pop up power bombs to Ambrose and one to Ziggler was a statement. Owens saying post match that this is only the beginning and that he won't stop until he drives Ambrose insane and puts him in an institution. With the Owens interference I can see the start of a triple threat match for the Intercontinental Championship at the Royal Rumble.
WINNER: No Contest
TEAM ECW Promo:
It was great to see a different background for a backstage promo. I loved the flashbacks to the old ECW days . Lastly Rhyno being behind the cage was awesome it symbolized so much up until he let himself out.
Singles match
R Truth vs Bo Dallas
At first since I saw R-Truth come out I was assuming that he will be losing to someone tonight, that was until Bo Dallas came out next. This is the first time that I noticed the ear buds, has R- Truth forgotten his own song that he rapped? Way to cut away from the match to just show Vince McMahon's arrival. I think that shows how much faith the WWE has in their roster or should I say in this specific match throw away talent.
WINNER: No Contest because Vince McMahon stops the match
McMahon promo on Roman Reigns
I had a feeling that even though he acted the way he did, sticking up for Triple H, that he would join Reigns. For a second I thought that Vince was going to bring back the famous club he had. Interrupting and stopping a match was kind of ridiculous, I understand the competitors were not fantastic but why have it if you are going to do something like that. I believe there could have been a different way to do that and you still get the same message out there.
Tag Team match:
Alberto Del Rio and Rusev vs Jack Swagger and RyBack
Seriously what has Swagger done recently to earn so much time on RAW? Has the WWE finally realized they made a mistake by taking him off TV for however long and this is their way to make up for it? Hey look the Swagger Bomb misses once again. I think that Swagger should eventually team up with Chad Gable and Jason Jordan, that would be an awesome trio to watch.
WINNER: Del Rio/ Rusev via Lana distraction and Rusev superkick
The RoseBush segment:
Adam Rose is fantastic with his new character, I love the RoseBush. I think that he would honestly be better as either a manager or commentator for now.
Singles Match:
Tyler Breeze vs Neville
I had high expectations going into this match. It was nice to see the Miz go a little more in depth with his character calling for lights, camera, action and appear to be a director. I have to point out the fan that yelled Mizdow was better than you to the Miz. The Red Arrow is one of the best finishers out there in WWE right now, it is amazing to watch while it happens.
WINNER: Neville via The Red Arrow
8 man Extreme Rules tag team match:
Team ECW vs Wyatt Family
SIDE NOTE: If you would like to see/meet Rhyno check out Mega Championship Wrestling this Saturday in Elyria.
I love the fact that WWE decided to do this type of match stipulation in Philadelphia. JBL sneaked in a nice plug for House of Hardcore, an independent promotion that Tommy Dreamer runs during commentary of that match. A fan may or may not have been hit by Dreamer's back swing with the kendo stick but the fan took it like a champ, WWE should expect any fines. This match was fantastic, I never thought I would see four tables broken in one match and I loved every moment of it. This was one of the best matches I have seen on RAW in a while, maybe it is because of the hardcore element we have been missing.
WINNER: Wyatt Family via Rowan splashing Rhyno through a table
New Day Segment:
I remembered during their entrance that during the early stages of the New Day they once had pyro. I was wondering if during this segment a team from NXT would have been debuting because Xavier Woods was saying that the tag team division has improved because of their Ladder match at TLC. Lastly one of the most entertaining tag teams in WWE. Sadly in the end no NXT tag team debuted like I thought so.
Divas tag team:
Charlotte and Becky Lynch vs Brie Bella and Alicia Fox
Going into the match , I believed that the Charlotte heel turn would finally happen. Team B.A.D in the first row of the crowd was dumb, yes they are the only trio of teams that are still together but nobody really cares about anyone in that trio besides Sasha Banks. Once again Ric Flair needs to stop being at ringside, annoying once again. We understand that he is the dirtiest player in the game but is it believable for how old he is now? I believe he is ruining the Divas Revolution. Grabbing the leg of Fox ruined the result.
WINNER: Charlotte and Becky Lynch via Lynch Dis-Arm-her
WWE SHOP Christmas promo with Titus O'Neil:
Loved the ending with him holding up the WWE World Heavyweight championship it looked very fitting but that might be the only time you see that picture.
MAIN EVENT
Singles Match for WWE World Heavyweight Championship if Reigns loses he's fired
Roman Reigns vs Sheamus (c)
I wonder what Sheamus yells when he becomes a radioactive blob? Michael Cole saying that this could be Reigns last time walking down to the ring, than he promotes him being on SportsCenter with Jonathan Coachman was ridiculous. Plus how many different times has any big name been fired and then comes back a month or further down the line? I'm pretty sure that was a 3 count by the time Vince pulled the ref out of the ring or else Vince just has really good timing. Once again when the League of Nations appears and Roman's "Family" doesn't help him for the second straight night while he is being attacked. Speaking of the League of Nations where is Wade Barrett? Is he suspended? Has he been kicked out? Is he going through another character change? I'll be waiting for that explanation WWE. I guess that superman punch to Mr. McMahon ruined the chances of my prediction of their alliance.
WINNER: Roman Reigns via spear (AND NEW CHAMPION)
Reigns wins the WWE World Heavyweight Championship on RAW and is the first person to do so since 2011 (back when there were two different title changes the night after CM Punk "walked out") . I'm going to have to go with a 95% chance of Reigns getting stripped of the championship next week or some something like that.
TOP 3 Matches of the Night:
1.) Roman Reigns vs Sheamus because the unpredictability of the match was fantastic. It worked both ways that Reigns could win the title or get fired and come back at the Royal Rumble.
2.) Team ECW vs The Wyatt Family because of the hardcore element that has not been seen in forever and it was unexpected to see on an episode of RAW. I know I said during the recap of the match that it was one of the best matches I have seen on RAW in forever but I think the reasoning behind it is the hardcore element, and that is why I have to rank it number 2.
3.) Dean Ambrose vs Dolph Ziggler
Remember on Wednesday there is NXT TakeOver: London starting at 3 pm EST/12 pm PST.

NEO Sports Insiders Newsletter
Sign up to receive our NEOSI newsletter, and keep up to date with all the latest Cleveland sports news.