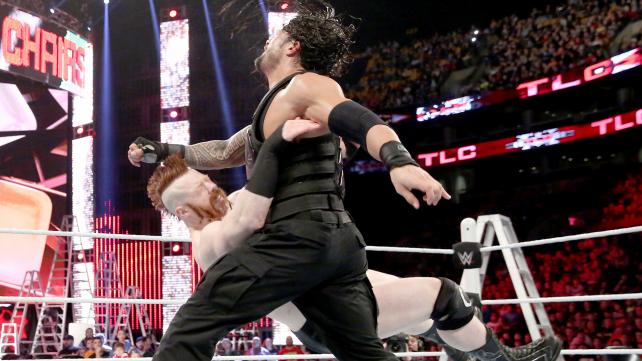 A recap of Sunday night's WWE TLC event from Boston, and how it impacts the product going forward:
Triple Threat Tag Team Ladder match for the WWE Tag Team Championship
New Day(Big E and Kofi Kingston) (c) vs The Usos(Jimmy Uso and Jey Uso) vs The Lucha Dragons (Sin Cara and Kalisto)
Xavier Woods comes out with the New Day but this time he doesn't have a new haircut/hairstyle for TLC like he usually does. The New Day cuts a promo pre match and shows why so many people like them even though they are heels, of course another fantastic entertaining promo. Kofi Kingston being in a ladder match brings up the excitement level even more because interesting things always happen when he is in one. Lucha Dragons have a bright future in the tag team division, brings energy and flash almost every time they are in a match. The Salida del Sol off the top of the ladder onto the leaning ladder was a fantastic spot, possible and hopefully the Extreme Moment of the Year. Lastly something that made this match even more interesting was Woods on commentary, it was fantastic. Makes you realize how bad the commentary team of JBL, Michael Cole, and Jerry "The King" Lawler are, he had to correct them several times on who was Kalisto and who was Sin Cara.
WINNER: New Day via interference from Xavier Woods trombone

Singles Match
Rusev vs Ryback
Possibly the worst match of the night. Nobody really cared what the result was. This was honestly better off being on the pre-show instead of the Sasha Banks vs Becky Lynch match. How many times will it take until Ryback realizes every time he runs in to Lana she fakes it so her man can get the upper hand. Hard to believe Ryback was intercontinental champion roughly three months ago and now he is in a throw away feud.
WINNER: Rusev via The Accolade
Chairs match for the United States Championship
Alberto Del Rio (c) vs Jack Swagger
They have chairs set up all around the ring, are they getting read to play musical chairs? WWE, you kind of over did the chairs concept this time around. How many times does Swagger have to attempt the Swagger Bomb before he actually hits it? I would have given up after the first time, maybe I'm just a quick learner. This match felt very predictable since he has not been on RAW in forever. Great to see that the "We The People" chant is still over even though Swagger has been gone so long. It seems that everyone is able to get a shot at the US Championship, is Heath Slater next at the Royal Rumble? When it comes down to it though was there any question on the finish?
WINNER: Alberto Del Rio via Double Stomp on a pile of chairs
Eight-man tag team elimination tables match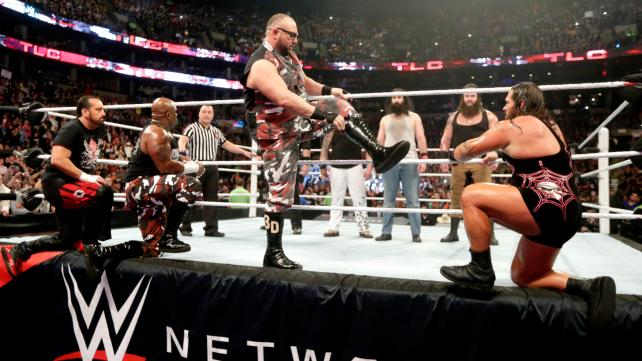 The Wyatt Family (Bray Wyatt, Erick Rowan, Luke Harper, and Braun Strowman) vs Team Extreme (Bubba Ray Dudley, D-Von Dudley, Tommy Dreamer and Rhyno
Felt nostalgic for Attitude Era fans and ECW Fans. Why exactly does the table that Team Extreme has intended for Strowman have to be double to triple the size of a normal one, I understand emphasizing his size but that was to much. Apparently in this match if you breathe on a table, it will break. Had a scary flashback of Extreme Rules 2012 when Big Show stepped through the table and lost against Cody Rhodes. A couple of times the table would break when it shouldn't have. Lastly from this match I was disappointed with the false hope of a table set on fire, the only time I have seen that done was in a video game.
WINNER: The Wyatt Family with Wyatt, Harper and Strowman remaining.

Singles match for Intercontinental Championship
Dean Ambrose vs Kevin Owens (c)
Kevin Owens is probably the best heel in WWE at this moment. I love the promos he cuts all the time, and he gets the most heat. Owens is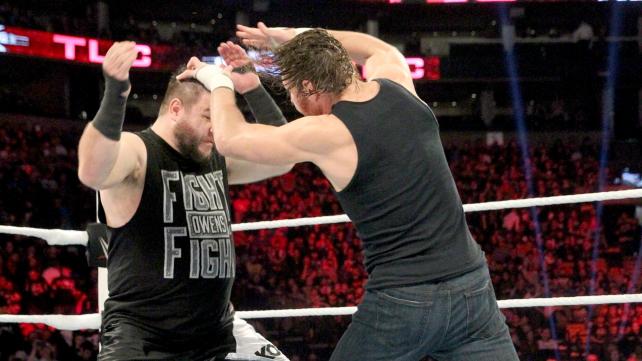 one of the few guys that talks throughout their match something that is done in the independent circuit. Why does he have an unhealthy obsession with Michael Cole? During the match Ambrose appears to get screwed because it was obvious that Owens whiffed while trying to reach for the rope.
WINNER: Dean Ambrose (New Champ) via roll-up
Hopefully this time around Ambrose will have a better reign than his US title reign while he was with the Shield (remember that).
Singles match for Divas Championship
Paige vs Charlotte (c) (with Ric Flair)
What was Team B.A.D doing backstage, that was stupid and meaningless. This match seemed very sloppy. Ric Flair needs to stay out of the spotlight, he is making Charlotte become irrelevant. NXT Charlotte was way better than this WWE version. Flair is taking away from his own daughters success. It seems that Charlotte is turning heel and Paige is turning face after a short lived heel turn.
WINNER: Charlotte via throwing Paige into an exposed turnbuckle
Tables, Ladders, and Chairs match for the WWE World Heavyweight Championship.
Roman Reigns vs Sheamus (c)
Why does Sheamus insist on coming out with all the bright lights on his pale body? He looks like a radioactive blob. I strongly dislike Sheamus as a champion, he was only champion in the past when the product was trash. The Samoan drop from Reigns from the apron through the ladder on the outside was sweet. The spot when Reigns superman punched Sheamus off the ladder driving him through a table was crazy. During the League of Nations interference where was Wade Barrett at? You could tell Reign's family had his back as they ran out there to help him…oh wait they didn't, great group of friends and family there. If I ever decided I wanted to take a chair shot I want Triple H to teach me how to sell it, he looked like a fish out of water. Is WWE possibly setting up Roman Reigns vs Triple H for WrestleMania 32?
WINNER: Sheamus via League of Nations interference
TOP 3 Matches of the Night:
1.) Triple Threat Tag Team Ladder match for the WWE Tag Team Championship New Day(Big E and Kofi Kingston) (c) vs The Usos(Jimmy Uso and Jey Uso) vs The Lucha Dragons (Sin Cara and Kalisto)
2.) Tables, Ladders, and Chairs match for the WWE World Heavyweight Championship.
Roman Reigns vs Sheamus (c)
3.) Singles match for Intercontinental Championship
Dean Ambrose vs Kevin Owens (c)
Not a bad PPV at all. Exceeded my expectations from the start. I just hope that the Royal Rumble can top this like it should.
Early WrestleMania 32 hopes:
Roman Reigns vs Triple H in a cage match
Dudley Boyz vs New Day vs The Lucha Dragons vs Usos in a TLC Tag Team title match.

NEO Sports Insiders Newsletter
Sign up to receive our NEOSI newsletter, and keep up to date with all the latest Cleveland sports news.