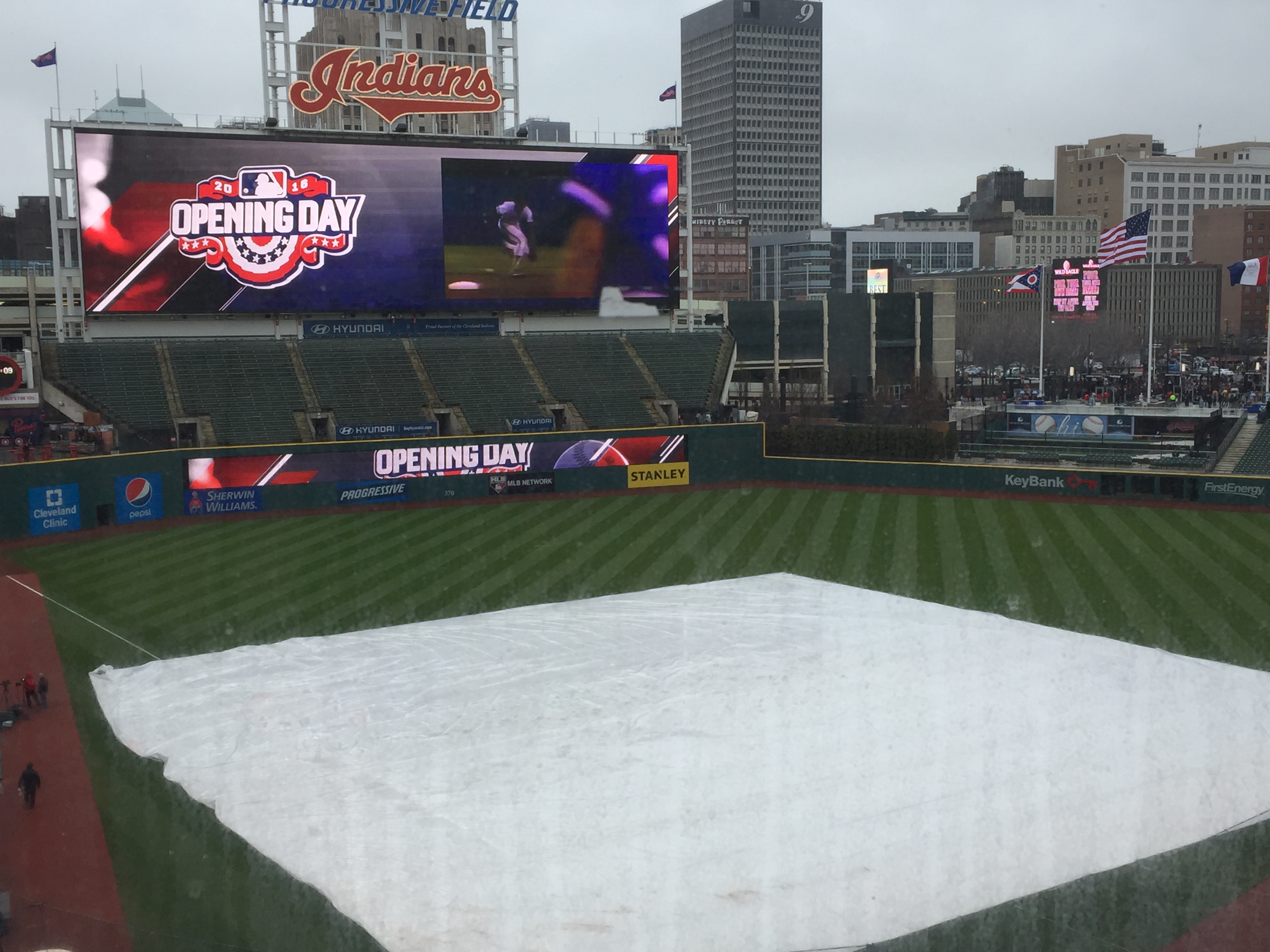 CLEVELAND – The Cleveland Indians were supposed to open the 2016 Major League Baseball season this afternoon against the Boston Red Sox at Progressive Field.
Instead the game was postponed around 2:15 p.m. due to inclement weather.
Temperatures were around 30 degrees with wind chills in the teens, not weather America's pastime should be played in even in a colder climate like Cleveland in early April.
A disappointed sold out crowd headed home or back to their cars to tailgate some more, but in this sports writers opinion the correct decision was made.
While it may not rain or snow the rest of the day, you can not take the risk and have a repeat of what took place back in 2007 on Opening Day.
I was one of the sold out crowd on that brutal Friday afternoon in attendance at the ballpark. The trip in from my home in eastern Lake County was an adventure and should have been an indication of what was to come.
I was very fortunate that I had club level seats for that game.
My blind date (don't remind me of that) and I were able to go into the club lounge and stay warm throughout the afternoon and evening, but you could barely move in there because so many people did the same thing. A couple of times I ventured back out to my seat just because it was so crowded and I'm not usually somebody who has a difficult time handling crowds in a small area.
The game that day was delayed over an hour before it got started. At times throughout the four innings and two outs in the top of the fifth inning that you could not see the field from the club level seats.
While Indians fans were very upset at former manager Mike Hargrove, who was the manager of the Seattle Mariners that season, for coming out and getting the umpires to stop the game and eventually cancelling it, the bottom line was that game should have never started and probably should have been postponed early in the day so fans wouldn't have to battle mother nature trying to get downtown.
That entire series against Seattle was cancelled that weekend and each of the final three games were postponed in plenty of time that fans didn't have to travel to Cleveland.
While I can understand Indians being frustrated after selling out big bucks to attend "Cleveland's National Holiday" and even more money for parking, which they can't get a refund for, the decision to cancel the game two hours before game time makes more sense than to risk major injury because of inclement weather.
It will be interesting to see how many games in this series will be played over the next three days. Major League Baseball usually schedules an off day for the following day after the season opener for situations like this.
Hopefully, we'll hear the words "Play Ball" on Tuesday with the weather expected to be dry, despite the temperatures being in the 30's.
I'm concerned about Wednesday night's game because my dad and I have tickets and the forecast doesn't sound great for that game either. It would make sense for Major League Baseball to schedule the Indians opening series at home to be against an American League Central division opponent in situations like this.
It guarantees that team will make a return trip to Progressive Field later in the season where a makeup game or two can be scheduled. Since this is the only trip to Cleveland this year for the Boston Red Sox, make up dates later in the season wouldn't be easy.
Go back to 2007 and look at what took place for the Indians and Mariners to make up the four games postponed.
Seattle had to make three separate trips to Cleveland to play one game each and the other game was made up in Seattle with the Indians serving as the home team.
The Indians held their home opener at Miller Park in Milwaukee against the Angels that year. While it was an adventure, remember that the Indians won the division that year and was one win away from a trip to the World Series.
Perhaps that's a sign of things to come for the Indians in 2016, we'll just have to wait and see.