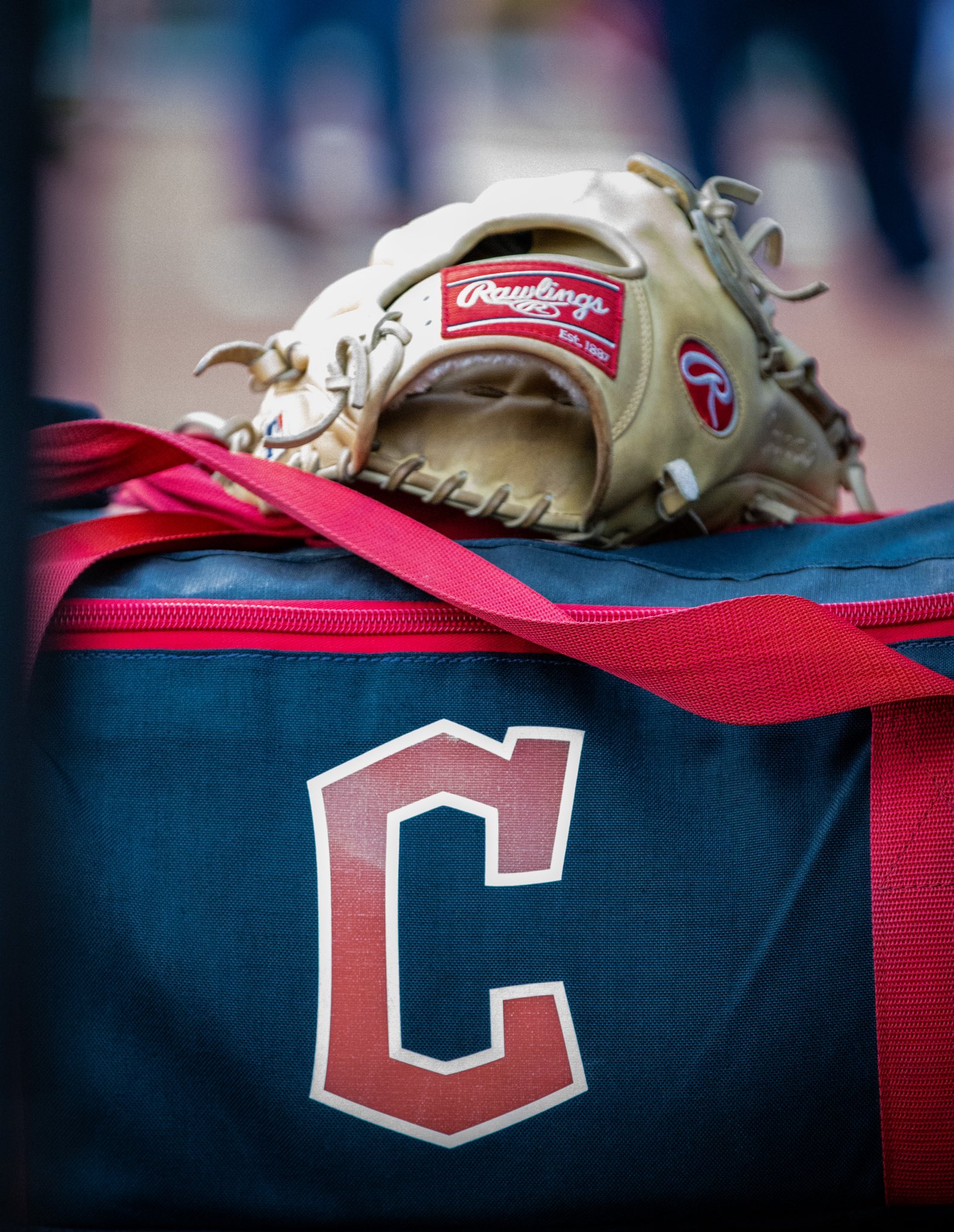 The 1970's were a fun time for sports, especially Cleveland sports. There wasn't a lot of winning, save the Miracle at Richfield! But with baseball starting today, our writers Bill and Roger talked about their 1970's and beyond memories of their favorite baseball team at Municipal Stadium. This club has a place in both our hearts!
Old Cleveland Municipal Stadium

No-No Bosman!
Bill: I think one of the most memorable times for me was 1974. Dick Bosman's no-hitter against the World Champion Oakland A's. My dad and I were the 2 in the 24,302 in attendance that night! It was a windy, summer night with that Lake Erie breeze blowing hard.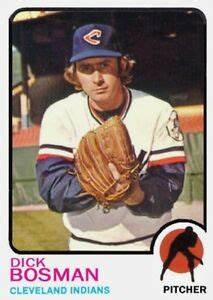 My dad loved to leave games early to beat the rush…but tonight we stayed. It was amazing. My dad would ALWAYS buy a pennant of every game we went to and wrote on it the final score!  I remember my dad telling me: "We are watching something that is nearly impossible to do! You'll remember this your whole life!" I was nine. And I still do!
At the top of the ninth, Bosman is warming up on the mound and Reggie Jackson, running in from right, pats Dick on the butt. When asked why later he said:
"I did it because he's a nice guy," Jackson said. "He's always been a nice guy."
I did not know this: Bosman was the ERA leader for the Senators in 1969! And want to win a bar bet, Roger? Ask: "Who was the pitcher to start for the Senators LAST game and the Texas Rangers FIRST game?" Answer below!
Roger: Think I know that one!
Give-away day!
Roger: There was nothing better as a kid in the mid 70's than going down to old Municipal Stadium for a day ball game on give-away day. 
Bill: Dude, those were great! Bat Day, too!
Roger: The grand daddy of all of them all, "T-Shirt" day! 
You got your hands on one of those beautiful red shirts that resembled the iconic all red uniforms the Indians wore from 1975-1978.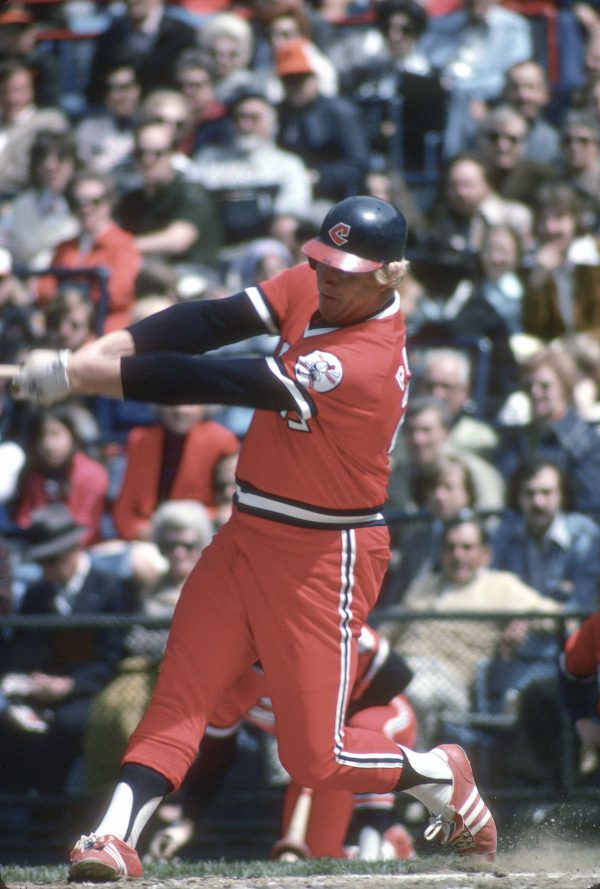 (Boog Powell in the all red!)
The minute I got it home I set out to make a "jersey" of my favorite ballplayer that year. 
The digit "2" was half the size of the "8" that more closely resembled a snowman without tree branch arms and a carrot nose. 
The giant M-a-N-N-across the shoulder blade ended with a tiny -"ing" almost to the middle of the right sleeve. I wore that t-shirt as I picked up my glove and ran out to man center field  until it was threadbare and light pink and I know for a fact, I got to at least three more sinking liners in the gap just because I had on that "Manning Jersey!"
Bill: Today? No running or diving for us! We'd pull a hammy!
Eckersley and Manning – Besties, then Worsties!
Bill: I loved Eck (Dennis Eckersley) and Manning. Coming through the organization together and becoming best friends…until they weren't!!! How my childhood changed when Lennon was murdered and Manning had an affair with Eck's wife!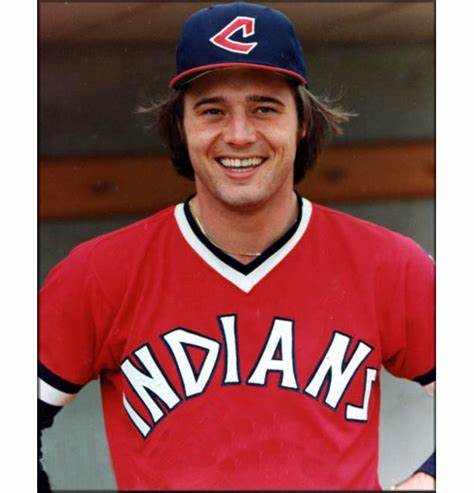 Rick Manning
Eck had that LONG, straight mane! Loved how it would fly when he threw! My hair was curly, thick…and would grow like a chia pet! I wanted straight hair because of Eck!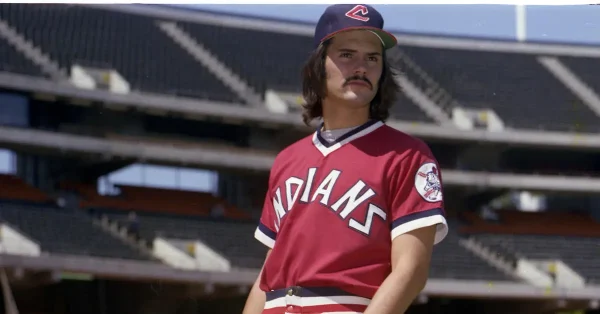 (Eck…look at that hair!)
I always wanted him to be with the club forever! Makes me think they traded him because the two together weren't helping the club!
Roger: I know Eck. He comes to Cleveland every year to play in a charity golf tournament in honor of the men who helped his sobriety. Saved his career!
All-Star Game 1981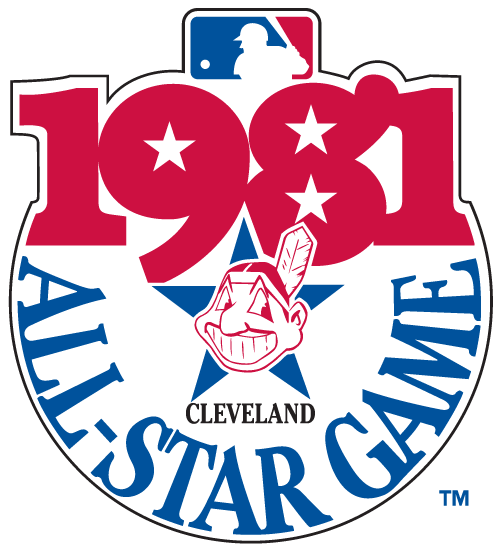 Roger: "Large Lenny" Barker! My uncle had tickets to the All Star game and it was the only All-Star Game I've ever attended. I remember earlier in the season our All Star Game plans being in jeopardy due to a players strike. 
Bill: I had a Plain Dealer paper route and would read all about the strike before I delivered the papers. And I loved Bo Diaz! Making his first ASG!
Roger: Seeing Barker pitch against the National League was a big deal to my uncle and his buddy. I remember the game and really the entire day through 12 year old eyes. The sights, the sounds. The walk down West 3rd. You took that walk a lot in the 70's during baseball season but with maybe 20 other people. 
That day, thousands were out to see baseball and it was beautiful. I remember the game in chunks. Dusty Baker sprawled out in shallow left, ending an inning late, killing a rally. I remember eventually losing the game when HOF Rollie Fingers gave up a home run. It was the only game I ever saw Pete Rose play in. I remember watching Ozzie Smith run like he was gliding. 
What I remember most from that game was the thunderous ovation Lenny got in the Old Muny Stadium from his home crowd! You don't forget that sort of thing!
Bill: Watched on TV. I remember Bo Diaz getting in but throwing the ball into centerfield late! Thank the Lord Winfield threw to third!
Speaking of Lenny…
Bill: So, Barker was a very good pitcher. May 15, 1981. What a day! The night he pitched the perfect game, I thought my dad and I were going to go. But he said he didn't feel good and we watched it on tv. I actually did the entire scoring for the game on a scorecard. And lost the damn thing!!!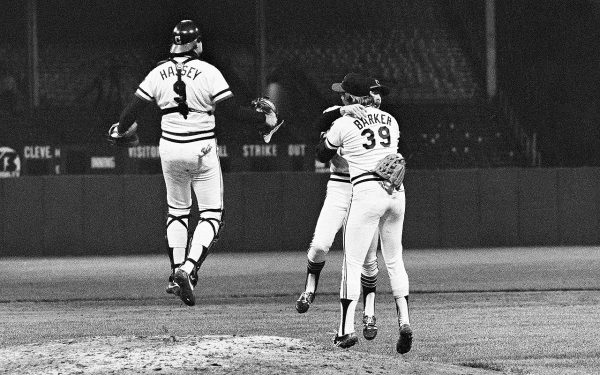 Photo courtesy of vault.si.
Roger: Bill, I don't think I could sleep at night if I sat and kept scorecard to the perfecto and it's gone!
Bill: Yep! I had it saved in a plastic sleeve with my other childhood stuff. Damn!
Roger: I even wrote a story they printed in the Plain Dealer comments section on the 20th anniversary of the Perfect Game. 
Bill: See? You were a writer even then, brother!
We will continue to share our memories with you all in later editions. What are your favorite memories with baseball as a child/teen? Share in the comments, please! We might even reach out for future stories!
Answer?
Dick Bosman, of course!

NEO Sports Insiders Newsletter
Sign up to receive our NEOSI newsletter, and keep up to date with all the latest Cleveland sports news.