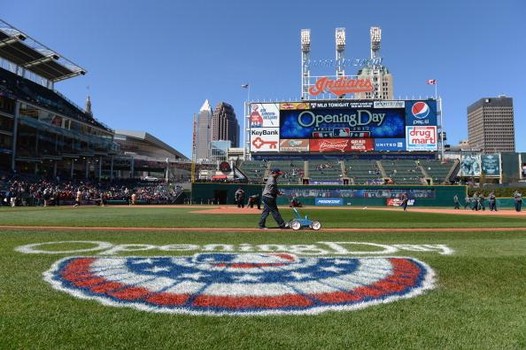 After calling today's home opener against the Red Sox around 2:15pm this afternoon, the Indians are doing their best to help out fans who are not able to get to tomorrow's (2nd) home opener.
The team announced a better more enhanced policy for the tickets from today's game, including using them for any game for the months of April or May.
Here's what the Indians stated after they called the game:
Today's game was postponed due to the forecast changing from no precipitation to having precipitation most of the afternoon and into early evening. That steady precipitation forecast combined with wind chills dropping into the teens, it was decided by both teams and umpires for fan comfort and player safety to postpone the game.
Here is the official release from the Indians about the policy for tickets from today being used for any game in April or May.
Cleveland, OH –Knowing the disappointment Tribe fans felt following today's Home Opener postponement, the Cleveland Indians tonight announced plans to accommodate fans who held tickets for the postponed Home Opener today at Progressive Field.

 Fans' options include:

1.       Attend rescheduled Home Opener on Tuesday, April 5

a.      AND any game of their choice in April or May at Progressive Field

2.      For fans who cannot attend rescheduled Home Opener on Tuesday, April 5:

a.      Attend two other games of choice in April or May

"We know how special Opening Day is for our fans, and recognize how unfortunate the challenging weather scenario was for them," said Indians owner Paul Dolan. "We value each and every one of our fans, and we want to make this unique and difficult situation right by extending this offer."

May games include some of our top promotions of the season:

·         Friday, May 13 vs. Minnesota: Sugardale Dollar Dog Night

·         Tuesday, May 17 vs. Cincinnati: Carlos Carrasco jersey courtesy of Shearer's

·         Friday, May 27 vs. Baltimore: Dollar Dog Night, Fireworks, Pregame in the District, Block Party

·         Saturday, May 28 vs. Baltimore: Corey Kluber Midnight Navy jersey courtesy of Discount Drug Mart, Block Party

 The opportunity to exchange for alternate games will begin on April 6th at 10AM.  For details on how to exchange please visit www.indians.com/schedulechanges. All exchanges must be completed by April 22nd.