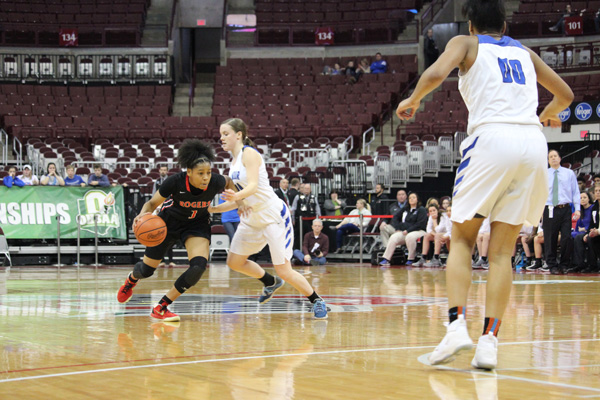 Don DiFrancesco
@MayorNEOPrep
COLUMBUS, OHIO– Toledo Rogers, behind stifling second-half team defense and a double-double from junior guard Zia Cooke, won their first state championship trophy at the Ohio State University Value City Arena on Saturday evening. The Lady Rams defeated the Gilmour Academy Lady Lancers, 51-37, in the Division II title game.
Both teams started slowly with Cooke getting the first basket of the game after a scoreless first three minutes. She went on to sink three additional shots in the first period for the Rams as they established an early lead. Gilmour used 3-point shots from Annika Corcoran and Emma Gurley and seven rebounds from 6-foot-2 Naz Hillmon to bounce back to within three, 14-11 in favor of Rogers after one quarter.
The Rams struggled in the second quarter. Cooke, a 5-foot-9 junior guard, continued to score, getting all seven of her team's points. But the Rams were impatient with their shot selection and made only three baskets in 12 attempts for the quarter. Meanwhile Gilmour out-rebounded Rogers 15-7 and scored 13 points to take a 24-21 halftime lead.
In quarter three, Toledo Rogers turned up the defensive pressure and Gilmour's shots stopped falling. The Lancers made only one basket, a 3-pointer from Sarah Bohn, in 10 attempts. Rogers, on the other hand saw their field goal efficiency improve dramatically. The Rams made 50 percent of their third quarter shots and led 36-29 going to the final period.
With momentum now established, Rogers was in control for most of the fourth quarter. The Rams took their largest lead when junior forward Tanaziah Hines scored on a layup with 3:06 remaining in the game. On that play, Cooke was heavily guarded by two Lancer players, but somehow managed to get a pass to a wide-open Hines under the basket as Rogers went up by a 49-35 count.
Cooke was both the leading scorer and the leading rebounder for the Rams, scoring 33 points and corralling 14 rebounds. Hillmon led the Lancers in both categories as well, getting 16 points and 19 rebounds.
Gilmour Academy struggled mightily on offense throughout the second half, making only four of 21 shots. For the game, the Lancers were 13-of-50 (26 percent) while the Rams finished at 20-of-44 (46 percent).
Rogers went 27-3 in bringing home the school's first title in girls' basketball. Gilmour, last year's champion in Division 3, closed their season with a 25-4 record.
Toledo Rogers                     14            7              15            15   =     51
Gilmour Academy              11             13             5              8   =     37
Toledo Rogers
Cooke                      14-3-33
Hines                       3-3-9
Smith                       2-0-5
Royal-Davis         1-2-4
Gilmour Academy
Hillmon                5-6-16
Corcoran               3-0-8
Gurley                     2-0-6
Bohn                        2-0-5
Hocevar                 1-0-2
**Check out a photo gallery from the game below

NEO Sports Insiders Newsletter
Sign up to receive our NEOSI newsletter, and keep up to date with all the latest Cleveland sports news.