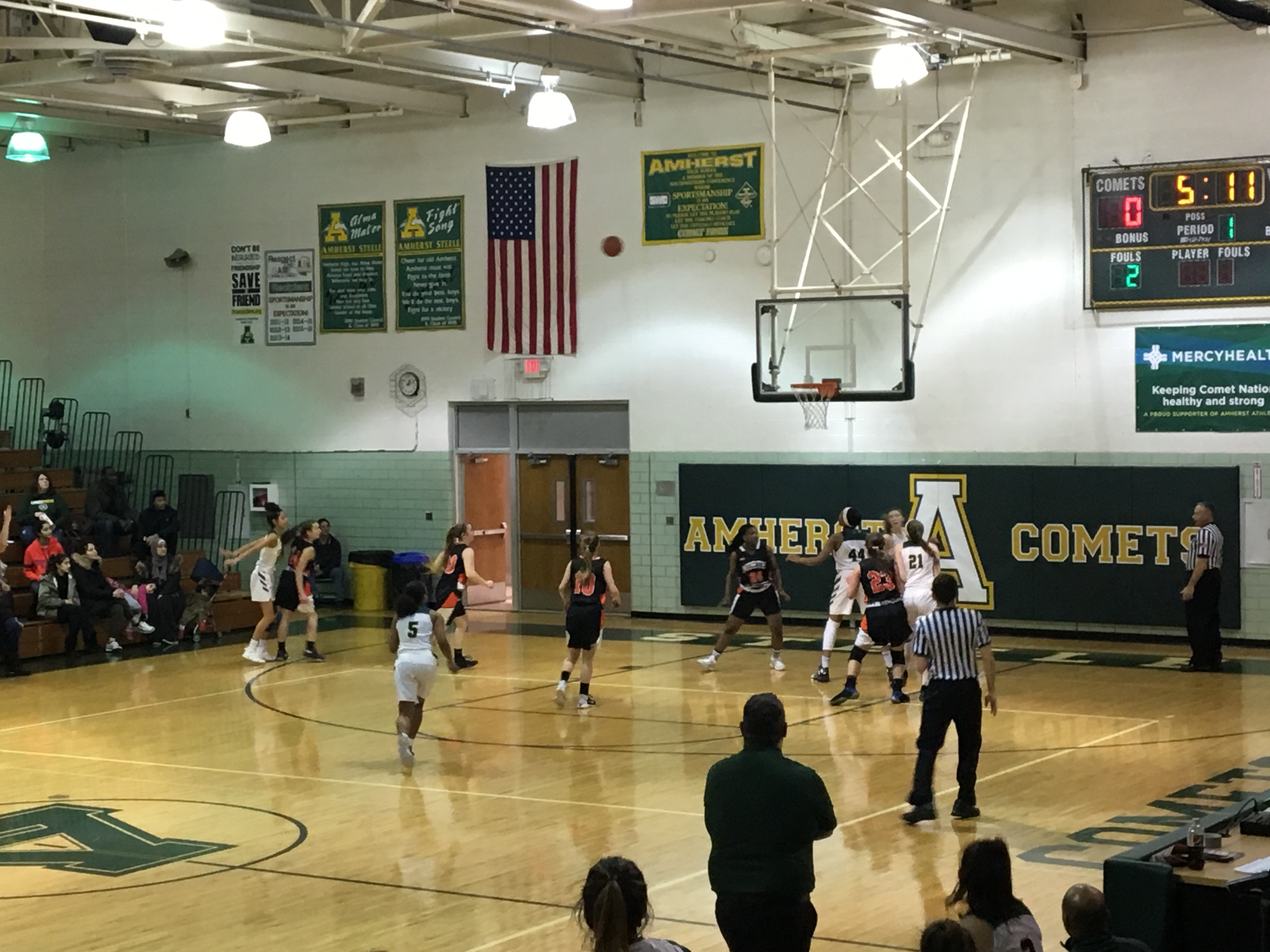 AMHERST, OHIO– March Madness is officially on as OHSAA girls basketball tournament play begins today.
With each game comes the excitement of a win or go home atmosphere. But while teams are in the midst of their "second season," fundamentals are more important than ever. The Amherst Comets proved that on Saturday afternoon with a 53-34 win over their Southwestern Conference rivals, the North Olmsted Eagles.
In the fourth quarter, the Comets scored all of their points from the charity stripe, going 21-of-28. They knocked down 25 total free throws in the second half, while making just three field goals in the third quarter.
"At the end of the game we know that they're going to want to foul us so they can get back into the game, so we really were just aware of that," Amherst junior Kamryn Dziak said. "We just held the ball, stayed strong with the ball, and took the fouls and made the shots."
Dziak ended the game with a team-high 13 points, making four of the Comets' free throws down the stretch. Senior Kate Iliff also ended the game in double-digits with 12 points, after going a perfect 8-of-8 from the line in the final frame.
So what led to Amherst getting such an advantage from the free throw line? The Comets came into the second half with a 22-15 lead, and decided they needed to rely less on outside shots and be more aggressive with attacking the basket against North Olmsted's 2-3 zone in order to try and draw the Eagles into foul trouble.
"We told them at halftime our goal is to get to the bonus by the end of the third quarter, because we know they have a very aggressive style so we wanted to kind of use that against them," Amherst head coach Kevin Collins said. "Our girls did a great job in the third quarter of being the aggressive team. I think we only took three 3-point shots in the second half and that was calculated. We wanted to be aggressive and attack and get to the free throw line, and they did the rest from there. They knocked them down and that's what you have to do to win games like that."
The game plan worked, as North Olmsted committed 22 second-half fouls. By the end of the third quarter, the Comets built up a 12-point lead after a buzzer-beating 3-pointer from Audrey McConihe. In the fourth quarter, they continued to draw fouls throughout to close out the game.
Along with Dziak's 13 and Iliff's 12, Amherst's Amaya Staton added nine points and Marisa Gillam chipped in eight. For the Eagles, Ronnette Rahmon-Sumlin led all scorers with 14 points.
While Amherst has had an up and down year, the Comets (11-12) could very well be considered a dark horse in the Elyria District. They've beaten both No. 2 Olmsted Falls and No. 4 Avon Lake, while also taking No. 3 Avon into overtime. In a district that houses eight out of 10 SWC teams, it truly is one where anything is possible.
"I think this is a fun district because everyone right now is saying Strongsville and Olmsted Falls, but it could literally be (seeds) No. 1 through No. 7 that come out of this, and that's a fun district," Collins said.  "We're excited, we were where we wanted to be in the bracket. We think we have a chance to make a run, obviously Olmsted Falls is a great team but we're confident. I think our girls are confident they can win, and once that happens it's anybody's game in districts, so just gotta win the next one."
North Olmsted's season ends at 4-19. Amherst will play at Olmsted Falls on Thursday at 7 p.m.
| | | | | | |
| --- | --- | --- | --- | --- | --- |
| | 1Q | 2Q | 3Q | 4Q | FINAL |
| NORTH OLMSTED | 6 | 9 | 7 | 12 | 34 |
| AMHERST | 9 | 13 | 12 | 21 | 53 |
Click through to see a picture gallery from today's game