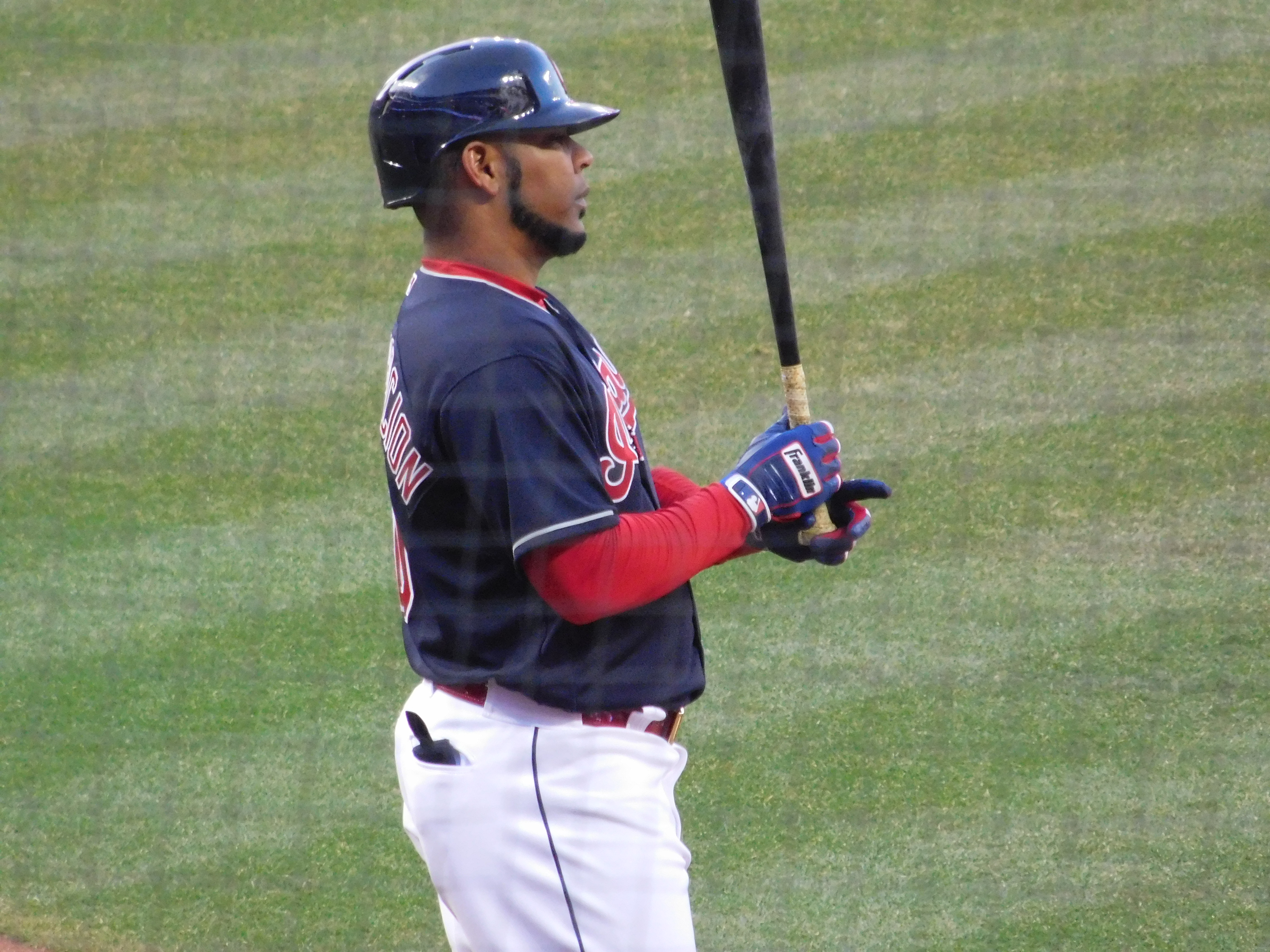 CLEVELAND– After the Indians' 12-4 win against the Texas Rangers on Wednesday afternoon, Edwin Encarnacion returned to his locker and had an incoming FaceTime from one of the top hitters in the sport.
As reporters waited to chat with Encarnacion following his three home run outing, he chatted with Albert Pujols, who called to congratulate him on his busy afternoon.
"We used to talk a lot," Encarnacion said. "He called me almost everyday, we'd talk about hitting. He's a great guy."
The final stats for Encarnacion's game: 3-for-5 from the plate with three homers and a season-high six RBI. Wednesday was his third career three-run homer game, and he is the first Indians player to hit three since Lonnie Chisenhall did it back in June of 2014, also against the Rangers.
Encarnacion got off to a quick start on Wednesday, recording a three-run homer in his first at-bat on an 0-1 changeup pitch in the heart of the zone. He struck again in the second inning, this time with a two-out, two-run shot on an outside, 92 mph four-seamer that put the Tribe up 9-1. His final homer came in his last at-bat during the eighth inning, this time a solo shot on an inside four-seam fastball.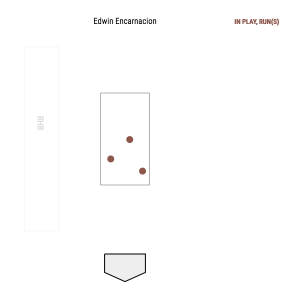 It's Encarnacion's second multi-homer game this season, and the 30th of his career. The 35-year-old is currently fourth among the league's active players with multi-homer games. Pujols is first with 57, followed by Miguel Cabrera (39) and Adrian Beltre (32).
Encarnacion has hardly had the season he would like up until this point. Coming into May, he had a slash line of .171/.250/.352. Last year, he also got off to a slow start, slashing .200/.343/.353. But knowing that Encarnacion has heated up later in the season isn't just a confidence booster for the team as a whole.
"I even think for him," manager Terry Francona said. "I know he's not happy with the way April was, but he's good enough that he knows. It's nice to see him relax and smiling. You can tell by the way the guys react to him how they feel about him. We're a different team when he's swinging the bat like that."
More from Tito on Edwin's 3 homer game: "We're a different team when he's swinging the bat like that." pic.twitter.com/iIlBVFJin2

— Ashley Bastock (@AshleyBastock42) May 2, 2018
It's no secret that the Indians have struggled offensively, and currently rank 22nd in the league in team batting average. So is Encarnacion heating up much like he did in May of last year? According to Corey Kluber, Encarnacion told the team he can feel himself about to turn the corner.
"I think it was yesterday in the dugout he said something along the lines of 'I'm coming,'" the Indians ace said. "So I guess he knew what he was talking about."
As Francona said, Encarnacion isn't satisfied with how his spring has gone so far, but he remains confident because he knows his game. One can certainly hope that his three trips walking the parrot on Wednesday are just a sign of good things to come for the slugger, and the Indians offense as a whole.
"I know what I got," he said. "I feel very comfortable with myself and I know what I can do. It's just about timing and about playing. I've been playing everyday and I'm going to be all right."

NEO Sports Insiders Newsletter
Sign up to receive our NEOSI newsletter, and keep up to date with all the latest Cleveland sports news.