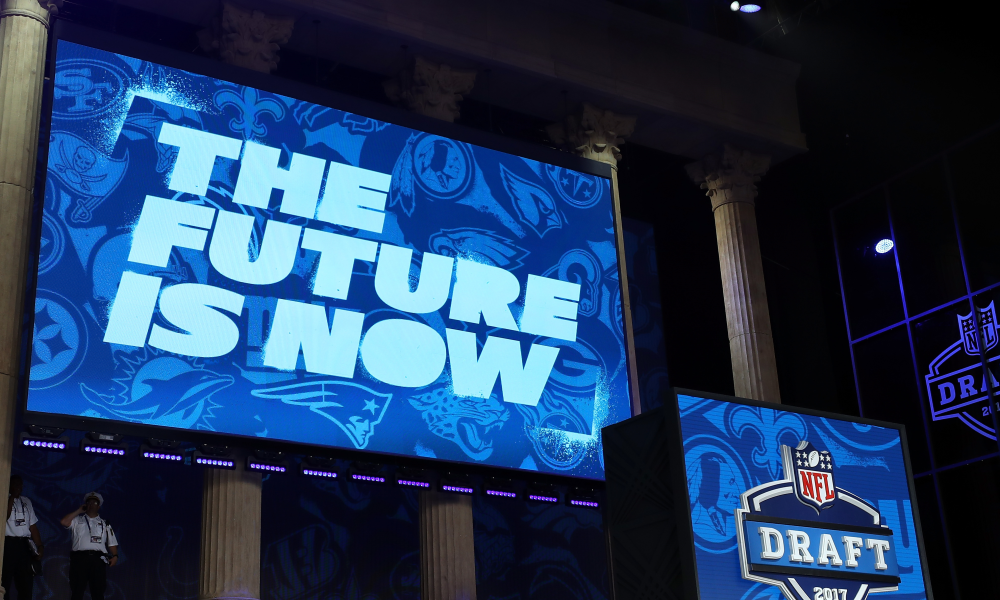 Minnesota Vikings
Grade: C+
The Vikings don't have a ton of needs which is why I thought they would come away with more best player available picks than what we saw. Mike Hughes in the first was excellent and Brian O'Neill fit a need but I'm not sure he will make it in the NFL. After that they have some edge rushers like Jalyn Holmes and Ade Aruna that might make an impact but other than that will be pretty average,
New England Patriots
Grade: C-
New England always tends to be all over the place but I think they stayed in right field for too long in this one. Isaiah Wynn and Sony Michel are great players but neither fit a need for New England when they have a lot of holes still to fill. They traded for the future on a lot of picks and failed to come away with a QB, WR, TE, edge rusher or LB before the fifth round. Those issues may come back to hurt them this season.
New Orleans Saints
Grade: D+
I'm glad they think they are close enough to winning it all that they gave up way too much in moving up for a project edge rusher in Marcus Davenport. Sure he has a lot of physical tools but a small school guy for a first rounder next year too was too much. They got no successor at QB and no TE for Drew Brees in this draft. All the marbles are on a boom or bust prospect in Davenport.
New York Giants
Grade: A
The Giants grades can be all over depending on how you feel about Barkley going second and not getting Chubb or a franchise QB. I'm all for the best talent in the draft and it is win now time in New York. I think Barkley makes that offense so dynamic and he is going to be a special talent. Adding a nasty mauler in Hernandez to block for him is icing on the cake. Lorenzo Carter at LB was a fantastic pick. BJ Hill and RJ Mcintosh were two of my favorite defensive lineman and sleepers. Kyle Lauletta was a sleeper QB that can learn with Davis Webb for a few years and then compete it out for the starting job when the time is right for Eli. This might have been my favorite draft this year.
New York Jets
Grade: A-
The Jets gave up a lot to move up to number three not knowing who they were going to get. They ended up getting the guy who was number one on their board and their franchise QB so it was all worth it. They added a lot of project players with Shepherd, Herndon, and Nickerson but I like a lot of their potential. I just wish they had some more picks left over or traded down some to add more players around Darnold.
Oakland Raiders
Grade: D+
I feel like Gruden had too much say in these picks and should have taken a back seat after Reggie McKenzie has done a nice job rebuilding that team. They moved down a lot to pick up assets but went way too much boom or bust. Kolton Miller is athletic at LT but is raw. They then drafted a similar type LT in Parker in the third round. They traded for disgruntled WR Martavis Bryant from Pittsburgh. I thought they reached on athletic NT PJ Hall in round two. Arden Key is a huge question mark on what you are getting. Nick Nelson is coming off injury and Maurice Hurst has a huge medical red flag. Then take the third punter in the fifth round and a guy who was suspended twice towards the end of the draft. That Oakland locker room is going to be a doozy.
Philadelphia Eagles
Grade: B-
I thought them moving down from the first round to gain a second next year and then trading one pick in front of the Cowboys for Dallas Goedert was one of the best moves in the draft. Unfortunately they did not have a lot of assets so besides the Goedert pick there isn't too much to talk about.


NEO Sports Insiders Newsletter
Sign up to receive our NEOSI newsletter, and keep up to date with all the latest Cleveland sports news.