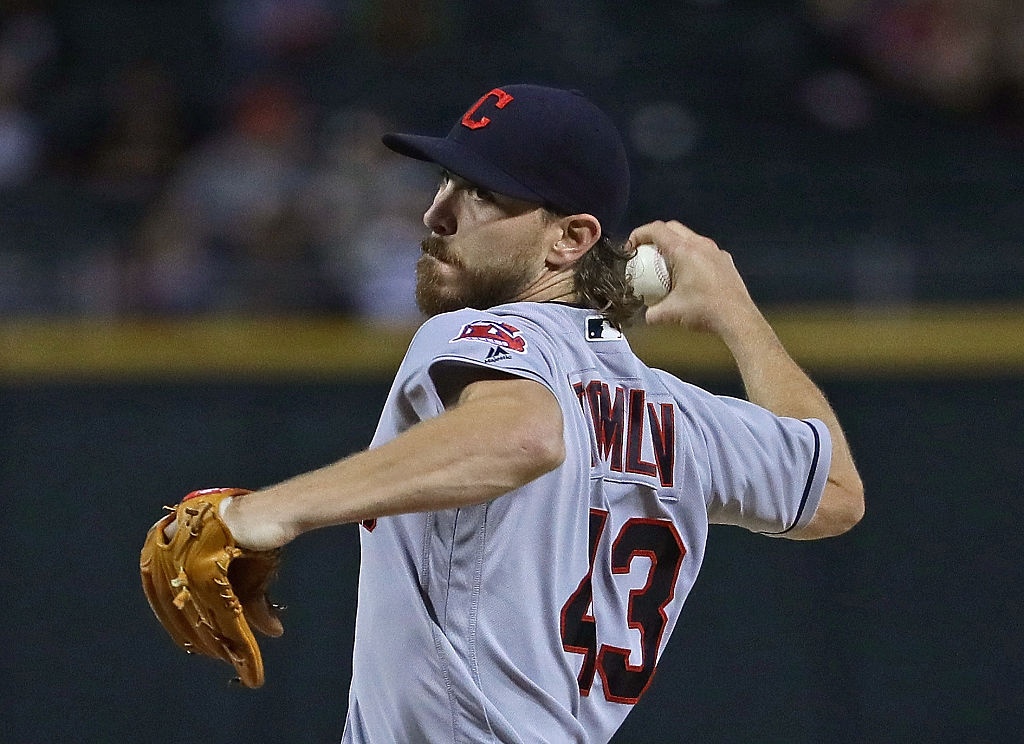 Is it too early to be concerned with the Indians' starting pitching? Sure, the Tribe bullpen has been outstanding in a good amount of use, but Indians starters have given up 17 runs so far in the first four games of the season while accumulating 22.0 innings.
In a rocky opening day start for Corey Kluber, the Tribe ace surrendered five earned runs and a day later Carlos Carrasco settled the ship by only allowing two runs. That effort was followed by another five runs allowed by Danny Salazar, we'll put an asterisk next to this one due to an unheard of error by gold glover Francisco Lindor, and Josh Tomlin was rocked for a five-run fifth inning last night.
So, is it crazy to be concerned with the Indians' starting pitching after four games and a 3-1 record? 
In short, yes, it is. But, it does need to be discussed. 
Last night, Josh Tomlin showed glimpses of the pitcher he has been with six strikeouts in his first appearance and looked in control of the game through three innings. Leaking in a pair of runs in the fourth, Tomlin had his day cut short by a five-run fifth inning thanks to a host of Diamondbacks eating up Tomlins stuff as he made missing his spots a bit of a bat habit.
Whether it was endurance or lack of focus after the start, Tomlin fell apart a little too quickly even with an early lead and caused the super-pen to come in and relieve him. Not the first impression of the season we had hoped for Tomlin, but after one game the veteran has some work to do.
In the same breath, Tomlin's outing statistically looked similar to Salazar's, but in two very different ways.
While Salazar's outing did yield five runs, the crazed error does need to be noted for future reference. Now that won't heal his ERA, Danny looked locked in for his first appearance of the year as a very different approach by right hander than last season.
Doing what Salazar does best, he was so effective working the corners and getting hitters to swing and miss at his pitched. But in stark contrast, Salazar threw barely any four-seam fast balls, his bread and butter pitch from last season, and instead threw his sinker at a near 50 percent of his total pitches in his first appearance. 
Utilizing the change-up more as well, Salazar's new approach proved to be effective and should be more apparent in start no. 2 on Wednesday in front of a home crowd.
Your home opener starter, Carrasco, showed a healthy and revitalized side in his first appearance and has statistically the best outing of any Cleveland starter (pending Trevor Bauer tonight). Carrasco was everything you wanted to see; efficient, effective and ahead in counts. 
Taken out after 5.2 on just 78 pitches, Carrasco said he was comfortable and didn't feel rushed. 
Well rested and coming off a positive debut, Carrasco is just the guy you want to see in front of a pack crowd as Cleveland welcomes back the reigning American League champs to Progressive Field.
As for Kluber, the take away he should leave you is how he settled into the game for to retire 10 in a row and now how his day started against an amped up Texas lineup. Being thankful for the offense, the Indians supported Kluber at the plate which does wonders for a guy who isn't used to seeing much support at all. 
Waiting for tonight's matchup, an intact Trevor Bauer will take the bump in the desert as the Tribe look bounce back from last night's loss and not have to be sitting with a 3-1 record for more than a day. 

NEO Sports Insiders Newsletter
Sign up to receive our NEOSI newsletter, and keep up to date with all the latest Cleveland sports news.