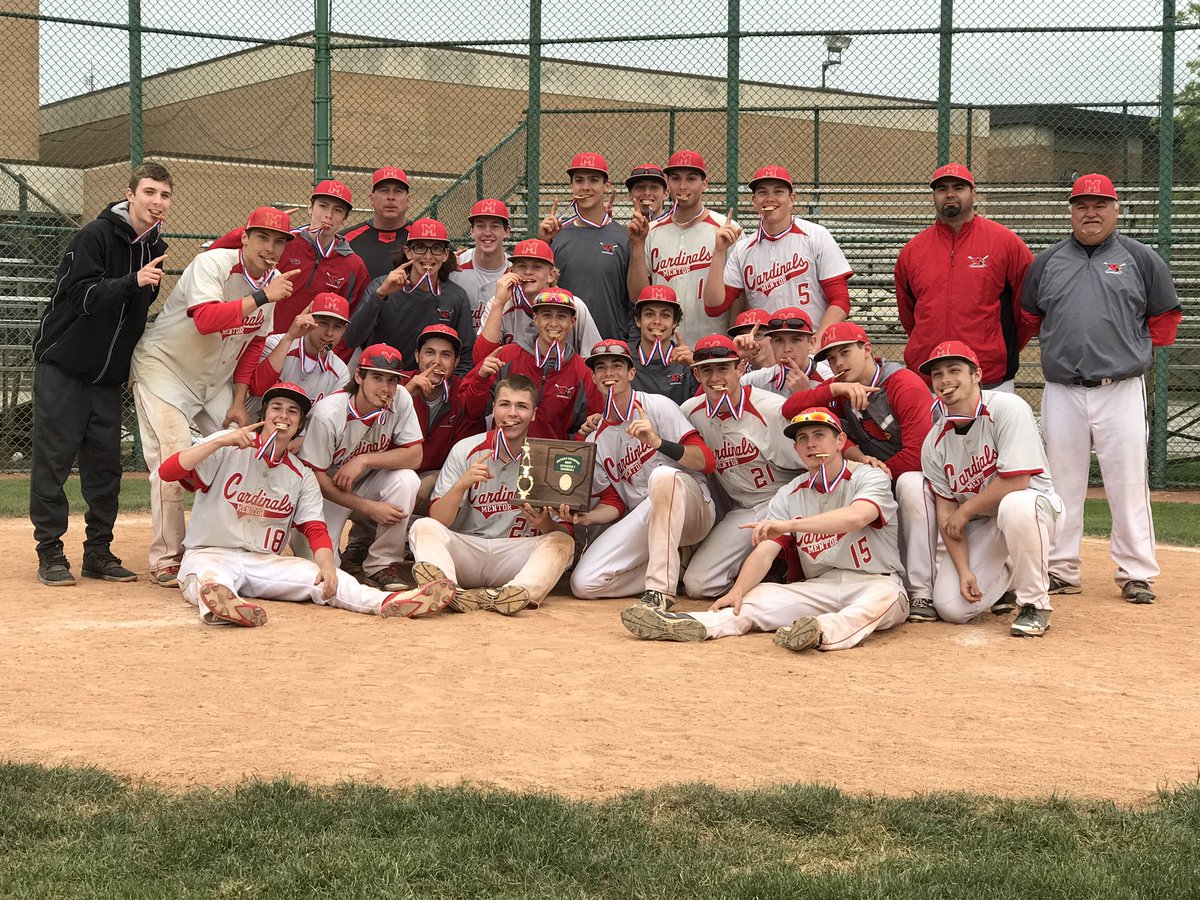 The Mentor Cardinals are one of the hottest teams in the area right now, currently riding a ten game winning streak going into Thursday's regional game against Mentor. They are making their first appearance this deep in the postseason since 2014.
On May 2nd, the Mentor Cardinals were 7-9. Since then, they have rattled off a ten game winning streak, and currently sit at 17-9 on the year. During the regular season, they finished in a three-way tie for fifth place at 5-8 in the Greater Cleveland Conference.
They shut out Cleveland Heights, 10-0 to open up the playoffs, held off Chardon, 5-3 in a district semifinal, and used a big third inning to defeat Mayfield, 14-0 in the Euclid district final.
"The guys are playing well, we're healthy, battling every pitch. It makes a difference." said Mentor head coach Jeff Haase. "Our goal is to get ahead early and play with a lead. It helps relax the team and keeps our pitch counts down. We have a great pitching staff and great hitters that can get the job done." he added.
Senior pitcher and Baldin-Wallace commit Nick Smith has pitched lights-out for the Cardinals, going 6-1 on the season with a 0.56 ERA and 32 strikeouts.
The Cardinals' pitching staff is very deep and includes junior Squire Chapman, who is 3-2 on the year with a 2.33 ERA and leads the team with 42 strikeouts, senior John Kaprosy, who is 3-1 with a 1.11 ERA and 30 strikeouts, and sophomore Justin Wilson is 3-0 with a 1.02 ERA and 20 strikeouts.
But Smith isn't just a great pitcher, he is also a standout at the plate, batting .407 with 33 hits, two triples, a home run, and leads the team with 28 RBI.
The Cardinal offense also includes senior center fielder and Lake Erie College commit Nathan Birtley is batting .379 with 33 hits, 23 BRI, two triples, and 12 stolen bases, senior Tommy Noll, who is hitting .360 with 27 hits and 26 RBI, and senior outfielder and Lakeland commit Matt Detering, who is hitting .353 with 30 hits, 23 RBI, and leads the team with ten doubles and three triples.
The Mentor Cardinals face off Thursday against a familiar opponent in the Aurora Greenmen. This is a rematch of the 2013 regional championship that Aurora won 2-1.
"This is a quality regional with quality opponents." said Haase.
If they get past Aurora on Thursday, they have two more potential  rematches. The first being with Walsh Jesuit, who they beat 5-2 on April 21st in the regular season, and the second being with Massillon Jackson, who defeated them in a regional semifinal in 2014.
**Check out our preview of the Aurora Greenmen here.**