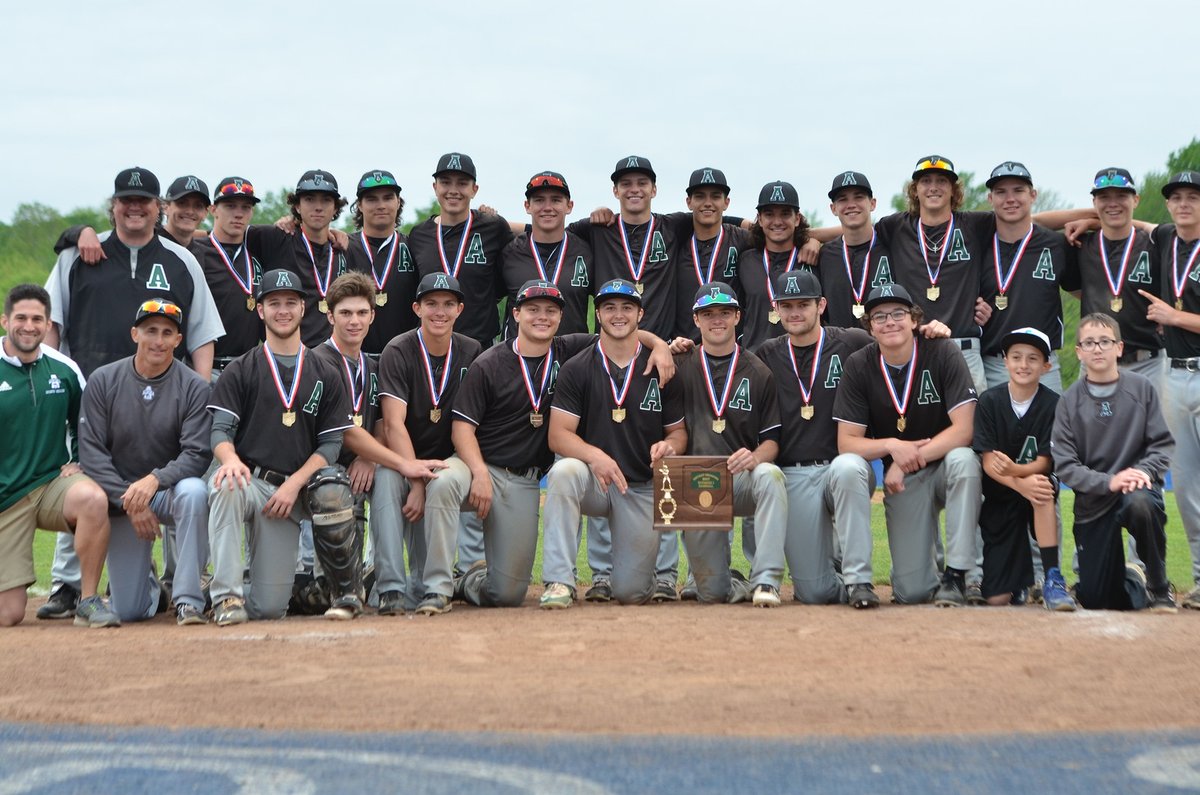 Aurora Greenmen head coach Michael Brancazio took the time to speak with NEO Sports Insiders about his team's upcoming regional semifinal against the Mentor Cardinals.
Aurora boasts a 20-5 win-loss record and their 25-game schedule was as competitive as you'll find in Northeast Ohio, as the Greenmen won the Suburban League American Division, edging out Tallmadge (who also reached regionals in Division II) for the conference championship.
After completing the impressive regular season, Aurora entered the Hudson District Tournament as the No. 2 seed, in a group that featured some of Northeast Ohio's best teams, including Solon, Hudson, Nordonia, Twinsburg and Kenston.
"When you go through the Hudson District, you arguably had six teams who may be one or two seeds in other districts," Coach Brancazio said.
"For us to be representing our district, with the competition we've faced, anyone associated with Aurora is really proud of our players for their hard work. I think people understand the gauntlet we had to get through to get to this point. It's amazing if you do the little things correctly, play solid defense, timely hitting and good pitching, it's a formula that can beat anybody. It's been proven with our difficult Hudson District."
To get to this point, Aurora played three tight games in a row in the district, edging Shaker Heights 4-2, in a sectional final, but the next two were even more of nail biters.
The Greenmen played the night game of the district semifinal doubleheader against conference rival (Suburban League National Division Champions) Hudson, in a game that started late because Solon and Twinsburg played nine innings in the first match of the day.
Lightning struck in the fifth inning and the game was suspended until the next day, with Aurora leading 5-4, after scoring four runs in the bottom of the fifth to overcome a 4-1 deficit.
The Greenmen came back the next day and finished out the 5-4 win to advance to the district final to take on Solon, the No. 1 seed in the district 45 minutes after an emotional victory.
Aurora won yet another close game, 4-3, to knock off the top-seeded Comets and advance to regionals.
"It wasn't an easy task, but once the games get started, our guys get settled in and just played the games straight up and went from there," Brancazio said.
"You have to give respect to Hudson and Solon, they're phenomenal teams and their coaches do a really nice job. Being in close games, what helped me as a coach was the fact that we've done this before. It helped going to a final four as an assistant coach at Aurora in 2013 and then going to a final four as varsity coach at Aurora in 2015. I'm kind of used to the nail biters as a coach, but I'll tell you, both games were highly emotional. Both teams played the game really well. We're just fortunate for the fact that we came out on top with two wins and most importantly two one-run wins, which is going to help us as we move forward to regionals and the competition is only going to get more difficult."
One of the interesting dynamics of this 2017 Aurora team is that many of the team's key players were a part of the 2015 team, which reached Columbus. Those same players were obviously younger then, but had the opportunity to soak in the experience and now hope to get a taste of what it's like to play in those situations as juniors and seniors.
"We're the fourth smallest Division I school in the state," Brancazio said.
"One of the things you have to do is kind of get creative with your classes and we knew in 2015 we had a very strong group of seniors. We also knew in 2015 we had a really good group of freshman. So last year in the 2016 season, we decided to play a bunch of sophomores. We knew there were going to be some growing pains. But they really worked their tails off in the offseason and one of the things we saw when we were scrimmaging Massillon Jackson (No. 1-ranked team in the state in Division I) way back when it was still snowing and raining, we kind of looked at each other and said, 'you know what? This is going to be a really good team.' We could tell by our offseason workouts, the way we worked out in the gym, lifted and conditioned, you just got a gut feeling that if we played the game the right way, we could get to this point."
"We knew that if we could get through districts with all of those top-tier programs, if we could just get through that and then get to regionals, anything can happen."
The 2017 team features a well-balanced mix of juniors and seniors, all of whom have years of varsity experience under their belts, and Coach Brancazio loves the make-up of his roster.
At the plate, one of the key guys has been No. 3 hitter Evan Fromwiller, who's hitting .388 on the season.
"The hitting stats are crazy," his coach said.
"He's just under .400, but the way he plays defense at shortstop has been phenomenal. He made three or four crucial plays up the middle at Hudson, not easy plays, not routine plays, that kept us in the game and especially facing Hudson and Solon, every out is so important. What he did defensively was outstanding and his approach at the plate – to hit nearly .400 against the teams we're facing – he's been crucial at the No. 3 spot in our order."
Two guys who set the table for the Greenmen are brothers Jonathan and Jacob Blue, a senior and a junior, batting first and second, respectively.
"At the start of the year, we weren't sure where to slot Jacob, but we saw his approach and he kept going up the middle and I looked at our coaches and thought 'you know what? We're looking for a No. 2 hitter, what about slotting him at No. 2?' He's taken that, embraced it and done a phenomenal job there. It helps that his older brother Jonathan gets on base, is a plus runner and can steal, so you can get him to second, Jacob gets him over to third and then Evan can drive him in."
Along with the one-through-three hitters, clean up man Bubba Arslanian (two homers, 10 doubles) presents an imposing threat at the plate, as the power hitting catcher complements the other three hitters well.
"Bubba has been crucial," Brancazio said.
"We know all it takes with him is one pitch and he can get doubles, just like that. He's been with us since his freshman year and it's been the status quo every year, we can hit him in a power slot and we know he's going to do a great job there."
Arslanian is a multi-sport athlete and will go on to play college football at Akron, but has some business to take care of on the diamond before hanging up his baseball jersey.
When it comes to the pitching staff, Aurora has one of the deeper rotations in Northeast Ohio, which has received reliable efforts out of multiple guys consistently this season.
"We always said our biggest strength was our depth," the coach said.
"Our hitters one through nine, our seven-eight-nine hitters could be No. 2 hitters on other teams. The same thing goes for our pitchers. I have five, six, seven choices of arms. Right hander Chase Coady (6-foot-2) is a tall, lanky kid who can throw hard and has command of his offspeed pitches. That's where his experience as a sophomore helped him now as a junior."
"Then you talk about right hander Zach Elsawy, who'll throw low-eighties, but he's just got good movement and good command of all of his pitches. He's embraced the role and really taken control of being our ace and the guy that's pitched in big games. We also go to Jaret Rose, a senior, who will be pitching at the collegiate level at Mount Vernon Nazareth. He's been phenomenal and did a great job at keeping Solon off balance."
Then, we can go to Michael Sapp, also a junior with a ton of experience last year. He was crucial as well against Solon. All four of those guys and then you add in relief pitchers Dominic Tyburski, Trevor Mitch, Tate Larrance, and Connor Bizjak, we're looking at a staff that is doing a phenomenal job of just getting outs and giving our offense a chance to be successful, keeping us in games."
What stood out most about all the names in that pitching staff is how many of them will return for 2018. Although Aurora will lose a great senior class, next year looks pretty bright too, especially on the mound.
"We have six seniors," the coach said.
"All of them have been through this program for four years. Some of them with Arslanian and Ben Stawicki have played varsity since their freshman years. You see this group of seniors giving back to our junior class and they pass it on to the sophomores and freshmen. We're really building a nice program here and we hope to be successful not only this year, but continue to be a successful D-I team every year."
Aurora's well-rounded team will have its work cut out for them against the red hot Mentor Cardinals, who won the Euclid District, outscoring opponents, 29-1, over three games, including a shocking 14-0 win over No. 1 seed Mayfield.
Coach Brancazio's roots are planted in Mentor, where he played on the 2004 team, which reached the State Championship.
"We played Mentor in the 2013 regional championship, too. People always ask me how I feel about playing Mentor, but it's really not about me. I do think it's kind of cool and I also like the fact that we're a small D-I school playing the biggest school, so we'll embrace that, but the thing about Mentor is you can't take them lightly. The key to being successful in the tournament is getting hot at the right time and that's what they're doing. It's our job to make sure we control the game a little bit and make sure our pitchers throw strikes and our defense makes solid plays. It's the same formula we had for Hudson and Solon. If we play clean defense, get timely hitting and outstanding pitching, I'm very confident in our guys."
The winner of Aurora vs. Mentor advances to take on the winner of Massillon Jackson vs. Walsh Jesuit Friday, May 26 at Thurman Munson Stadium in Canton. First pitch is set for 5 pm.
Mentor and Aurora are set to do battle at 2 pm Thursday. The Jackson-Walsh game will follow at 5 pm, so if you'd like to see a great double header featuring four great teams, head down to Canton.
**Check out our preview of the Mentor Cardinals here.**

NEO Sports Insiders Newsletter
Sign up to receive our NEOSI newsletter, and keep up to date with all the latest Cleveland sports news.