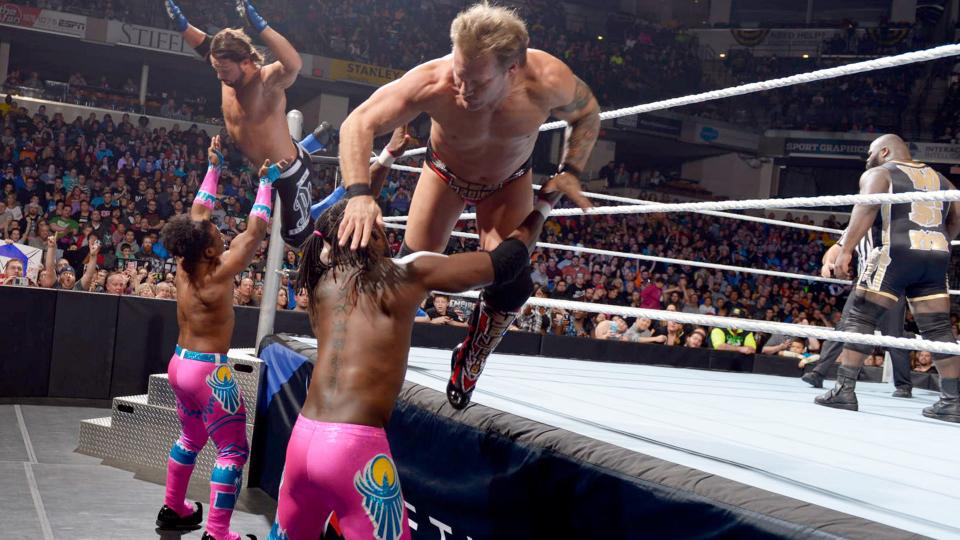 Triple H Addresses The WWE Universe
Quoting lyrics from The Rolling Stones' "Sympathy For The Devil", Triple H reminds the WWE Universe that he has beat many historic superstars to get to where he is today. He informs the crowd that if Roman Reigns forgot who he was, he remembers now. He says Roman has given the sweat by all of his hard work, given the blood on Raw after he was beat down, and that he will give the tears at Wrestlemania when he loses. He leaves everyone with the thought that human nature is to rebel against the boss, but eventually the rebels fall short and the law prevails.
Match 1: Neville, Dolph Ziggler and the Lucha Dragons v.s. The League of Nations
The action starts off fast, as both teams try to gain offensive momentum. Rusev and Del Rio take out the flying Lucha Dragons on the outside, as Barrett takes out Ziggler. After the commercial break, The League of the Nations is doing a great job of wearing out Ziggler, isolating him from his corner. Sheamus ends up getting too cocky, allowing Ziggler to tag in Neville. Neville gets going with his high-octane offense. Sin Cara and Kalisto take out Rusev, as Neville hits the Red Arrow on King Barrett. Del Rio breaks it up, as he is then taken out. Barrett tags in Sheamus, who hits the Brogue Kick on Neville and covers him for the win.
Winner: The League Of Nations
Kevin Owens Interview with Renee Young
Owens says he was impressed with Dean Ambrose confronting Brock Lesnar on Raw, so he offered Ambrose his rematch clause. Renee Young informs Owens that Ambrose was not at the arena. Owens states that he is going to have the night off, since the only man worth wrestling is Ambrose. Owens goes on to say he has beat everyone. That's when Big Show interrupts him and informs Owens that he hasn't beaten him. The two exchange words before Big Show tells Owens they have a match against each other later that night.
Match 2: D-Von Dudley v.s. Jimmy Uso
The Dudley Boyz address the crowd before the match, telling them that they won't be seeing them use tables and don't care if they fans like them or not. The match was a quick bout. Jimmy Uso took down D-Von and looked to finish the match early. Bubba Ray caused a distraction by pulling out a table from under the ring and then knocked Jimmy Uso off the top rope, allowing D-Von to get the roll-up pin for the victory.
Winner: D-Von Dudley
(A recap is shown of Shane McMahon returning to Raw this past Monday followed by an announcement that Undertaker will be on Raw next week.)
AJ Styles and Chris Jericho Promo
Styles and Jericho talk about the success of their newly-formed tag team. Styles talks about winning the Tag Team Titles at Wrestlemania and Jericho is on board with the idea, saying their match with New Day later in the night will be a big match in staking their claim in the tag team division. The two realize they need a partner for their match. As the two brainstorm partner ideas, Mark Henry answers the call. Jericho and Styles accept Henry's offer, understanding he is irritated with the New Day.
Match 3: Big Show v.s. Kevin Owens
The match starts off with Big Show using his size to his advantage. Owens gets a little offense going, before Big Show gets back on the offensive, hitting Owens with a chokeslam.Owens rolls out of the ring to regroup. Big Show throws Owens back into the ring and goes to the top rope. Owens grabs Big Show's leg and Show lands on the turnbuckle and falls outside the ring. Big Show cannot get back into the ring before the count of ten and is counted out.
Winner: Kevin Owens
Match 4: Becky Lynch v.s. Natalya
The match starts off with a show of sportsmanship. Both women get into an offensive scramble. Lynch hits a leg drop followed by an elbow drop. Lynch attempts another leg drop but Natalya moves out of the way. Natalya hits a German Suplex knocking Becky out of the ring. Naomi and Tamina come down to the ring and ambush Natalya. They then turn their point of attack to Lynch. Out comes Sasha Banks, who helps Lynch clear the ring. Charlotte then comes out to announce that Sasha and Becky's #1 Contender match for the Divas Title will be next week on Raw. She also informs them that she will be sitting front row for that match.
Match Ends In A No-Contest
Match 5: R-Truth v.s. Heath Slater
Goldust comes down to ringside to give R-Truth some unwanted support. A battle for control is stopped abruptly by R-Truth hitting a few dance moves. Slater gets frustrated and runs right into a hip-toss. R-Truth attacks Slater in the corner before the referee intervenes. Slater gets an offensive flurry going before R-Truth swings the momentum back his way. The Social Outcasts try distracting R- Truth, but the referee stops them from interfering in the match. While the referee is dealing with the Social Outcasts, Goldust assists R-Truth in getting the backslide pinfall victory.
Winner: R-Truth
Footage of Dean Ambrose and Brock Lesnar's Wrestlemania match build-up from Raw is shown.
Match 6: The New Day v.s. Chris Jericho, AJ Styles, and Mark Henry
The New Day question if Mark Henry is still the World's Strongest Man, saying Xavier Woods has something to say about that. They also talk about how the team of Jericho and Styles is dysfunctional and are nothing like the New Day. Jericho and Kofi start off the match, but Big E tags in and makes his presence felt early. Jericho tags in Mark Henry, who makes his dominance felt at the expense of every member of the New Day. Styles and Jericho then take out Kofi and Xavier Woods with diving cross-bodies outside of the ring.
After the commercial break, Xavier Woods was being picked apart. Woods tries to gain momentum but is stopped by Jericho, who then takes out Kofi. Jericho finally runs into the numbers game when Big E throws Y2J's head into the turnbuckle. New Day starts to isolate Jericho from Styles and Henry,while Woods plays Franchesca ll to celebrate. New Day look to finish off Jericho after a Big E Splash, but the count is broken up by Styles. Jericho finally finds an opening and tags in Styles, who takes out all of New Day.
Styles goes for a cover after a innovative offensive attack, but it is broken up by Big E. Mark Henry takes out Big E, only to turn right into Trouble of Paradise from Kofi. Kofi measures up Styles for Trouble of Paradise, but as Kingston goes to deliver the final blow, Jericho pushes Styles out of the way and is hit by Trouble in Paradise instead. Styles hits Kofi with a clothesline, but Xavier tries to roll-up Styles. Styles kicks out and explodes into a series of punches. Woods dodges the forearm and hits Styles with a spinning forearm, knocking Styles into the ropes. Woods charges at Styles, who locks in the Calf Crusher and rolls through, forcing Woods to submit.
Winners: Chris Jericho, AJ Styles, and Mark Henry

NEO Sports Insiders Newsletter
Sign up to receive our NEOSI newsletter, and keep up to date with all the latest Cleveland sports news.