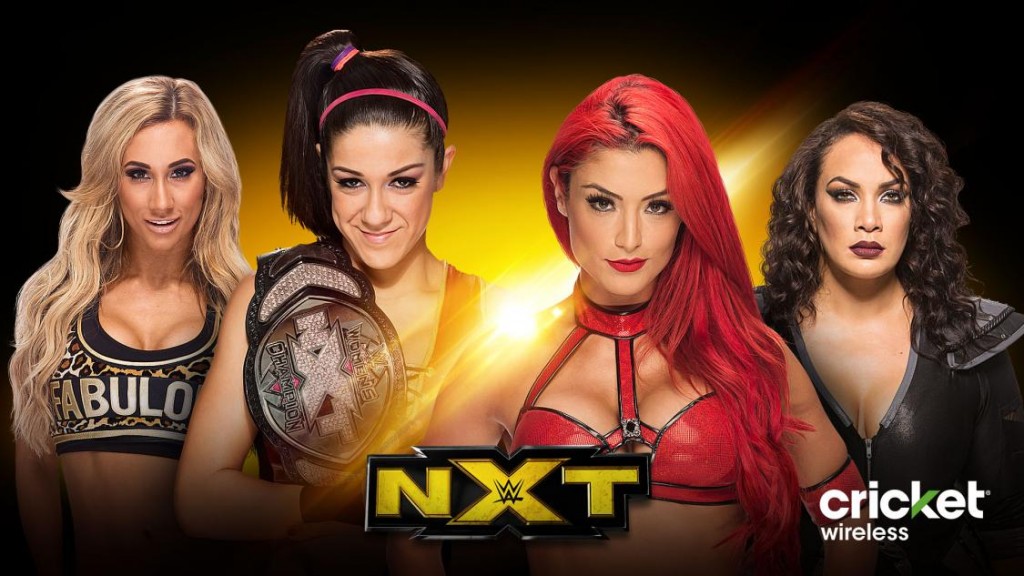 Match 1: American Alpha v.s. Blake and Murphy
The action started off with Gable dismantling Blake with his wrestling background. Gable was flying around, hitting head scissors and arm drags which forced Blake to tag Murphy in. Murphy suffered the same fate, as Gable controlled the action. Another quick tag led to a reversal by Gable, followed by Jordan and Gable taking out their opponents. After a quick commercial break, Jason Jordan and Blake are in the ring. Jordan neutralized Blake and tagged the red-hot Gable back into the match. Blake and Murphy were finally able to gain some momentum, attacking Gable and keeping him isolated from Jordan. Gable finally reaches Jordan, who knocks Blake and Murphy senseless. Gable comes back in and the duo finishes the match with Grand Amplitude.
Winners: American Alpha
William Regal Announcement
Regal announces that in two weeks Sami Zayn will face Samoa Joe in a 2-Out-Of-3-Falls Match to determine the #1 contender for the NXT Championship. He also announces that next week a new NXT roster member will be in attendance.
Match 2: Apollo Crews v.s. Christopher Girard
Crews takes advantage early, but then is hit by a offensive flurry by Girard, including a nasty clothesline. A headlock is applied by Girard and Crews seems to be struggling to escape the submission hold. Crews finally escapes and shows his athleticism in an offensive showcase, finishing off Girard with a variation of the spin-out powerbomb.
Winner: Apollo Crews
Bayley and Carmella interview
Both women speak on being attacked after their title match two weeks ago, saying they look forward to getting payback later that night. Bayley also notes the presence of Asuka, saying she knows Asuka is coming for her NXT Women's Title.
(Footage Shown of Dash and Dawson Attacking Enzo Amore)
Match 3: Tommaso Ciampa v.s. Bull Dempsey
Dempsey starts off by joking around with Ciampa and then getting his energetic offense going. Ciampa stops the "Bull Fit" Movement in its tracks and completely neutralizes Bull. Bull fights back but is shut down yet again by Ciampa, who locks in an armbar. Dempsey tries to fight, but quickly submits.
Winner: Tommaso Ciampa
Samoa Joe and Sami Zayn Interviews
Both men say they are ready and willing to do whatever they have to do to become the #1 contender for the NXT Title.
Match 4: Bayley and Carmella v.s. Eva Marie and Nia Jax
Carmella and Eva Marie start off the match, with Carmella taking out her frustrations early before tagging in Bayley. Marie wants no part of the NXT Women's Champion and tags in Nia Jax, who starts to pummel on Bayley. After Jax takes control of the match, she tags her partner back in. Eva Marie quickly finds herself in a bad situation, as Bayley and Carmella use teamwork to take out Eva. After a commercial break, Carmella has Eva Marie in a headlock. That doesn't last long, as Nia Jax gets back in the ring as imposes her will. Marie and Jax do a good job of isolating Carmella from Bayley. Nia Jax gets overeager and gives Camella an opening. Bayley and Eva Marie both get tagged in for their teams. Bayley puts her fun offense into effect before a Bayley-To-Belly is broken up by Nia Jax. Carmella tags in and tries to lock in the headscissors on Eva Marie before that is also broken up by Nia Jax. Jax tags herself in and hits two leg drops as Eva Marie tags herself in and covers Carmella for the win.
Winners: Eva Marie and Nia Jax
William Regal Addresses NXT Champion Finn Balor
Regal informs Balor that he is close to becoming the longest-reigning NXT Champion, He then tells Balor that he has a match next week with the longest-reigning NXT champion, Neville.

NEO Sports Insiders Newsletter
Sign up to receive our NEOSI newsletter, and keep up to date with all the latest Cleveland sports news.