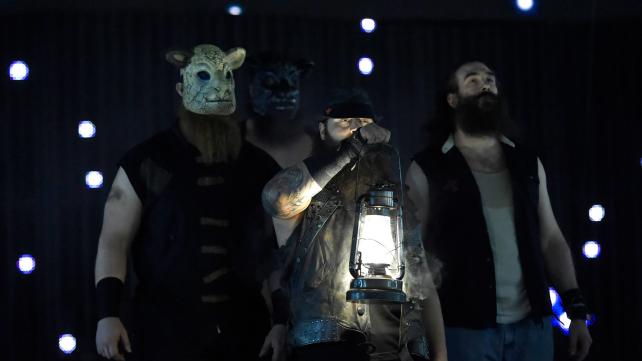 Opening Segment: WOAH! A fresh start. Roman Reigns starts off the show. League of Nations is no longer relevant to me anymore. Del Rio has the only championship and just lost it last week. I'm disappointed that Kalisto dropped the title on Smackdown after winning it on Raw. Definitely was refreshing seeing an opening segment without Stephanie McMahon or Vince McMahon.
Roman Reigns vs Rusev with Chris Jericho as special guest referee
I'm tired of hearing that this is the first time that the WWE World Heavyweight Championship is on the line during the Royal Rumble. WWE is trying to be too specific about it. Back in 1992 the Royal Rumble match was for the vacant WWF Championship plus it was also vacant but WWE is trying to act like it never happened before. Chris Jericho is a much better ref than Vince McMahon. You can tell that Jericho had fun while being special referee during this match.
WINNER: Roman Reigns via spear
Brie Bella vs Natalya
Paige comes out with Natalya, does that mean she is back to being a babyface? Was good to see Natalya back in the ring. I'm still confused on Paige but I won't complain.
WINNER: Natalya via Sharpshooter
Dudley Boys and Ryback vs Luke Harper, Bray Wyatt, and Erick Rowan
Why exactly is it the Wyatt Family feuding with the Dudley Boys? Also why is this feud still going on? I really think with the addition of Braun Strowman it just makes the team crowded, you don't have 8 man matches to often.
WINNERS: Wyatt Family with Luke Harper discus clothesline
Big Show vs Heath Slater
Was expecting Slater to actually win in this match. I love the Social Outcasts.
WINNER: Big Show via knock out punch
Number One entry in the Royal Rumble:
I predicted it. Reigns is the first entry in the Royal Rumble. The deck is stacked against him. He will have to go through 29 others in order to retain his title.
Becky Lynch vs Tamina
It is rough watching Tamina wrestle. Tamina seems like she is struggling to just take a bump, that's disappointing in WWE. Becky on the other hand looks great and is always impressive in my opinion. I would have rather seen Becky vs Naomi. That was the best promo Lynch has had ever. I guess Flair makes the matches now, along with Chris Jericho.
WINNER: Becky Lynch via Dis-Arm-Her
Dean Ambrose/Kalisto vs Alberto Del Rio/Sheamus
Kevin Owens on commentary is amazing. Owens is supposedly WWE's biggest heel in the company right now, but if I didn't say that you probably wouldn't have known. Del Rio looks like he's been in the gym about 7 days a week. Dean Ambrose with the one arm suplex while tied up in the ropes was impressive. You could tell Sheamus didn't know how to work with the moves of Kalisto.
WINNER: Sheamus via Brogue Kick
Jey Uso vs Big E
It is really odd to see the New Day in suits and without a trombone. I think since we see the same match ups over and over again it's time to call up some tag teams from NXT. Build up the Ascension once again, and bring in Colin Cassady and Enzo Amore from NXT. So much potential in NXT that any team you bring in will improve the tag team division.
WINNER: Big E via Big Ending
The Ascension/Stardust/Tyler Breeze vs R-Truth/Mark Henry/Titus O'Neil/Neville
This match makes me sad. Why is this in the Main Event slot? Wasn't really interesting to watch besides O'Neil throwing Breeze over Henry when he was not supposed to. I hate the fact all these guys are in the Royal Rumble. If it stands how it is as of now, 23 out of the 30 participants are already announced for Sunday.
WINNER: Neville via Red Arrow
Chris Jericho Highlight Reel with Brock Lesnar and Roman Reigns
Paul Heyman one of the best to hold a microphone in WWE history. Heyman hyped up the Royal Rumble and I'm sure he convinced some fans to get the WWE Network. If Reigns does lose the WWE World Heavyweight Championship I would love to see Lesnar hold the title or Jericho. Reigns with two spears, Lesnar with two suplexs, Bray Wyatt makes Lesnar look weak. Maybe Wyatt is the one to win the Rumble??
Top 3 Matches of the Night
1.) Roman Reigns vs Rusev
2.) Dean Ambrose/Kalisto vs Del Rio/Sheamus
3.) Big E vs Jey Uso

NEO Sports Insiders Newsletter
Sign up to receive our NEOSI newsletter, and keep up to date with all the latest Cleveland sports news.