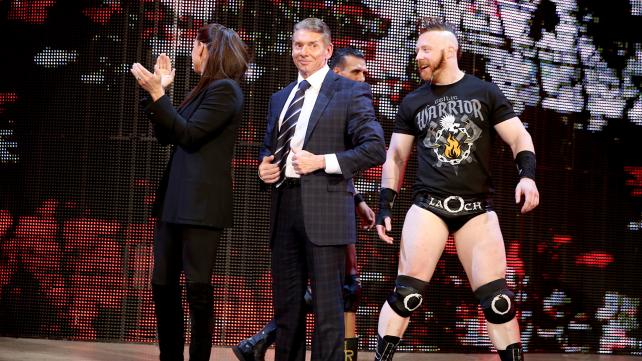 23 years ago, Raw had their first ever episode.
Opening Segment:
At first didn't understand the beginning with everyone on stage to start off the show but now I get it. I think it was done well to represent that anyone could win the WWE World Heavyweight Championship. Obviously not everyone that was on stage will be in the Royal Rumble (Do you honestly think Heath Slater, Bo Dallas, Adam Rose, and Curtis Axel will waste a surprise appearance spot? Turns out I was wrong though) . I'm pretty sure that they did this one vs all bit once before with Roman Reigns and Reigns beat everyone but why not try it again?
Sheamus vs Dean Ambrose
Ambrose is one of the best wrestlers on this roster. If this whole Reigns as the face of the company thing doesn't work, I'm sure Ambrose will. The bounce back clothesline Ambrose does is a good fit for him but it's hard to believe something like that used to be a finisher for JBL.
WINNER: Nobody via Double Countout
Stardust vs Titus O"Neil
If you didn't notice, Stardust payed tribute to David Bowie by painting his face like Ziggy Stardust. If WWE was to end the Stardust character soon I suggest they do it tonight. Just because for what he did tonight it'd end the character on a positive note. On second thought though, if the WWE wants to pull off the Cody Rhodes and Goldust rivalry they keep Cody as Stardust and the person that loses that match, at WrestleMania 32, has to change their gimmick or maybe a retirement match. If Stardust loses he can retire the character and finally come back to Cody Rhodes.
WINNER: Titus O'Neil via Clash of the Titus
Chris Jericho hosts the Highlight Reel with Guests; The New Day
Fun little bit involving the crowd. Had hope that maybe Jericho would be wrestling but instead he is managing. Jericho managed to sneak in a quick tribute for both Lemmy (from MotorHead) and also David Bowie. It was a nice little segment for the New Day and the Usos.
Usos (with Chris Jericho) vs The New Day (with Xavier Woods)
Xavier Woods is a pretty great manager, he's a heel but makes you want to laugh. JBL mentioned Umaga, I think that was the first time WWE has been mentioned Umaga since he passed away in 2009. It feels like Jericho is only a rental because he has his band as his number one priority. I wonder that if I pulled off the Chris Jericho business casual look would my boss be okay with that? I still stick with my prediction that New Day will be losing the Tag Team Titles very soon. I believe that Woods now has two broken trombones this past month.
WINNERS: The Usos via roll up
JBL announces Sting as WWE's first Hall of Fame induction of 2016.
If you haven't seen it already. Sting has a not so memorable career under the brand of WWE having only two matches with Triple H and Seth Rollins. Lost both of his matches but it was fantastic to see him in WWE. Hopefully Sting has one more match in WWE before he retires. There is a chance though that Sting will not be wrestling anymore after having the neck injury while wrestling a match against Seth Rollins back at Night of Champions. I know that WWE won't mention it but I will, Sting is now in both the TNA Hall of Fame and the WWE Hall of Fame.
The Wyatt Family vs Social Outcasts
I was hoping for the biggest upset in WWE history with the Social Outcasts defeating the Wyatt Family.
WINNER: No contest, Ryback interferes and clears Wyatt Family out of the ring with some help from the Social Outcasts.
Kalisto vs Alberto Del Rio for the United States Championship
So Del Rio caused Cena's injury? Good one, I'm an internet nerd and look at WWE news all the time, nothing said Del Rio did it or it was match related. Kalisto reminds me a lot like Rey Mysterio . It is disappointing that Mysterio is no longer in WWE because the Lucha Dragons could have been a trio with veteran leadership. Del Rio's double foot stomp is stupid anyone can avoid the move if they don't hold themselves up.
WINNER: Kalisto via roll up and new champ!
Shocked that Kalisto has won the United States Championship, but I love the move. This is the second time a championship has changed on a live episode of RAW in recent weeks and it is finally bringing back the surprise element on RAW. Congrats to Kalisto he has improved a ton in recent weeks, Sin Cara might be in trouble though with his partners recent success.
Brie Bella vs Charlotte
Happy that Becky Lynch attacked Charlotte because I didn't want to waste my time watching this match. You can tell that without Paige and Sasha Banks the Divas Division is feeling their loss at this moment. The only hope for the Divas Division without Paige and Sasha is a solid rivalry from Lynch and Charlotte. I still hate Ric Flair being his daughter's manager but I'm sure you all know that by now.
MATCH NEVER STARTED
If the rumors of A.J Styles, Shinsuke Nakamura, Doc Gallows, and Karl Anderson coming to WWE are true I hope that WWE does do a (Finn) Balor Club (would be a rip off of the now Bullet Club) without Nakamura and somehow they include Becky Lynch , I believe she would be a nice fit as a wrestler and manager of the team.
Roman Reigns vs All (Sheamus, Alberto Del Rio, Kevin Owens, Stardust, The New Day, The Wyatt Family, The Ascension, and Tyler Breeze)
I apologize if I missed anyone but I'm sure you get the hint. The rules of the match are that the match is over when Reigns can no longer move. Owens dominated most of the match and that made the one vs all concept a waste. I know the concept was for Reigns to get beaten to hell but why couldn't this be a tag team match formula instead of enter in at your own leisure. Brock saved the ending of the show by making an appearance. I counted three suplexs , was hoping for more but I can't complain. Lesnar's Road to WrestleMania is left wide open with the possibility of facing Reigns,facing Kevin Owens , or any other curveball the WWE can throw at us.
Top 3 Matches of the Night
1.) Kalisto vs Alberto Del Rio
2.) Usos vs New Day
3.) Roman Reigns vs All (Brock Lesnar appearance helped this slide into the final slot)
Thursday Night Smackdown 8 EST on USA
Dudleys vs Wyatt Family in a Tables Match
Neville and Dean Ambrose vs Kevin Owens and Sheamus

NEO Sports Insiders Newsletter
Sign up to receive our NEOSI newsletter, and keep up to date with all the latest Cleveland sports news.