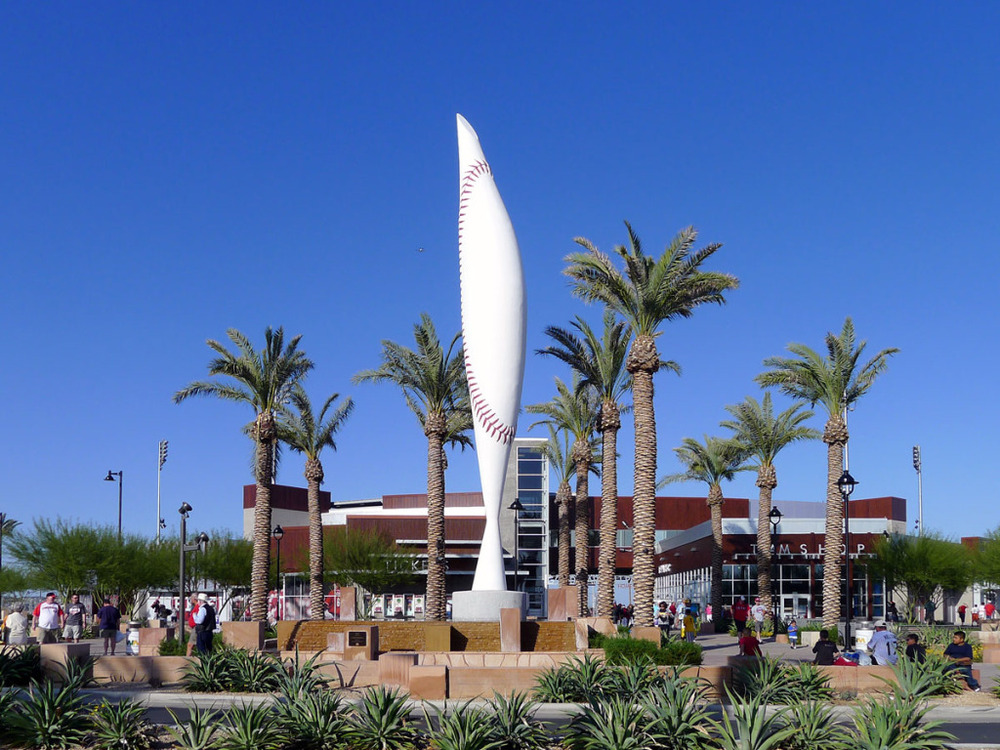 With spring training starting in less than two months, the Indians today invited eight players to camp with non-roster invitations, meaning these players are not a for sure to make the roster by any means.
Here's the eight players invited earlier today by the Tribe to come and compete in Goodyear.
1B Bobby Bradley
RHP Josh Martin
INF Nelson Rodriguez
RHP Cole Sulser
RHP Louis Head
RHP Josh Martin
INF/1B Richie Shaffer
The team announced they also inked free agent lefty thrower Robert Zarate to a Minor League contract with a non-roster invitation to Major League spring training camp, bringing the total number of non-roster invitees to 17.
Maybe the most interesting name on the list is Bradley, the 21-year-old third round (97th overall) selection in the 2014 First-Year Player Draft out of Harrison Central High School in Gulfport, MS. He spent the 2017 season with Double-A Akron, hitting .251 (117-467) with 25 2B, 3 3B, 23 homers and 89 RBI in 131 games.
He finished tied for the organizational lead with 89 RBI, fifth with 23 home runs and was named an organizational All-Star by MLB.com. Among Eastern League leaders he was second in RBI and sixth in homers. He was named Carolina League MVP in 2016 at Class-A Lynchburg and Arizona League MVP during his first professional season in 2014.
Head, 27, spent the 2017 in Triple-A Columbus, posting a mark of 3-2 with 7 saves and a 3.23 ERA in 50 relief appearances (61.1IP, 50H, 22ER, 28BB, 65SO, .222 avg). The Katy, Texas native finished tied for 8th in the International League in games pitched (50) and finished second on the club with 7 saves and struck out 9.5 batters per innings pitched on the season. He was the club's 18th round pick in the 2012 draft out of Texas State and owns a professional career ERA of 3.04 in 257 relief appearances (361.2IP, 315H, 122ER, 367SO).
Hill, 23, was the club's 17th round selection in the 2014 amateur draft out of Redlands Community College in El Reno, OK. He spent the majority of 2017 with the AA Akron RubberDucks, going 4-4 with a 3.18 ERA and 13 saves in 41 relief appearances (62.1IP, 55H, 22ER, 16BB, 50SO), finishing the campaign with 2.0 shutout innings for AAA Columbus. The 6-1, right-hander was named an Eastern League midseason All-Star after posting a first half ERA of 2.66 in 25 outings (47.1IP, 39H, 14ER) and finished tied for 7th in the Eastern League in saves, limiting left-handed batters to a .178 (16-90, 1HR) average against. He owns a professional career ERA of 2.21 in 141 games/12 starts (252.2IP, 196H, 62ER, 222SO).
Martin, 28, has completed six seasons in the Cleveland organization, going 23-21 with a 3.32 ERA in 216 appearances (4GS, 360.1IP, 300H, 133ER, 363SO). The Enterprise, OK spent 2017 with AAA Columbus, going 1-2 with 4 saves and a 3.25 ERA in 30 relief outings (13ER/36.0 IP) around a two-month stint on the disabled list (right elbow inflammation). He was the club's 10th round pick in the 2012 draft out of Samford University (AL).
Nellie Rodriguez, 23, will begin his seventh season with the Indians organization, who drafted him in the 15th round of the 2012 Amateur Draft out of George Washington HS in New York City. The 2015 Carolina League (High-A) MVP spent his 2017 campaign with AAA Columbus and hit 17 homers with 49 RBI while posting an OPS of .613. He owns a professional career average of .239 (568-2373) with 100 home runs and 387 RBI in 667 games since 2012.
Shaffer, 26, spent his first season in the organization with the Columbus Clippers in 2017, hitting .227 (105-463) with 18 2B, 30 homers and 89 RBI in 131 games (.464/.338/.802). The Raleigh, NC native finished second in the International League in home runs (30), tied for second in RBI (89), tied for fourth in walks (67) and fifth in slugging pct. (.464) as he led organizational hitters in homers and was tied for first (Bobby Bradley) in RBI. He appeared in 57 games in left field, 26 games in right field and at first base and 18 games at third base at Triple-A. Shaffer was Tampa Bay's first round pick (25th overall) in the 2012 draft out of Clemson and appeared in 51 Major League games for the Rays in 2015-16. He was claimed off waivers by Cleveland last offseason from the Cincinnati Reds.
Sulser, 27, went posted a combined ERA of 2.70 in 45 relief outings last season between AA Akron and AAA Columbus (63.1IP, 59H, 19ER, 70SO). He allowed just 1 earned run over his first 14 Triple-A outings (21.1 IP) and recently compiled a 3.86 ERA in 10 outings in the Dominican Winter League (4ER/9.1 IP). The Santa Ysabel native was the club's 25th round pick in the 2013 draft out of Dartmouth.
Zarate, 30, has not pitched the last two seasons after undergoing reconstructive left elbow surgery in the summer of 2016 after a non-roster Major League camp invite with the Pittsburgh Pirates. He recently completed a stint in the Venezuelan Winter League, posting a 4.46 ERA in 10 games/8 starts (36.1IP, 33H, 18ER, 33SO) and limited let-handed batters to a .156 (5-32) average against. He began his pro career in the in Blue Jays system in 2005 and spent 2013-14 in Japan. He owns a professional career ERA of 2.55 in 41 games/15 starts (31ER/109.1IP/124 SO).