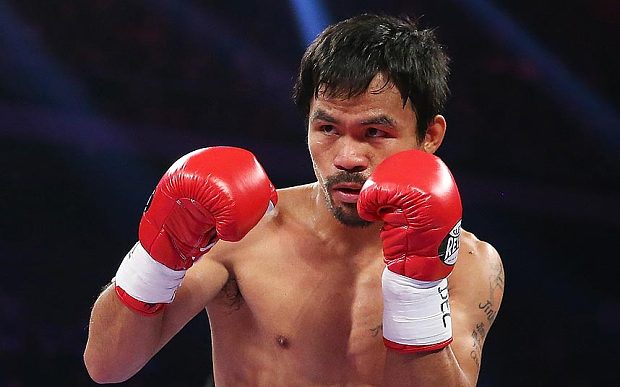 LAS VEGAS, Nevada – If last night was Manny Pacquiao's last fight, he went out in dominant fashion with a 116 – 110 victory over Timothy Bradley.
I had the fight scored 117 – 109, but it was clear either way that he won with ease, knocking down Bradley twice in the fight.
This was the final chapter in a trilogy that until last night, truly never had a clear winner in it. Many fight fans feel Pacquiao was robbed of the belt and decision in their first bout. Where he goes from here is anyone's guess. But retirement talk remains on the table.
The Filipino superstar has had an incredible career that saw him win world titles in eight weight classes and virtually guarantee himself a spot in the International Boxing Hall of Fame. He is still very popular amongst fans as shown last night with the MGM Grand Garden crowd of 14,665 fans largely Pacquiao partisan.
"As of now, I am retired," Pacquiao said. "I'm going to go home and think about it. I want to be with my family. I want to serve the people." "I was looking for a knockout in every round," Pacquiao said. "He's a very tough fighter and a very good counter puncher. Teddy Atlas made a difference because this was the best Timothy Bradley I faced in three fights."
"Manny was very strong in there," Bradley said. "He was strong the entire fight. He was always very patient. I wasn't professional enough to stay within myself and I walked into shots."
What is next for both men? Bradley will be sticking around, but have we seen the last of the Filipino legend? Time will tell…….
You can follow Vince McKee on twitter at VinceTheAuthor