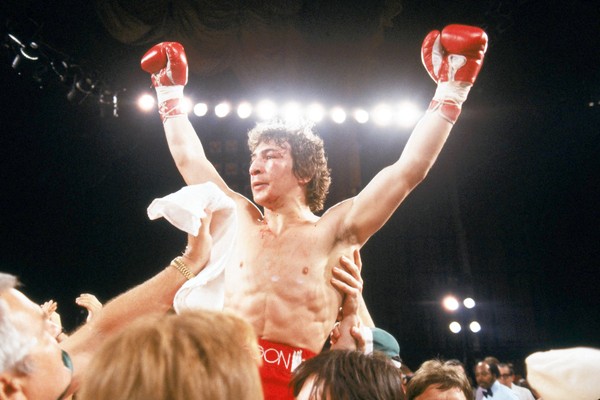 YOUNGSTOWN, Ohio – Champion Boxer and true living legend Ray "Boom Boom" Mancini recently took the next step in securing a long future in his growing legacy. He has once again shown that he is more than just a former athlete, but a true humanitarian and someone who truly cares in his fellow man.
The Ray "Boom Boom" Mancini Foundation has been around for a little over a year, and is already working hard to change the lives of those who need it the most in the community. Ray along with company founder and president Maria Barth have worked hard to leave no stone unturned in their path to helping others.
Both Maria and Ray have touched my life in a very personal and positive way and anyone they come across will tell you the same thing. They have hearts of gold and I was lucky enough to have the chance to speak with Maria recently on how the foundation came together and their plans for the future.
Here below is the recount of that interview with Maria:
Did you follow Ray during his professional boxing career?
I was only 8 when Ray turned pro so I didn't really follow his career but was very impressed by his overall success in boxing and entertainment when I began my business relationship with him in 2005.
When did you first meet Ray?
I met Ray in 2005 as my boss was his business manager.
What were some of the first impressions you had upon meeting Ray, and just some of the overall traits he posses that make him so likable?
My first impression of Ray was that I was taken back by his generosity and kindness he had in his heart for everyone. He never turns anyone away and takes time to talk to each individual and gives them his undivided attention always. He leaves lasting impressions in young and old peoples minds. When my brother was just 12 years old, he went to the Golden Gloves fight and Ray was already champion and just there as a spectator and was walking out of the arena, my brother asked him for an autograph and Ray said "come on kid walk with me" and he did and talked to him for a while and gave him his autograph. My brother is 46 and he never forgot that day.
A lot of former boxers are now bankrupt or had other major post retirement issues that kept them from living a normal life, what is it about Ray that he has been able to avoid those issues and remain such a respected member of the Youngstown community?
Ray was always satisfied with what he was given and never needed to live in an extravagant way therefore he has sustained a conservative lifestyle and never fell off the beaten path. Ray's faith in god, I believe is also something that got his through tough times during his career.
How did you come up with the idea of a foundation and what steps did you take to make it occur?
In 2014, Ray was living in California and I was involved with the Hope House Visitation Center. I suggested bringing Ray in for an event and due to the overwhelming response they followed up with another event. Being involved in the charity and doing other charitable events, I went to Ray and presented the idea to start The Ray "Boom Boom" Mancini Foundation. In November, 2014 we sat down and discussed the logistics of forming a Foundation and what all went in to making the venture successful. In January, 2015 The Ray "Boom Boom" Mancini Foundation was formed.
The main objective and goals of the Foundation are to sponsor events that benefit either other charities or individuals/families in need. Can you tell us about some of these events you have had and the people you have helped?
In the short months we have been in existence, we have helped individuals with meals, utility bills, medical bills as well as sponsoring events for local charities and having a brunch and dance for disabled and underprivileged children.
Three charities you have helped are the Hope House, Purple Cat and The Difference Makers, can you tell us a little bit about why you chose these three?
We really didn't isolate who we were helping, these three charities were near and dear to Ray and collectively it was decided by the Board to start our giving back to these three and we hope to help many more in the future.
What is ahead for the Foundation?
Our website rayboomboommancini.com displays all of our upcoming events and we are currently working on quite a few to raise money to help as many charities, families and individuals that we are able. One day, we would like to be a national organization and help people all over the world.
For more info on the foundation swing over to http://www.rayboomboommancini.com/
You can follow Vince McKee on twitter at VinceTheAuthor