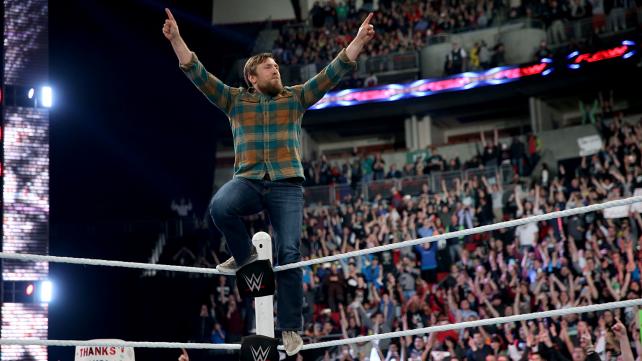 RAW starts off with a tribute to Daniel Bryan's career. This will be the biggest swerve I've ever seen if this was a work.
Opening Segment:
Contract signing for the Fastlane main event to start off the show. Daniel Bryan chants starting already, which I don't have a problem with at all. Stephanie McMahon gets the most heat by hating Roman Reigns and Dean Ambrose then Steph doesn't allow Paul Heyman to introduce himself. Heyman refers to Ambrose as Reigns little brother. Brock Lesnar slams the table into Roman Reigns and F5s Ambrose. So much for a non-violent contract signing.
Kevin Owens vs Dolph Ziggler
For the second straight week in a row week we get this match. I've seen this plenty of times but honestly I can't complain. Hopefully the WWE doesn't turn this into Orton vs Cena with them facing off 100+ times. Ziggler hit a Famouser on the apron and Owens landed to the floor, was an awesome spot.
WINNER: Dolph Ziggler via roll up
Owens missed the cannonball and Ziggler rolled him up and used the ropes to win the match.
Charlotte vs Alicia Fox
JBL said that Charlotte could hold the title 28 years if she beats Brie Bella at Fastlane. That is simply ridiculous, the divas division is way to deep that she will hold it for that long.
WINNER: Charlotte via Figure Eight
Match was decent, could have been a ton better but Alicia Fox did impress me.
MizTV with Chris Jericho (Kinda)
The Miz being interrupted is just a running joke now, even for his own show. Jericho changes MizTV into the Highlight Reel. Personally I'd rather see the Highlight Reel than MizTV. The Miz actually lost his tooth against AJ Styles last week on Smackdown. Styles comes out since Miz and Jericho were both complaining about AJ being a success so far. Styles might have found his first feud in WWE and I believe it's with Chris Jericho.
Bray Wyatt vs Ryback
How about Ryback's new look. I think it could work, obviously he just faced the facts with the Goldberg comparisons. I have one question, why is Ryback so comfortable on the top rope when he isn't supposed to be. So Ryback has gone through being JBL during his days of being Skip Sheffield with the cowboy hat, RVD when he wore his tie-dye singlet, and now of course Goldberg.
WINNER: Bray Wyatt via Sister Abigail
It truly is a good thing that the Wyatt Family had got back together because Erick Rowan would still be a terrible face and Braun Strowman would have never came around.
Titus O'Neil vs Adam Rose
Social Outcasts..are they trending yet? Adam Rose is apparently the Radical Mongoose, that is a different type of nickname but whatever works I guess. THE SOCIAL OUTCASTS WIN ONE!
WINNER: Adam Rose via roll up
Right when you thought maybe Titus was getting a push, something like this happens.
Dean Ambrose calls out Brock Lesnar
Ambrose gets destroyed by Lesnar. After he gets destroyed Ambrose motions that he wants more of Brock. Ambrose nails Lesnar with a low blow after Reigns comes out and distracts Brock. Very interesting segment, maybe this is the start to a Ambrose heel turn. If Ambrose turns heel I still think he will get a huge pop by all fans.
Lucha Dragons vs Alberto Del Rio and Rusev
Awesome to see Sin Cara back but I don't like the pairing with Kalisto holding the United States Championship.
WINNERS: Del Rio and Rusev via Del Rio Double Foot Stomp
This match was pitiful and a waste of time. The only good thing in this match was Sin Cara returning other than that, it was pathetic.

Becky Lynch vs Tamina
Tamina is absolute trash. Sasha Banks on commentary is interesting, she has a good personality. When was the last time you saw a diva get thrown into the ring stairs?! That was a pleasant surprise.
WINNER: Tamina via Superkick
I cannot stand Tamina and Naomi being in the WWE during the Divas Revolution. Bring up any pair of NXT divas and they would be a great replacement for those two.
New Day and Mark Henry vs Dudley Boys and the Usos
Mark Henry is the Worlds Strongest Unicorn according to Big E. Mark Henry walked out on the New Day because he didn't want to put anyone through a table. Plenty of Superkicks involved during this match.
WINNERS: Dudley Boys and Usos via 3D through a table
Dudley Boys turn heel after the match by attacking Jimmy and Jey Uso. That was a surprise , wasn't expecting this to happen. Dudley Boys put Jimmy and Jey both through a table.
Daniel Bryan Segment
Let me just start it off this way, I will truly miss Daniel Bryan as a wrestler. Daniel Bryan is one of the few people to get over because of the WWE Universe and he is still over. Bryan has had a history of concussions since he had starting wrestling about 16 years ago. "Thank You Daniel" chants are great. The Seattle crowd is fantastic and giving Daniel Bryan the best send off possible. Brie Bella and Daniel Bryan want to start having kids soon! Bryan loves diving and "acting like superman". I love the fact how grateful Daniel is for everything that he has had. ONE LAST YES CHANT!! I lost it at the last YES! Chant.
Daniel Bryan you will be missed. Thank you for everything you have brought into THIS WRESTLING FANS life and many others.

NEO Sports Insiders Newsletter
Sign up to receive our NEOSI newsletter, and keep up to date with all the latest Cleveland sports news.