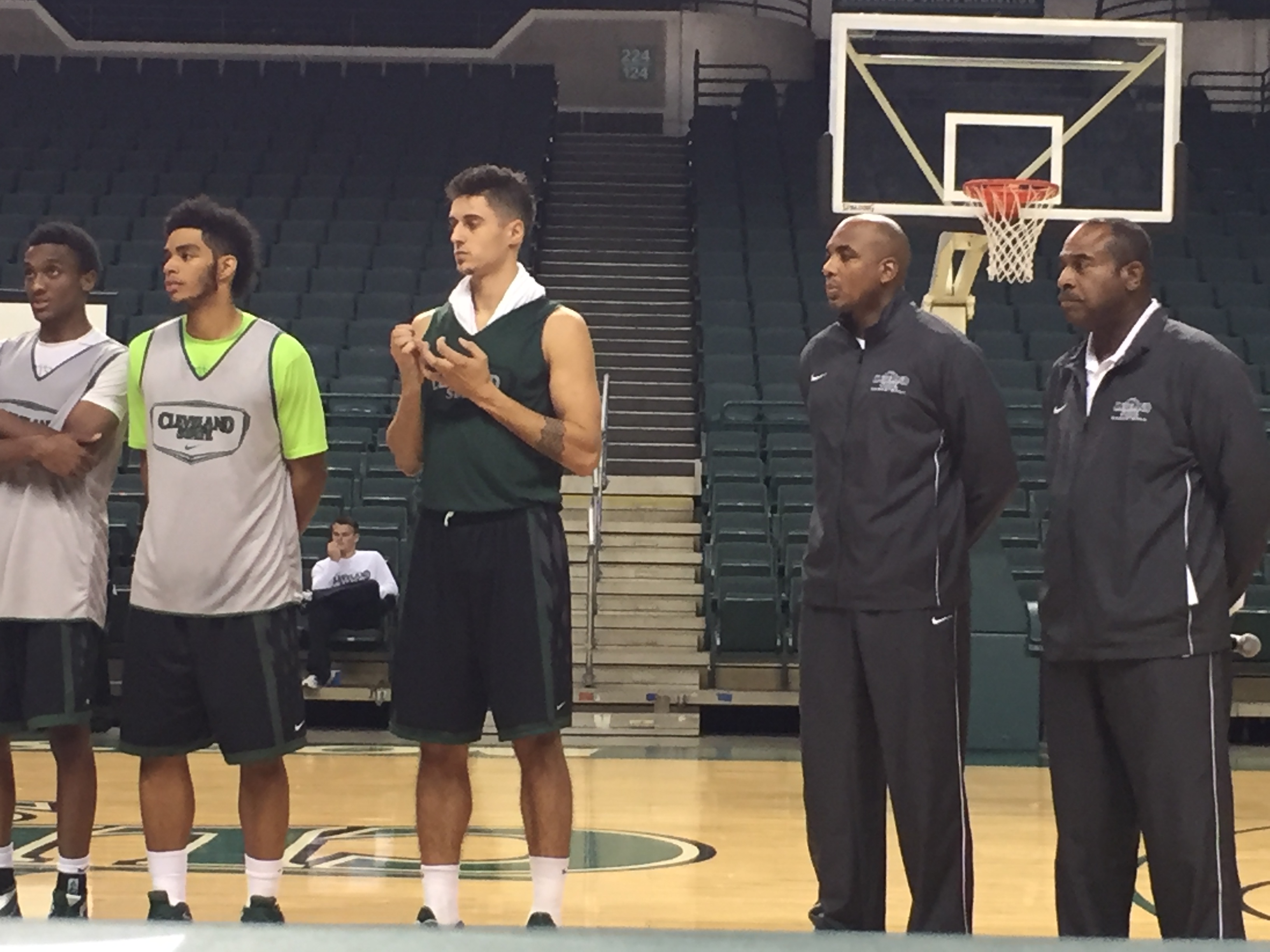 CLEVELAND – If you're into turnovers and deflections, than the Cleveland State Vikings Men's hoops team is going to be your kind of team this season.
Head coach Gary Waters and the Vikings are getting ready for the season installing a defense that can be defined in one word – pressure.
"The word pressure is a whole different concept," Waters said Saturday following the teams' Green and White scrimmage.
"We've pressured people before, I'm trying to extend out and pressure for 40 minutes. That's really hard, I want them to stay in relentless trapping."
Staying in a 'relentless trap' for two halves of basketball isn't easy, but it's something the coach is continuing to get his young team to buy into as they get set for the start of the season on November 14th at Kent State when they take on Akron.
"I want to consistently come at you. If they throw it back, we're trapping you again, throw it up there we're trapping you again, just to keep them totally off balance," Waters said.
Last season the Vikings went 19-15 under Waters, 11-5 in Horizon League play. The team last season allowed opponents to shoot 41.9 percent from the field, and created an average of 14 turnovers a game.
This season the focus is going to be stressed even more on defense, starting first with creating turnovers and ending with hands on the ball often during games with their suffocating defense.
"You've got to get a lot of deflections, I think we did that here today," Waters said.
Waters says the goal is to not allow offenses to get their play set with more than 15-17 seconds left in the shot clock. While it's a work in progress, he's happy with the way things are going thus far in the development.
"The other thing is we have to speed them up to make them shoot quick shots. Make them try to do things quicker than they normally do. That's what our press is doing."
The Vikings pursuit of pressure defense will continue as the team continues to get closer to the start of the regular season.
Goals are being set for this year's team to create havoc, which Waters thinks will give the Vikings the best chance for success this year.
"Our goal is to get 20 turnovers and 30 deflections a game," Waters said. "If we can get 30 deflections a game we are doing some good things there."
"We work on drills where we back tip and you make sure that you're deflecting that basketball," Waters said.