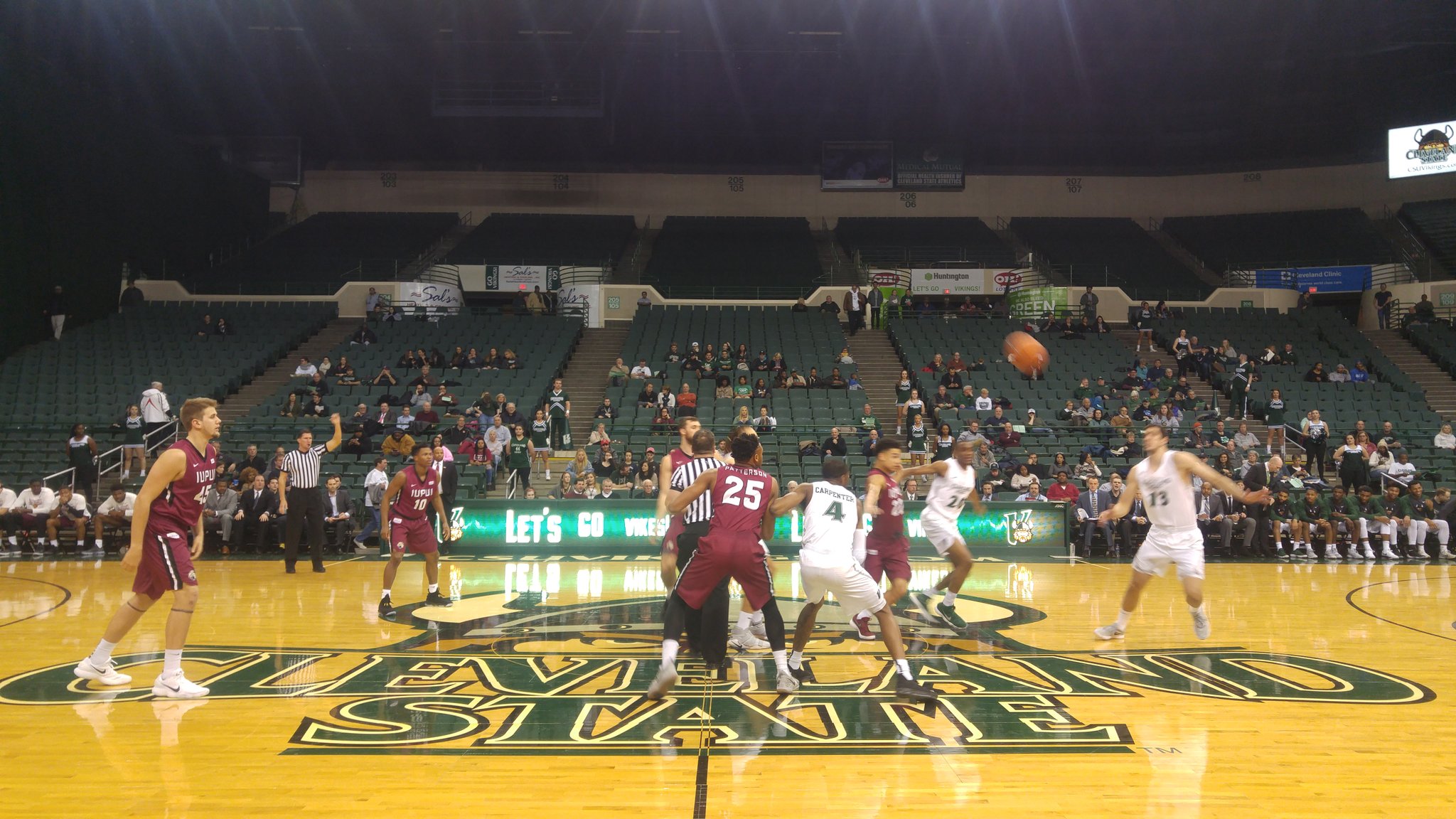 Provided By: CSU Athletics
GAME #6
Cleveland State (2-3) at No. 23 Ohio State (5-0)
Buckeye Basketball Classic
Friday, Nov. 23, 2018 | 8:00 p.m.
Columbus, Ohio | St. John Arena
TV: Fox Sports 1 | Listen: 1420 AM
PDF Game Notes
Cleveland State at Ohio State
GAME PREVIEW:
• Cleveland State hits the road to take on Ohio State on Black Friday, Nov. 23, for an 8:00 pm tip.
• The Vikings (2-3) will be looking to regroup after dropping a 73-60 decision to Samford to end their recent homestand.
• Ohio State is 5-0 with wins over Cincinnati, Purdue Fort Wayne, Creighton, South Carolina State and Samford.
• The Buckeyes are ranked among the top 25 nationally in both major polls.
• Friday will be the third game in the Buckeye Basketball Classic for CSU and the fourth and final contest for Ohio State.
• The game will be broadcast live on AM 1420 with Al Pawlowski on the call.
• The game will also be shown on Fox Sports 1 with Dave O'Brien and Stephen Howard on the call.
THE OHIO STATE SERIES:
• Friday will be the ninth all-time meeting between the two Ohio squads.
• It will be the first meeting between the teams since December 2009, a 72-59 Buckeye win.
• CSU's lone win in the series was a 75-73 victory in 1994.
THE BUCKEYE BASKETBALL CLASSIC:
• This early-season event will feature 10 games played by five teams from Nov. 11-25.
• Seven of the 10 games in the event will take place in Ohio.
• The event features Cleveland State, Ohio State, Purdue Fort Wayne, Samford and South Carolina State.
GAME 5: SAMFORD 73, CSU 60 (11/23/18):
• CSU had the lead right after the half, but a prolonged cold spell by the Vikings early in the second half allowed Samford to pull away.
• Sophomore Stefan Kenic notched a team-high 15 points, his third straight double-figure scoring game.
• CSU had advantages in fast-break points, second-chance points and bench points but was undone by its shooting.
• Jaalam Hill had a team season-high 10 rebounds as CSU grabbed a higher share of its misses than did the Bulldogs.
NOT OVER THE HILL:
• Junior college transfer Jaalam Hill is shooting 60.0 percent from the floor in the early going (21-for-35).
• Hill had 15 points, on 6-for-7 shooting, and six boards against Kent State for his first double-figure scoring game at CSU.
• His streak of three straight double-figure scoring games was snapped last time out, but he did post a season-best 10 rebounds.
• Hill is averaging 9.6 points and 6.0 rebounds, tops on the team, in 22.6 minutes.
EFFICIENTLY EFFECTIVE:
• Three Vikings are shooting at least 50% from the floor in the early going.
• Jaalam Hill and Algevon Eichelberger lead the group at 60.0% with marks of 21-for-35 and 15-for-25. Seth Millner sits at 50.0% for the season, shooting 15-of-30. Stefan Kenic sits at 46.9% on the year.
SHARING THE SCORING LOAD:
• In its two wins this season, the Vikings had six players in double-figure scoring in one game and five reach double digits in the other.
• In CSU's three losses this season, no more than two Vikings reached double figures in scoring.
WE'LL TAKE 'EM, THEY'RE FREE:
• Cleveland State has taken 128 free throws through five games, a mark that ranked among the top 25 in Division I as of the NCAA's most recent stats report.
• The Vikings have taken at least 19 free throws in every game and had a season-high 32 vs. Kent State.
SHARING THE WORKLOAD:
• Though CSU has only played five games this season, seven players are averaging between 16.4-23.6 minutes per game.
• Tyree Appleby is the only Viking with a higher average as he leads the team with 28.0 minutes/game.
• The last time Cleveland State had no player average at least 30 minutes per game was in 2005-06 when Carlos English led the squad with 28.4.
BOOST OFF THE BENCH:
• The Vikings' bench has outscored its opponents in all five games this season.
• CSU has a 156-74 advantage in bench points on the year, an average of over 16 points better per game.
• Jaalam Hill has 48 total points off the bench while Rashad Williams has 47.
• CSU's bench outscored its opponent in just 14 games last season.
EIGHT MAKE DEBUT:
• Eight of the 12 Vikings to see time this season are playing their first season at CSU.
• Seven of the eight also made their NCAA debut this season, including six true freshmen.
• Seth Millner is the lone true freshman to start a contest this season. He joins sophomore Algevon Eichelberger, a transfer, as the Viking newcomers to start this year.
DETERMINED ON DEFENSE:
• In their first 30 games under head coach Dennis Felton, the Vikings allowed their opponent to shoot 45% or higher on 17 occasions.
• In the last 10 games dating back to last season, CSU has held nine opponents under 45% from the field.
• CSU's opponents have shot a combined 40.5% in this stretch (255-for-630).
FOR THREE:
• CSU enters Saturday's game with a school record streak of 637 straight games with a three-pointer.
• The Vikings have hit at least three three's in 186 straight games.
• The last time CSU failed to make a three-pointer was Feb. 21, 1998, when the Vikings were 0-for-8 in a 60-57 win over Detroit.
FOR THREE, PART TWO
• The Vikings set a single-season school record for three-pointers made (294) and threes attempted (863) in 2017-18, breaking the old records of 247 makes and 709 attempts.
• CSU tied the single-game school record of 14 three pointers made in four different games last year.
FOR THREE, PART THREE
• Cleveland State ranks among the top 50 nationally in three-pointers made and attempted as of the NCAA's most recent report.
• The Vikings have hit 10+ threes in two games this season and shot over 50% from distance in both of those contests.
BETTER ON THE BOARDS:
• Cleveland State grabbed just eight offensive rebounds combined in its opening two games this season.
• In the past three games, the Vikings have combined for 45 offensive rebounds, including at least 13 in each game.
• CSU allowed just six offensive rebounds to Samford last time out, a season low by an opponent. CSU grabbed 78.5% of potential defensive rebounds vs. Samford, its highest such mark this season.
TYREE IS KEY:
• Tyree Appleby was named to the League's All-Freshman team last season after averaging 11.8 points, 2.4 rebounds, 4.0 assists and 1.3 steals per game.
• Appleby finished among the top five all-time totals by a CSU freshman in the following categories: free throws made (106), free throws attempted (148), games played (34), assists (135), steals (44), minutes (874) and points (400).
• He raised his game in the Horizon League Tournament, averaging 15.3 points, 4.3 rebounds and 5.0 assists per game over the team's four-game run.
A MAGICAL RUN:
• Cleveland State made a magical run to the Horizon League championship game last year, reaching the contest for the first time since 2009.
• The Vikings knocked off ninth-seeded Youngstown State, 72-71, in their opening game of the League Tournament.
• CSU then shocked top-seed Northern Kentucky, 89-80, rallying from a 15-point deficit with 61 second-half points.
• The Vikings then held off fourth-seed Oakland, 44-43, in the semifinals, allowing season lows in points and field goal % (.250).
• CSU's 61 second-half points against NKU were its most in a half against a DI foe since 1990. The 43 points it allowed to Oakland were the fewest allowed to a DI team since 2012.
• Wright State topped CSU, 74-57, in the title contest, the fourth game in five days for the Vikings.
SERBIAN SUCCESS:
• Stefan Kenic scored 333 points last season, among the top 10 totals all-time among Viking freshmen.
• He led the team in free throw percentage (.791) last season and was second on the team in three-point percentage (.371).
• He tied his career high with 19 points against SCSU (11/18).
• He added 15 points and six rebounds last time out vs. Samford, his third straight double-figure scoring game.
• Kenic made a career-high eight free throws last time out.
• Kenic had a career high four assists in the season opener.
• Kenic is joined on the squad this season by fellow Serbian, Aleksa Popovic.
ODDS & ENDS:
• Cleveland State has committed fewer fouls than its opponent in all five games this season.
• A player on the opposing team has fouled out in four of CSU's opening five games.
• CSU's opponent has had exactly 12 turnovers in four of five games. Samford broke the string last time out with 15 turnovers.
FELTON BEGINS YEAR TWO:
• The season opener at Davidson saw head coach Dennis Felton begin his second season at the helm.
• Felton's first Viking squad featured six seniors he inherited that completed their eligibility last year.
• Felton was named the 15th head coach in program history on March 24, 2017.
• Felton is two wins shy of 200 for his career entering Friday.
LIMITED EXPERIENCE:
• Kasheem Thomas was the only Viking on the roster who had played more than one season for Cleveland State entering the 2018-19 season.
• Thomas has played in all 71 games since his arrival, starting 41 of those contests.
• Dontel Highsmith had played multiple seasons of college basketball and transferred to CSU before the 2017-18 season. Rasheem Dunn played the past two seasons with St. Francis Brooklyn but has to sit out this season due to NCAA transfer rules.
CSU vs. RANKED TEAMS:
• Friday's game will be the 52nd all-time contest for CSU against a nationally-ranked team and the first this season.
• CSU's last game against a nationally ranked team was at No. 2 Michigan State last season (12/29/17).
• The Vikings' last win over a ranked team was a 71-58 victory at No. 7 Vanderbilt (11/13/2011) in the 2011-12 season opener.
UP NEXT:
• CSU concludes action in the Buckeye Basketball Classic by hosting Purdue Fort Wayne Sunday, Nov. 25, at 5:00 p.m. It will be the first meeting between the teams in over 15 years.

NEO Sports Insiders Newsletter
Sign up to receive our NEOSI newsletter, and keep up to date with all the latest Cleveland sports news.