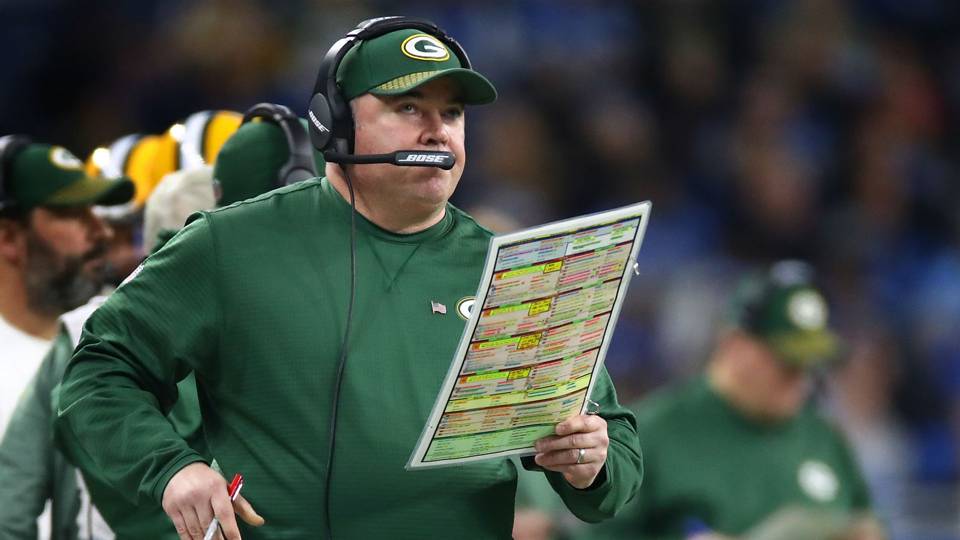 1. Mike McCarthy
Dorsey knows McCarthy very well from their seasons together in Green Bay. Additionally, Dorsey's two right-hand men in assistant general manager Eliot Wolf and VP of Player Personnel Alonzo Highsmith worked with him for over 12 seasons.
Mike McCarthy has the best resume of the available coaches. He led the Packers to a Super Bowl victory in 2011, and three NFC Championship games. His tenure in Green Bay ends with the second-most wins (125) and fourth-highest winning percentage (.618) in franchise history.
So why on earth am I including McCarthy on this list?
McCarthy has always had an upper echelon quarterback as his starter in Green Bay. In a quarterback driven league, he was blessed to have Hall of Famer Brett Favre and currently one of the best quarterbacks in the NFL in Aaron Rodgers.
I would expect more from McCarthy and his teams. The Packers succeeded because of the talent of the star quarterbacks NOT McCarthy's coaching ability. He underachieved while having one of the most talented quarterbacks in Rodgers.
Rodgers covered up the outdated game-management choices and stagnant play-calling by McCarthy. The play-calling was so conservative on first and second downs that he placed Rodgers in continuous third-and-long situations, which makes it easier on the defense.
His lack of creativity and offensive struggles led to Rodgers ignoring McCarthy's play call in the huddle and running his own play instead. Rodgers criticized the play calling and not adapting the offense to the talent he had on the field. This discontent led to a sour relationship between McCarthy and Rodgers and his ultimate demise.
Mike McCarthy wore out his welcome in Green Bay due to his lack of ability to win even with a great quarterback. How can a coach not be able to succeed with a great quarterback?
Let another team figure out the answer and not Baker Mayfield and the Browns.