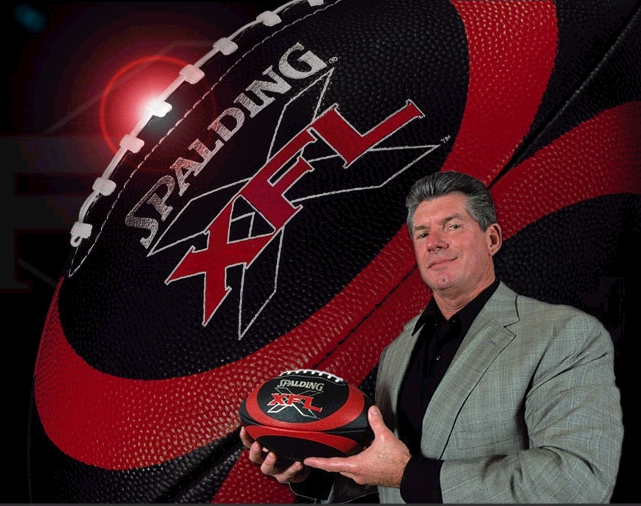 On Friday evening, I broke the story on Twitter that the XFL would be returning.
EXCLUSIVE: Vince McMahon is looking to bring back the XFL and may announce it on January 25th, 2018.

— Brad Shepard (@TheBradShepard) December 16, 2017
The story quickly went viral, with nearly a million Twitter impressions, and both national and international media coverage.
Fast forwarding through the details of 48 hours of complete craziness, I had the privilege to interview former XFL New York/New Jersey Hitmen announcer Peter Schwartz, to discuss his time in the league.
Peter is a New York sports media figure with vast experience, having previously worked at ESPN and currently working at CBS Sports Radio. His candid and insightful take on the only season of the XFL is something I think you'll enjoy. I know I certainly did.
The following is the transcript of my interview with the former New York/ New Jersey Hitmen announcer:
Brad: What interested you in the XFL, and how did you get hired as an announcer?
Peter: "At the time, when rumors circulated that Vince was starting a new league, I was an aspiring sportscaster and a radio sports anchor for WABC in Long Island. When the league was announced, my co-host tipped me off that the station was in talks about airing the games. Not too long after that, I ended up getting a phone call from the station director, telling me that I was selected to do play-by-play for the Hitmen. I was pretty excited about it, it was my first professional football job."
B: What was the buzz like in the New York area when the league was announced?
P: "There was without question a buzz. I mean, the initial press conference took place in New York. The Hitmen games were on WABC, so WABC promoted it very heavily. There are so many sports teams in New York that it was kind of hard for them to get a tremendous amount of coverage, but in the other markets, it was really off the charts how into it they were. Some of the coaches had their own TV shows to talk about game day. We would get into town when we traveled the day before the game, and we would see fans wearing jerseys of their teams."
B: What was it like working as an announcer for the XFL?
P: "It was a lot of fun, to be honest with you. I was still an employee of WABC, but I was made to feel like I was a part of the XFL family, and specifically with the Hitmen. It was a great relationship right from the start. One of the great things about the XFL, even though it only lasted a year, were the friendships that I formed and still have today. Everybody that was hired for the Hitmen, for the broadcasts, people that I met in the league and other teams – everybody that was involved in it was very passionate about it. Every person that I ever came across was 100 miles per hour forward in trying to make that league as good as it could be, and I couldn't have been more proud in being involved with it."
B: Did anything exceptionally good or bad stand out during your time there?
P: "If you had to sum up the whole year for the league on a scale of 1 to 10, I'd say to be fair about it, the whole year to me was a 7. If I was going to rate it on just my experiences alone, it was a 10. Without that year in the XFL, I would've never been hired the following year to be the radio announcer for the New York Dragons in the Arena Football League.
The reason I didn't rate the whole year for the league higher is that the football product itself could've been a little bit better. There were some good players throughout the league, but if Vince does indeed do it all over again, I think they have to do a better job of getting better players to make the football itself more entertaining.
I think they also have to stay away from the silly gimmicks. I thought the sky cam was great, and so many other sports put in better camera angles and I think you can point to the XFL for that – but I don't think there's any need to have a reporter go into the cheerleader's locker room, have a drink sequence that ends up with the guy talking to Rodney Dangerfield. That's not to say that the in-stadium experience shouldn't be good, but I think the bottom line is if you're going to attract football fans, you've got to have a good product on the field."
B: What was the game atmosphere like?
P: "They really did a good job of engaging the fans at the game. The Titan Tron at one end of the field and the fireworks, I thought that was a really cool element to the games. It was a lot of fun. The crowds were very festive, very into it – even at times probably a little rowdy.
I've been to a lot of sporting events in my life. There's not many that can top the first night of the XFL in Las Vegas. It was a Super Bowl atmosphere. You saw people tailgating in the parking lots, you had people holding signs up selling tickets, it was a spectacle. The sporting goods stores in Vegas couldn't keep the Outlaws merchandise on the shelves. The game was sold out from my understanding for weeks. It really was an unbelievable atmosphere and I felt the building shake during the pre-game ceremonies. When Vince came out there and yelled "This is the XFL," I had goosebumps. I was so excited that I was part of that, that I can't tell you what happened during most of the game. The game was not very good, Las Vegas won 19-0, but I'll always remember that night for the atmosphere. Of all the things I've done in the sports media, this was probably a top 10 thing, and if I had to go back and think about it, it might've been top 5."
B: What was the general feeling after you found out the league folded, and how did you find out?
P: "I think the people involved were pretty devastated obviously, I know I was. After I'd stopped to get something to eat for dinner that day, I came home, popped on ESPN and the first thing I saw on the bottom line of my TV screen was that the XFL folded. The first phone call I made was to my broadcast partner, Joel Santisteban. I said, "Do you believe this?" We were both so stunned that we had trouble having a conversation because the fact that it was gone in such a short time was devastating. It was actually shocking, all indications were that it was coming back, whether NBC was involved in it or not.
A few days after the season ended, the Hitmen were already figuring out what to do in the offseason to promote the team. I'd placed a call to the principal of my high school to see if I could get a Hitmen player to come visit the kids and do an assembly, and not long after that the league folded. It was really sad."
B: Did you watch the ESPN 30 for 30 on the XFL, and did you think it was an accurate portrayal?
P: "I sure did. I thought they really nailed it. I thought they captured what that year was all about for everybody that was involved in it. I thought they were fair, and I think if you asked Vince if he thought it was fair, I'd think he would agree with that."
B: Do you think a relaunch of an American Football League like the XFL could be successful today?
P: "I absolutely think it could. I think it's important for professional football to have a second outdoor league that isn't necessarily a rival to the NFL. It has to be done correctly. Vince had some good football people involved and working for him. They had good football coaches. Lots of guys with NFL experience. I think the one thing that hurt us is they rushed to start the season."
If you would like to hear more about Peter's time in the industry, you can follow him on Twitter at @pschwartzcbsfan.

NEO Sports Insiders Newsletter
Sign up to receive our NEOSI newsletter, and keep up to date with all the latest Cleveland sports news.