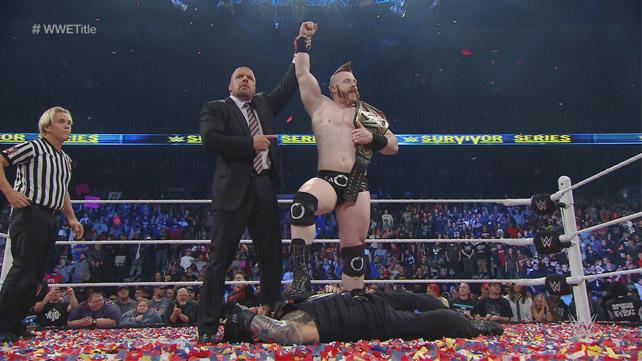 From the tone of Twitter on Sunday evening, not many people were thrilled over the rather 'blah' win by Roman Reigns in the main event over good pal Dean Ambrose.
The match was okay, lasting less than 10 minutes, but it was what happened after the match that seemed to perk up the opinions of wrestling fans worldwide.
The WWE pulled off a scenario we threw out on Friday, where Reigns won the belt clean over Ambrose, the two embraced and then Triple H came out, followed by a 'sneak' attack by Money in the Bank holder Sheamus, who 'stole' the belt with a 1-2-3 to beat Reigns and win the WWE Title.
If you didn't see our article on the event Friday, here's how we laid out the scenario that played out tonight in Atlanta:
There's always an ace in the hole that the WWE can go to if they don't like their other options for Sunday night, and that's to go in a totally different and surprising direction, which is to give Sheamus the belt after he cashing in his briefcase and taking home the title in a shocking finish.

Yes, this isn't going to be a very popular option, but it solves the issue of having one of the two top babyfaces as the champion, and puts one of them (likely Reigns) in a position of chasing the belt instead of having it.

Sheamus hasn't really done much since winning the briefcase, he was in a meaningless feud with Randy Orton in which they traded PPV wins it seemed like every month. Giving him the strap would be an interesting twist.
So where does the WWE go from here?
Having Sheamus with the belt gives the WWE time to put together their storylines for early 2016, as well as re-writes for WrestleMania 32 after the awful injury to former champion Seth Rollins.
Sheamus is just fine as a 'fill in' champion for the next 60 days or so leading to the Royal Rumble on January 24th in Orlando. That will be the event where the WWE sets in motion what to do for Mania as well as if they are ready to finally give Reigns a run with the belt.
The company does have plenty of options for what wrestler should win the Rumble, and therefore like Reigns did a year ago, earn a spot at the WWE Title in the main event at WrestleMania.

NEO Sports Insiders Newsletter
Sign up to receive our NEOSI newsletter, and keep up to date with all the latest Cleveland sports news.