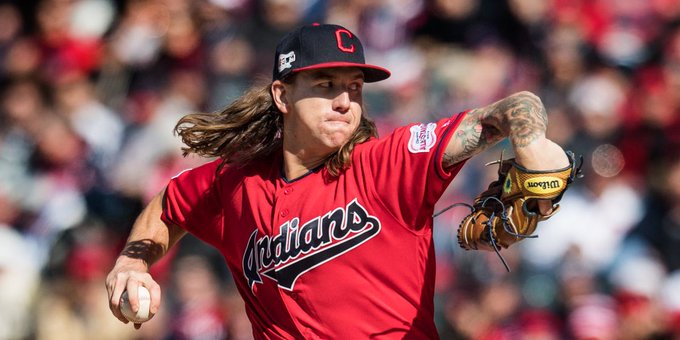 While fans have been lamenting all the things that are wrong about the Indians just over a week into the season, one thing that can't be overlooked is the fact the team is off to their best start in eight seasons.
Yes, Sunday the team again took care of a team that might struggle to win 65 games in 2019 in the Toronto Blue Jays, but you have to take care of business and the team that's in front of you, and the Indians over the last four days did that.
Sunday they had a scare, as the team lost pitcher Mike Clevinger after just five innings with 'upper back tightness,' but he himself said after the win that he wouldn't miss a start, and the team is hopeful that it was more of a precaution than anything.
Clevinger was very good once again, allowing one hit and striking out 10 in just five innings, needing 75 pitches to get there.
As for the offense, three runs a day after scoring seven was enough, and we'll get into that in a bit.
For now, here's a couple takeaways from the win which puts the Tribe at 6-3 after nine games.
1. Dominating Starting Pitching
It's been a trend for the first nine games for the Indians that the starting pitching has been downright excellent.
Yes, you can dismiss the two games in which Carlos Carrasco (last Sunday vs the Twins) and Corey Kluber (Wednesday against the Sox) struggled, but other than that the Tribe starters have been nasty.
Clevinger again was great on Sunday, and while it was a shorter outing than anyone would have wanted due to the back tightness, he still was excellent, striking out 10 and allowing a single run.
It will be interesting to see how this staff goes up against better competition, but for the last four days, they have been great.
Ballgame. The Indians defeat the Blue Jays, 3-1, in their first four-game series sweep since April 9-12 last season. The Indians record now improves to 6-3, which is their best nine-game start since 2011.
2. Positive Offensive Signs
While there are still way too many guys on this team struggling to make contact, the team did enough to get three runs Sunday, and one player in particular finally looks like he's got his timing down.
That player Sunday was Tyler Naquin, who got off to such an awful start, striking out in his first six at bats, but Sunday got three hits in three AB's, and is now hitting .304.
He went 6-for-13 in three games against the Jays, and it seems like he's hearing the rumblings that Carlos Gonzalez is hitting the ball fairly well in Columbus.
While Carlos Santana (.419) is still leading the team in most offensive numbers, the team simply has to get numbers from other players, and they also have to keep working on the strikeout number, which Sunday was at nine.
3. Handling the Closer Role
Brad Hand has four saves for the Indians thus far, and Sunday had to work for it with five outs, including getting a key double play in the eighth to save the win.
After a 2018 in which you just didn't know what you were going to get from then closer Cody Allen, Hand has (again it's early) given some stability to the role.
He doesn't seem to get rattled, and he seems to be saved three games on the teams' 5-1 homestand, getting one save against the Sox in the home opener, and getting a four-out save Friday and a five-out save on Sunday.
Having a closer that doesn't give fans high blood pressure is something new for Indians fans, and while you know there's going to be nights when he makes it interesting, it's been so far so good for the new Tribe closer.