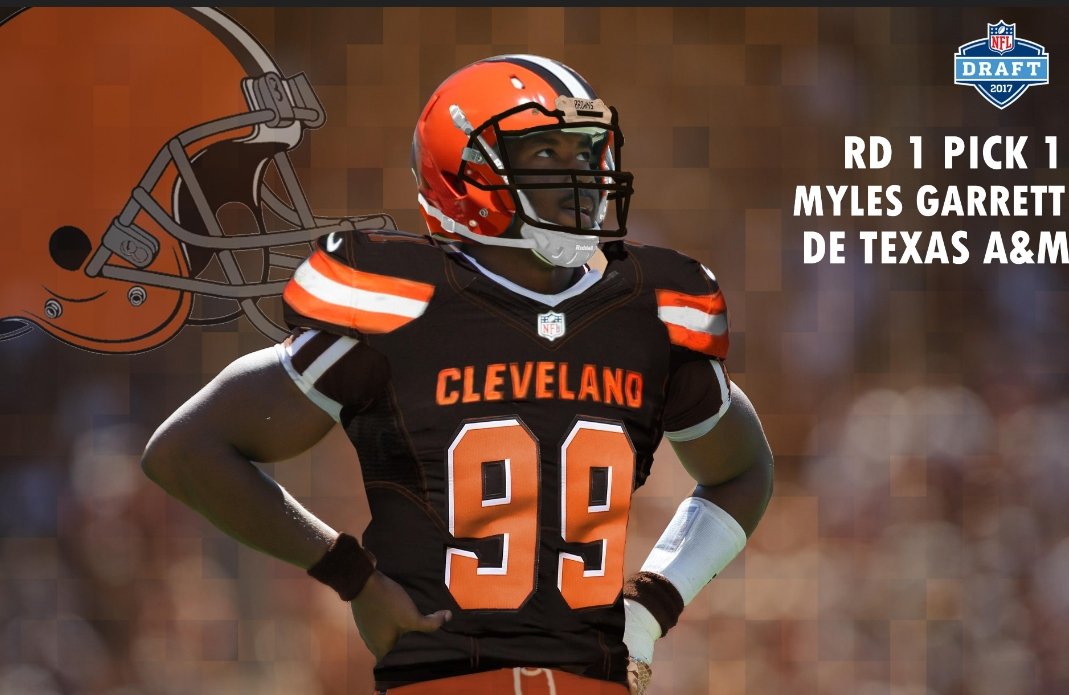 The Cleveland Browns selected defensive end Myles Garrett No. 1 overall in the 2017 NFL Draft.
"With the first pick in the 2017 NFL Draft, the Cleveland Browns select … Myles Garrett, DE, Texas A&M. "

Watch #NFLDraft on @nflnetwork pic.twitter.com/QnP1wQuVgE

— Cleveland Browns (@Browns) April 28, 2017
Garrett spoke with ex-NFL player and ESPN analyst Randy Moss following the selection.
"This is me achieving one of my goals," Garrett told Moss.
"I've got many, many more. It was great having all my family and friends surrounding me and cheering for me. Big things are coming. I didn't just come up. My whole family came up. I have all of them behind me and I can't let them down. I won't let them down. Ya'll are going to be my family, too, soon. So we're going to have something change right away."
When asked about which AFC North quarterback Garrett is most looking forward to facing on the field, the rookie went right at Cleveland's biggest rival.
"Big Ben. He's a Super Bowl winner. I always heard he's hard to take down. I'm coming for him first."
Garrett's college coach, Kevin Sumlin, talked about his star player's potential in the NFL.
"He is very deserving and worthy of this honor and has earned being the first Aggie to ever be drafted No. 1 overall in the NFL draft. He is an outstanding football player, a terrific teammate and an even better person. We are very proud of Myles."

What is Cleveland getting?

"Cleveland is getting a smart young player who wants to be the very best. He will work hard in the film room, the weight room and on the field. He is very coachable and is eager to learn. He took that approach his entire time with the Aggies.

"Myles is a tremendous teammate. A great example of his perseverance and willingness to compete was after he was injured in our Arkansas game. He could have shut it down the rest of the season, but he worked hard to get back on the field. Even though he wasn't 100 percent, he gave everything he had the remainder of the season including the bowl game."

How would you describe Myles off of the football field?

"Myles is one of kind. A lot of credit goes to his family. He is an intelligent person with a number of interests outside of football. He has a wide range of music interests, loves to write poetry and we all know of his interest in dinosaurs. And, what doesn't get talked about as much is his love of helping others. But make no mistake, he also loves to compete and wants to be the best at what he does."

– Via Cleveland Browns Press Release, Provided courtesy of Texas A&M athletic media relations