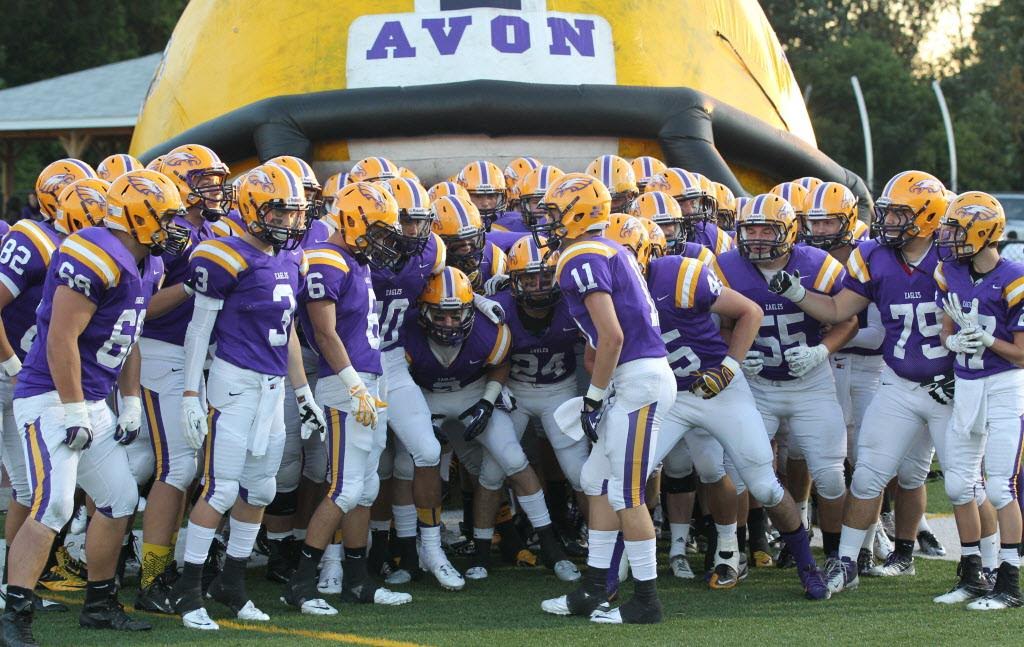 The Avon Eagles have been one of Northeast Ohio's powerhouse high school football programs in recent years, winning ten games or more in each of the last six seasons.
Avon went 9-1 in the 2015 regular season, but finished second in the Southwest Conference by losing to Midview in Week 4. The Middies went undefeated in the regular season.
The Eagles won their first playoff match against Highland, but their season came to an end with a loss to Perrysville.
Avon looks to improve upon what was a great 2015 season and has its sights set on two goals: winning the Southwest Conference and going deeper in the playoffs, possibly all the way to a State Championship.
The road to the OHSAA playoffs is never easy, but Avon will have an interesting challenge ahead, as the Eagles lost key players from a strong senior class of 2015, including quarterback Jake Sopko and running back Gerett Choat.
Now it will be up to some new faces to lead the way for the Eagles, particularly when it comes to skill position players- a challenge that defensive coordinator Eric Kiesel is ready to face.
In an interview with WEOL 930 AM, Kiesel talked about the strength of the team's linemen, which will help to alleviate the effects of losing two star players:
"We're lucky we've got a lot of linemen back," said Kiesel. "Anytime any program can have a lot of linemen back, you have a chance to do whatever you want. Your big guys control things up front."

"If the offensive line (does the job), the skill guys can do a lot. We've got some running backs that (rotate in and out) and are all really good," Kiesel stated. "If you can run the ball, you can run your play action and then you can throw as much as you want once that is established."
One of Avon's star players on that offensive line is senior center Sam Gerak, who was named to the Division II All-Ohio Second-Team as a junior. The 280-pound lineman verbally committed to Northwestern and owns a 4.3 GPA, embodying the definition of "student-athlete."
Gerak will be protecting senior quarterback Matt Kelly, who is making his varsity debut in 2016. Kiesel has high hopes for Kelly, citing his work ethic and ability to lead the team.
"(Kelly) showed great leadership in junior varsity games and worked hard in the offseason," the coach stated.
"He's got a good arm, he's a good runner, and a really smart guy. He doesn't have the size as our last quarterback, but he's got all the tools to be really good."
Another strength for Avon in 2016 is its depth, as the Eagles have 93 players on the roster, but Kiesel also noted that those numbers alone aren't enough and it will be important for key players to stay healthy.
"Even with 90-plus kids, you might have thirty that you need to play," said Kiesel.
Although Avon has a deep roster, strong linemen on both sides of the ball, and is optimistic in its new starting quarterback, the Southwest Conference is one of the toughest in all of Northeast Ohio and 2016 should be a competitive season to see who comes out on top.
Despite key losses at skill positions and playing a difficult schedule, Avon's football program has a confidence that can only be built by years of sustained success.
"We expect to win," said Kiesel. "We're not going to (think to ourselves) 'we hope we can play with Midview' or 'we hope we can play with Lakewood and Westlake.'
"That feeds into our offseason program. It feeds into how we approach the season. You need that mindset. We want to respect our opponents, but we don't fear anybody."
Avon looks to continue its dominant run in 2016, as the Eagles open up the season on Friday, Aug. 26 at home against Strongsville.
Players to Watch
Matt Kelly: Sr. QB, first year as varsity starter, Two-sport athlete, plays baseball in spring
Sam Gerak: Sr. Center  (6-3, 280) 2nd-Team All-Ohio 2015, committed to Northwestern
Taylor Reynolds: Sr. OL/MLB (6-1, 210) All-Lorain County 2015
Cameron Judge: Sr. OL/DL (6-1, 265) All-Lorain County 2015
Alec Damasiewicz: Sr. RB/CB (5-8, 145) All-Lorain County 2015
2016 Avon Eagles Varsity Football Schedule
Aug. 26 vs. Strongsville 7 p.m.
Sep. 2 @ Avon Lake 7 p.m.
Sep. 9 vs. North Olmsted 7 p.m.
Sep. 16 @ Midview 7 p.m.
Sep. 23 vs. Westlake 7 p.m.
Sep. 30 @ Lakewood 7 p.m.
Oct. 7 @ North Ridgeville 7 p.m.
Oct. 14 @ Amherst Steele 7 p.m.
Oct. 21 vs. Berea-Midpark 7 p.m.
Oct. 28  vs. Olmsted Falls 7 p.m.
For more information on the Avon Eagles football program, listen to Coach Kiesel's full interview with WEOL 930 AM below:

NEO Sports Insiders Newsletter
Sign up to receive our NEOSI newsletter, and keep up to date with all the latest Cleveland sports news.