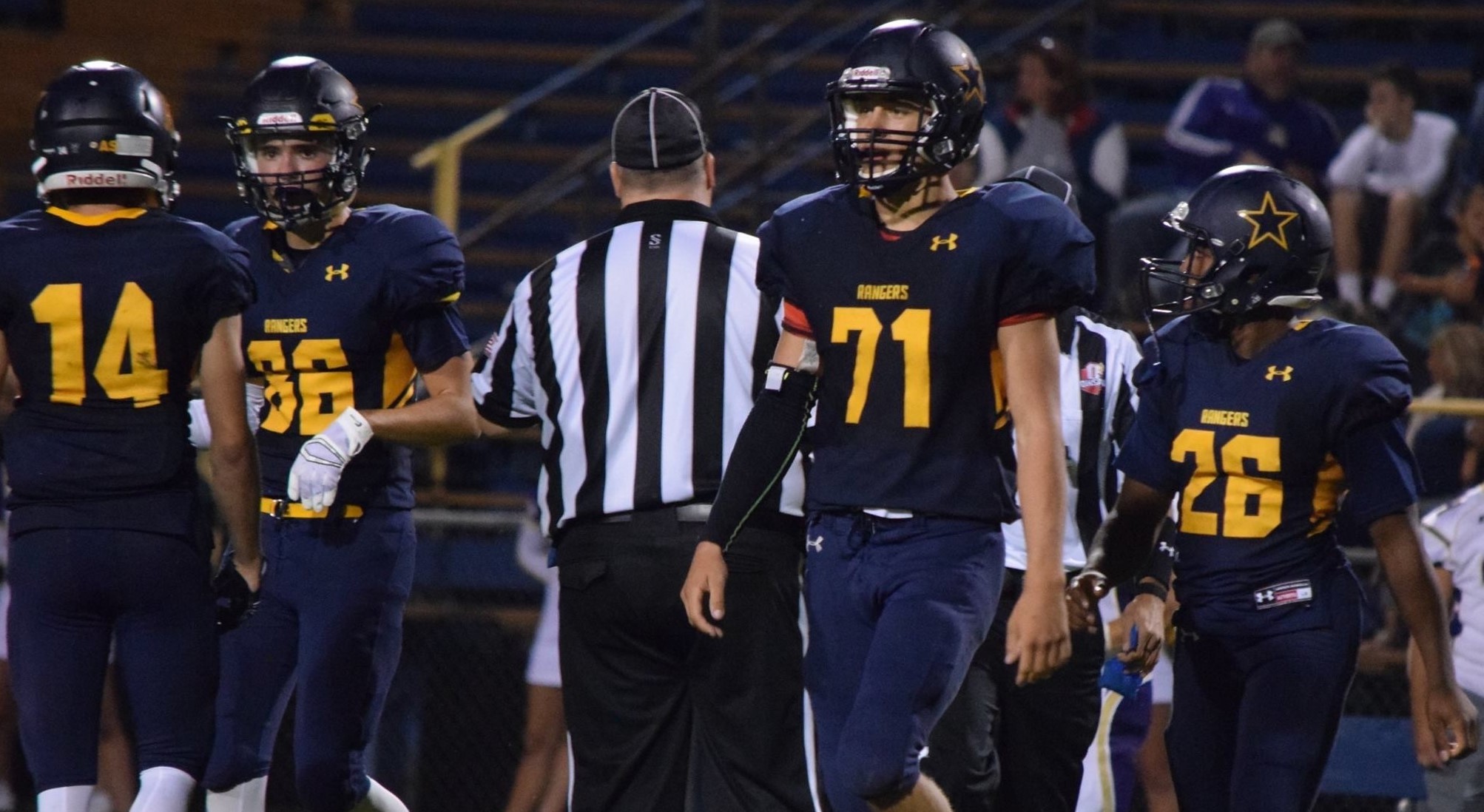 The North Ridgeville Rangers are coming off an impressive 2015 season, finishing 7-4, placing third in the competitive Southwest Conference.
The Rangers reached the playoffs for the first time since 2009, but lost to Perrysburg, who went on to play in the Division II State Semifinals.
North Ridgeville's only regular season losses in 2015 came against Berea-Midpark, Avon, and Midview.
The Rangers played all three of those games on the road, but in 2016, North Ridgeville will host the top two teams in the conference (Midview and Avon), which head coach Luke Durbin believes could play a big factor in those two pivotal games.
"I think that's going to be huge," said Durbin. "Any time you have a chance to have home field advantage, that's a positive. We had to go to Avon two years in a row and that's a very tough place to win."
"Midview has obviously been the class of the league for the last two years so having them at home gives us our best shot."
There are new faces throughout every roster in the Southwest Conference in 2016, as each team lost key players, but Durbin is encouraged by his returning starters, many of whom stepped up when called upon to fill in for injured teammates last season.
"Officially, we've got about five starters returning on offense and five on defense. But we actually have more than that because we suffered through so many injuries (in 2015) that we had to play so many different guys, who started a couple games here or one game there," the coach stated.
The Rangers lost two key playmakers in tight end Jack Lesniak and wide receiver Jordan Montgomery, and Coach Durbin talked about how important it will be for some new players to step up and add on to the solid core that is already in place.
"I think especially up front, at running back, and linebacker, we're going to be really strong. There's a lot of veteran leadership. But for us to have a successful season, I think it's going to come down to how good our skill players are-our wide receivers, our defensive backs, because we graduated just about everybody that played there last year," said Durbin.
The offensive line will be bolstered by seniors, Jordan King, Jared Mullins, and Chris Machovina, while North Ridgeville's defense is led by two young players, who already stood out as sophomores in 2015.
Defensive lineman Tyler Sycz was named to the All-Ohio Second-Team as a sophomore, recording 10 sacks on the season.
Durbin gave high praise for junior linebacker Jamir Malone, who the coach called "the best linebacker in the league." Malone made 81 tackles as a sophomore, 12 tackles for loss. He'll also be one of the members of North Ridgeville's running back corps.
Having those two leaders on defense for the next two years could mean a bright future is in store for the Rangers.
The Ridgeville running back committee gives Coach Durbin plenty of reason to be encouraged, as he listed junior Shomari Williams and sophomore Cade Riley as two players to watch on offense.
The backs have big shoes to fill, as DeMario McCall graduated in 2015 and will be spending Saturdays on the field with the Ohio State Buckeyes, while Cameron Bright (committed to Pitt) moved to Alabama after his junior season and was a key player for the Rangers in 2015.
Although the coach admitted that "you can't replace" a player like McCall, he believes the team showed its fortitude in 2015, when the star running back was injured for much of the season, but the Rangers still found ways to win.
Durbin has high hopes for sophomore Jeremy Sanchez to step up on both sides of the ball, as the coach believes he has a chance to be a two-way starter.
Despite some of the losses at skill positions, the Rangers bring back senior starting quarterback Collin Sullinger, who threw for just under 1,200 yards in 2015, passing for 10 touchdowns. Sullinger is a mobile quarterback, who ran for 343 yards, averaging just under five yards per carry, scoring four rushing touchdowns.
It appears one of the biggest question marks for the Rangers will be the wide receiving corps, but the team certainly has the talent to compete in the Southwest Conference.
North Ridgeville opens up the season Friday, Aug. 26 at North Royalton and the Rangers will christen their new stadium in Week 2 against Amherst Steele, giving even more reason for excitement surrounding the football program in 2016.
Players to Watch
Collin Sullinger: Sr. QB (6-2, 175) third-year starter. 1,500+ total yards as a junior. 14 total touchdowns.
Jamir Malone: Jr. MLB/RB (6-1, 195) 81 tackles 12 tackles for loss as a sophomore.
Tyler Sycz: Jr. DE (6-2, 205) 10 sacks, Division II Second-Team All-Ohio as a sophomore.
Bryon Shuey: Sr. WR/CB (6-3, 180) Two-way player
Shomari Williams: Jr. RB/CB (5-11, 185) As a sophomore track athlete, he reached top 5 in school records for hurdles.
Cade Riley: So. RB/OLB (5-11, 170) Will feature in the running back committee with Malone and Williams.
2016 North Ridgeville Rangers Varsity Schedule
(all games at 7 p.m.)
8/26 @ North Royalton
9/2 vs. Amherst Steele
9/9 @ Berea-Midpark
9/16 vs. Olmsted Falls
9/23 @ Avon Lake
9/30 vs. North Olmsted
10/7 vs. Avon
10/14 @ Westlake
10/21 @ Lakewood
10/28 vs. Midview
For more information on the North Ridgeville Rangers football program, listen to Coach Durbin's interview with WEOL 930 AM below:

NEO Sports Insiders Newsletter
Sign up to receive our NEOSI newsletter, and keep up to date with all the latest Cleveland sports news.