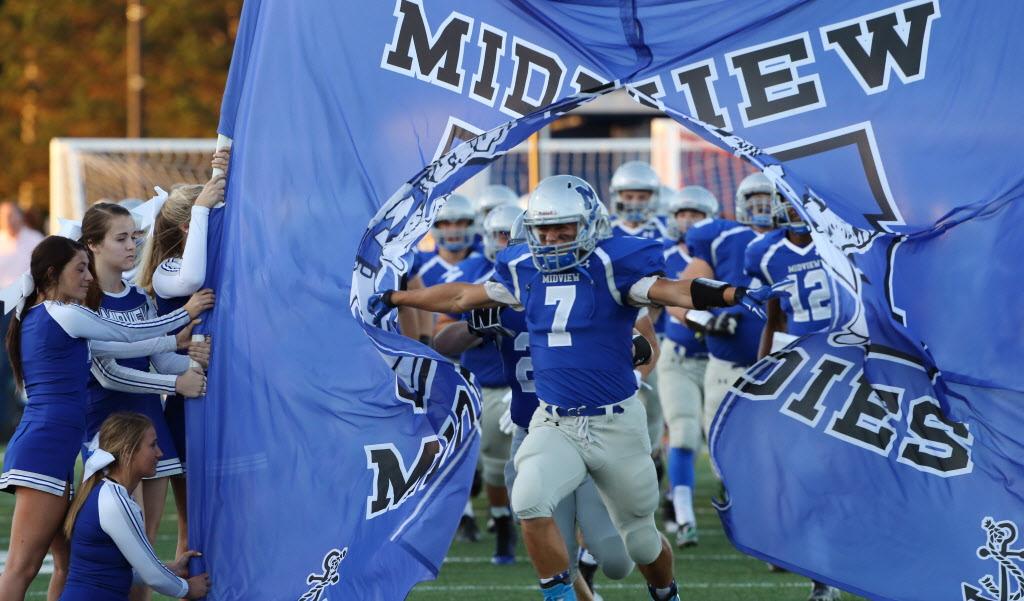 It's going to be tough for the Midview Middies to continue to repeat their success for coach DJ Shaw and his staff in 2016. After all, under Shaw all the Middies have done is go undefeated when he's on the sideline in the regular season.
Not an easy task to continue as Midview starts their third season under Shaw this Friday in a great lid lifter against another solid team, Lorain.
Last season Midview was 11-1 overall, 9-0 in the regular season, but Shaw knows there are challenges ahead for a team that lost a number of key players to graduation this past June.
"We're not exactly in the same boat as we were last year," Shaw told AM 930 WEOL on the coaches preview show a week ago Monday night in Elyria.
"We had a great 2014 year and we had a lot of guys back so it was different in we didn't want those guys looking at the success they had the year before, this year it's a little bit different in that we have a lot of rookies.
"That being said, we want to build off our success, and hopefully some of these rookies and younger guys we have learn from our experiences in the past and we can use that moving forward."
One player that will help in the adjustment of losing the likes of Middies standouts like Logan Bolin, Dimitri Redwood and Damion Mahone, is quarterback Dustin Crum, who has already committed to Kent State.
Crum in the last two seasons has thrown for 5,970 yards and 71 touchdowns, and he also can take off, as he ran for nearly 700 yards last season.
The question is how much can the offensive supporting cast around Crum help him out?
"We're not planning on changing our offense much," Shaw said.
"Dustin is really good at what he does, and running that type of offense, as he's shown in the past. We're just trying to put some guys around him that he feels comfortable getting the ball too and doing what he does."
One player who should help is wide out Luke Hunt, who is a transfer from Elyria and will try to ease the pain of losing Bolin. "I thought he's been a big piece for us, he's fit in really well," Shaw said of Hunt thus far.
The other three key receivers that should help Crum are Keith Johnson, David Amsden, who broke the school 200 meter dash this spring, and Sam Butler.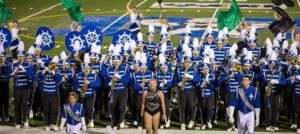 The running back spots should be filled by Alex Forrer and Connor Wolfe.
"We've got a boatload of young guys that we're settling in," Shaw said of his offense at the skill position.
The offensive line, which in the past been a strength for the Middies, is worth keeping an eye on in 2016. With just one returning starter (Chase Johnson), this is a unit in transition in 2016.
"They are not as big as they were two years ago, but we have some kids up there that I think are pretty good athletes," Shaw said of his offensive line.
"We just have to get them going in the right direction."
The defense will try to do their part to help the Middies challenge in the SWC in 2016. It will have a number of new faces, but a unit that should be able to still make an impact for Midview.
There's no doubt this season will be Shaw's toughest since becoming head coach. With a roster full of young players, it might be a year of some growing pains, but Shaw says he's counting on the young players to have learned the winning ways of watching the vets for the Middies from the past few seasons.
"I don't think the pressure is there as it has been in the past," Shaw said. "Last year it was tough, there was a lot of pressure on those kids, we kind of felt like every week we were kind of taking everybody's best shot.
"They knew we had a good team coming back and a lot of returning starters, this year it's completely different. I don't look at it as pressure for those kids, I look at it is I hope those young kids the last couple years were paying attention, and watching how those seniors from last year went about their business."
"We hope those younger guys have been watching the older guys, and we think that is going to help us moving forward," Shaw said. "I think we have some great players coming back that we are really excited about."
2016 Schedule
8/26 7:00p Lorain (Lorain, OH)
Location: Midview High School
9/2 7:00p @ North Olmsted (North Olmsted, OH)
Location: North Olmsted High School
9/9 7:00p @ Steele (Amherst, OH)
Location: Steele High School
9/16 7:00p Avon (Avon, OH)
Location: Midview High School
9/23 7:00p Berea-Midpark (Berea, OH)
Location: Midview High School
9/30 7:00p @ Westlake (Westlake, OH)
Location: Westlake High School
10/7 7:00p @ Olmsted Falls (Olmsted Falls, OH)
Location: Olmsted Falls High School
10/14 7:00p Lakewood (Lakewood, OH)
Location: Midview High School
10/21 7:00p Avon Lake (Avon Lake, OH)
Location: Midview High School
10/28 7:00p @ North Ridgeville (North Ridgeville, OH)
Location: North Ridgeville High School