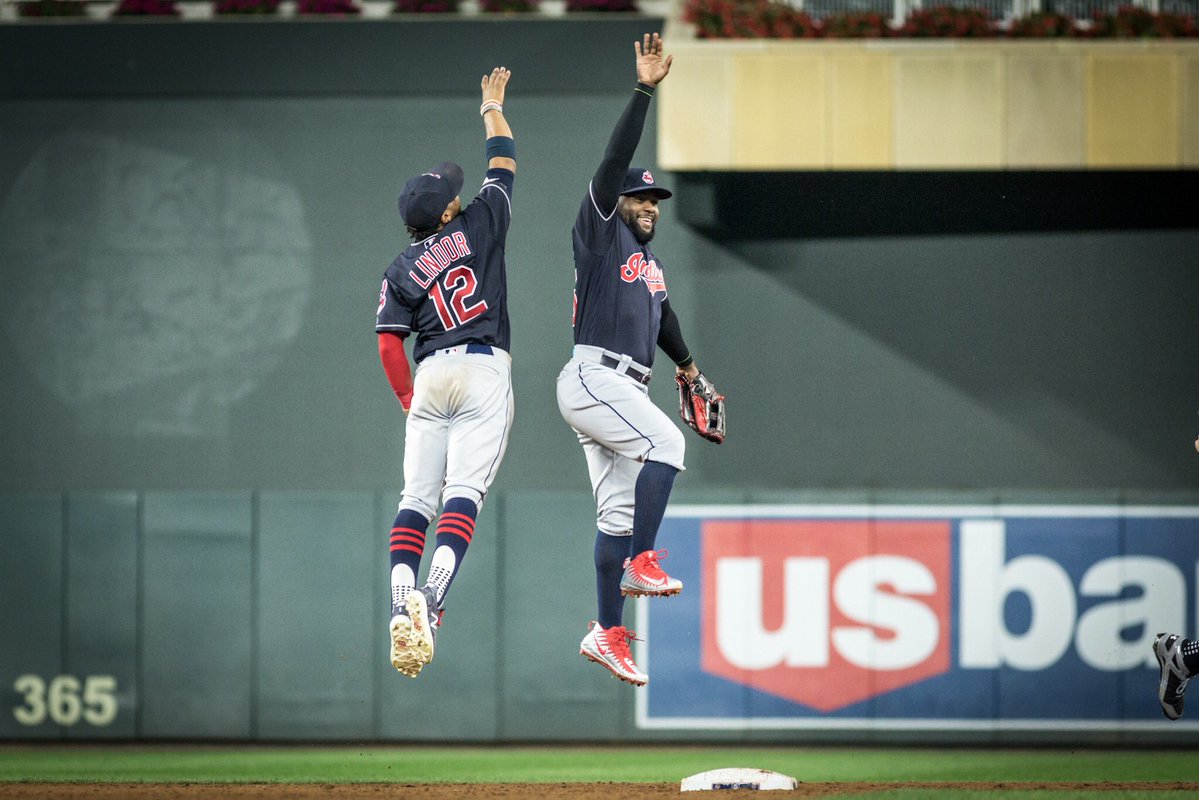 Way past our bedtime in Cleveland, the Indians took care of business in Anaheim to collect the ninth sweep of the second half and a season sweep of the Angels by outscoring the Halos 39-30 on the season.
Downing the Angels and a powerful lineup, the Indians didn't just knock down a team that threw in the towel in late September.
Starting the series on Sept. 19, the Angels sat 1.5 back of Minnesota of the final American League wildcard spot. Hungry and on the verge of eclipsing the Twins for a spot in the postseason, the red hot Tribe batted down Anaheim with the long ball.
Hitting four home runs in the first leg of the west coast trip, the well-timed hits came at crucial points of the game as short stop Francisco Lindor launched off home runs no. 31 and 32 on the trip for year and continues to impress with his bat.
Adding more to his already robust season total, Edwin Encarnacion put a ball into low orbit for his 37th of the season as the Indians' big man is looking to have back-to-back 40+ home run seasons for the first time in his his career as his signing continues to pay off in big ways for Cleveland.
Shuffling around the bullpen and getting a healthy Andrew Miller into the mix, the lefty is still looking to get back into season form, but with his fastball topping out at 95 mph, all indications point to a healthy Miller for the playoffs.
While the bullpen showed some struggles in Anaheim with a rough appearance from Joe Smith, who allowed three earned in .2 innings of work, and tense moments from Cody Allen, manager Terry Francona got some other guys involved to gain confidence and show how deep the pen is. Setup man Bryan Shaw got his third save of the season with 2.0 innings of work late into the night to give Tyler Olson just his second career win.
A night later, Francona put the ball in Olson's hand with Allen getting a night off and Olson did not disappoint as the lefty sat down the Angels in order and looked sharp to earn his first career save.
With less than two weeks until game one of the ALDS, the Indians still control the best pitching staff in baseball with a 3.35 team ERA and an eye-popping 1,511 strikeouts as a team.
As the offense enjoys the best run differential in baseball of +234, the Indians have now won 27 of 28 and keep adding more history to this already hard to believe season. Joining the 1916 Giants for the most wins in a 28 game span while extending a club record 14-game winning streak on the road.