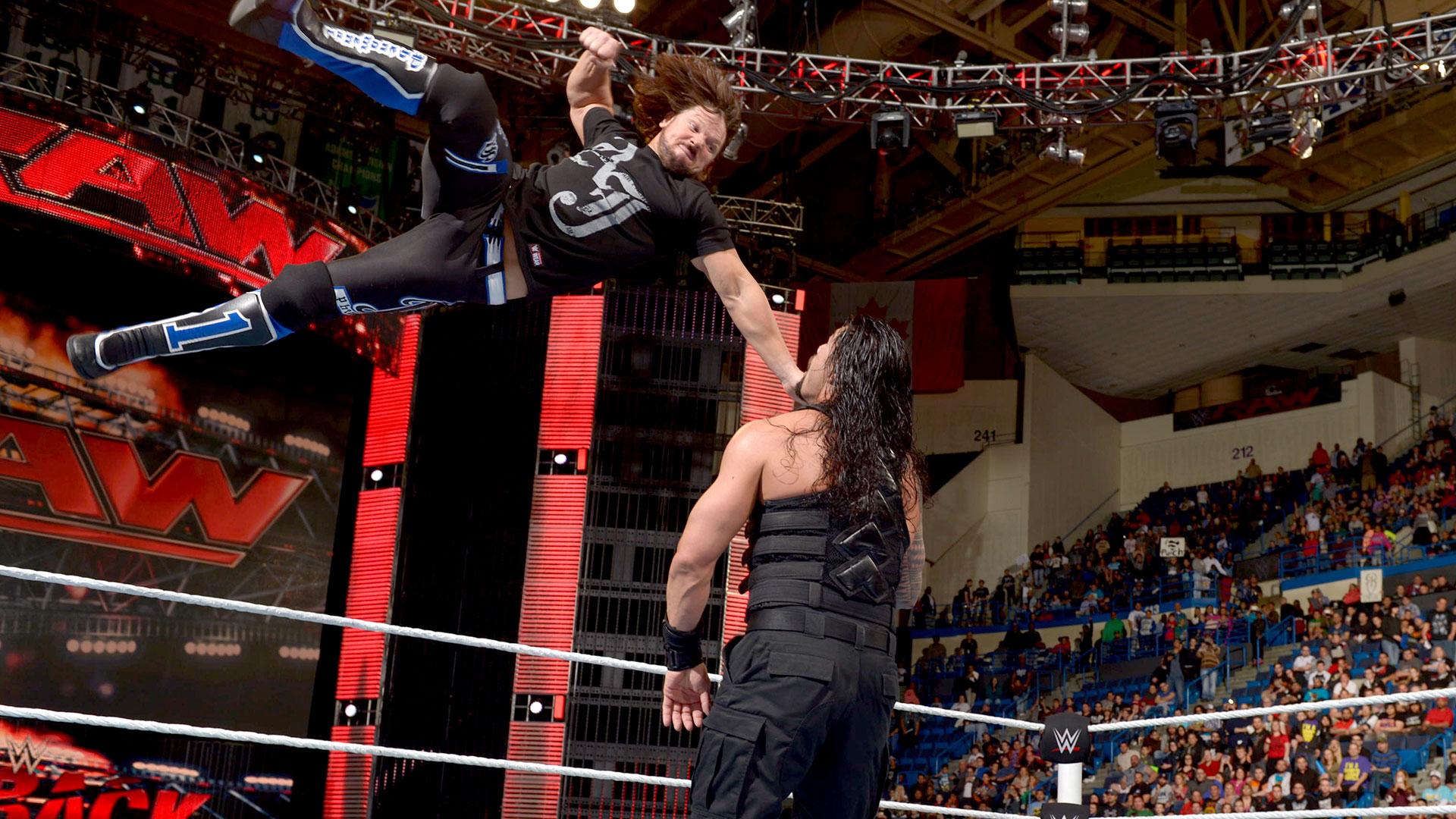 Opening Segment:
Shane McMahon is in charge once again tonight, it never gets old! Shane was telling the fans that this Sunday, at Payback, will be a start of a new era. Stephanie McMahon interrupts Shane. Stephanie attempted to get the crowd on her side by saying she was born in Hartford. Stephanie tells Shane that tonight will be Shane's last night, Vince will be determining who runs RAW in the future ,at Payback this Sunday. Shane said whatever the decision is on Sunday happens, but tonight he is in charge and had security escort Stephanie McMahon out of the building.

AJ Styles vs Sheamus
Sheamus doesn't have his beard braided tonight, does this mean something? Fantastic opening match with a good amount of near falls. Styles looked like he was going to get beat at least once or twice. Styles beats Sheamus going into his WWE World Heavyweight Championship match.
WINNER: AJ Styles via Phenomenal Forearm
Doc Gallows and Karl Anderson come out post match and applaud AJ Styles from the top of the ramp. Gallows and Anderson have some pretty cool gear.
New Day Segment:
New Day talks about how Booty O's are sponsors for the WWE World Tag Team Champions. New Day throws in a tribute to the late singer, Prince. The Vaudevillains interrupted and after that Enzo and Cass interrupted. Cass says that there will only be one team walking out of the tournament and that will be him and Enzo. New Day says regardless of who wins the New Day will still be your WWE World Tag Team Champions. Pretty good segment with awesome mic work from everyone involved. The tag team division is getting exciting!
The Usos vs Gallows and Anderson
Michael Cole mentions that Gallows and Anderson were apart of a "Club" with Styles over in Japan. Gallows and Anderson dominated throughout this match. Gallows and Anderson controlled most of this match and made a statement to the rest of the tag team division. I believe it was a fantastic debut for Gallows and Anderson.
WINNERS: Gallows and Anderson via The Magic Killer
Post-Match, Gallows and Anderson continue to beat down the Usos until Roman Reigns came out to make the save for his cousins.
Sami Zayn vs Rusev
Rusev was able to show off his strength in this match and power. Zayn showed off his ability to be an underdog and show off his great athleticism. Fitting finish.
WINNER: Sami Zayn via roll up
Kevin Owens attacks Zayn from behind after the match.

Stardust vs Apollo Crews
Before the match Crews mentions that Cody's father gave him his name in NXT of Apollo. Crews once again showed off his impressive athleticism and agility.
WINNER: Apollo Crews via Spin out Powerbomb

Dean Ambrose Segment:
Ambrose said that Shane told him to host the Ambrose Asylum but Ambrose said there will be no shows until after Payback where he faces Chris Jericho. Ambrose says that he won't blind side someone like Jericho does, he'd go straight to your front door and punch you in the face. Ambrose told Jericho to lace up his scarf and light up his stupid Christmas tree jacket and come out to the ring. Jericho tells Ambrose that he will give Dean the match of his career because a match with Jericho elevates you to places you couldn't imagine in his career. Jericho wanted an apology for Dean disrespecting him and taking away the Highlight Reel. Ambrose apologizes to Jericho for his stupid shoes, his Bon Jovi haircut, and his idiotic scarfs.
Natalya vs Emma
Charlotte comes out to do commentary on the match. Emma gets in some offense.
WINNER: Natalya via Sharpshooter
Wish this match was longer just for the sake of Emma attempting to prove herself.

Damien Sandow vs Baron Corbin
Before the match, Dolph Ziggler vs Baron Corbin was announced for Payback this Sunday. Corbin gets attacked by Ziggler as he was making his way down to the ring.

WINNER: No Contest, Match never started
Roman Reigns vs Alberto Del Rio
Throughout the night all members of the League of Nations came out individually to their old music. Is this a sign that the League of Nations are coming to a close? "Let's Go Roman, Roman Sucks" chants happened. Why. Gallows and Anderson came onto the stage during Reigns match to distract him.
WINNER: Roman Reigns via Spear
Post-Match, Gallows and Anderson attacked Reigns until Styles saved Reigns. Styles eventually got Gallows and Anderson out of the ring and after he did that he turned around into a superman punch. Reigns also superman punched Gallows and Anderson. To close the show Styles gave Reigns the Phenomenal Forearm.

Top 3 Matches of the Night
1.) AJ Styles vs Sheamus
2.) The Usos vs Gallows and Anderson
3.) Sami Zayn vs Rusev
Payback is looking good!