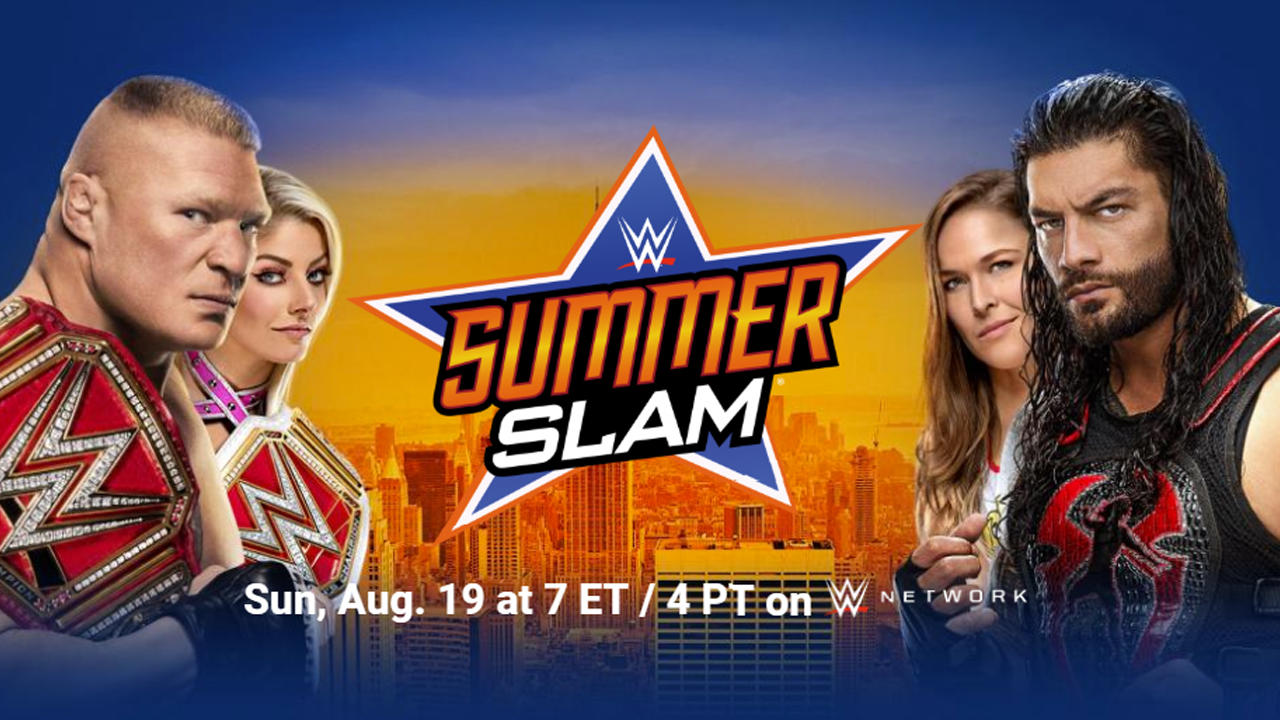 WWE Summerslam is this weekend from the Barclays center in Brooklyn and the excitement is off the charts for the 13 fight, 9 title match card.  Over the last several days we have dove deep into the other 9 matches, but today we have finally reached that special time to determine who wins the big four title bouts, the ones considered "World Championships".  Two for the women, two for the men, and all four of them loaded with suspense.
With the card lacking regulars such as Bobby Lashley, Bobby Roode, Asuka, Bayley, Sasha Banks, Elias, Randy Orton and Jinder Mahal, it almost seems wrong to have part timers such as Ronda Rousey and Brock Lesnar holding such prominent spots in the double main event.  But, as much as hardcore old school internet marks would argue against it, the sad truth is that names such as Lesnar and Rousey sell because they are considered, "special attractions".
Beef aside of who is in and who is out, it is still shaping up to be a great finish no matter who goes on last.  With that being said, let's not waste another second and get right to it!
Carmella vs Charlotte vs Becky Lynch for The Smackdowns Women's Championship
Prediction – Common sense on this one would dictate Becky Lynch turning heel on Charlotte after she costs her the match against Carmella.  For whatever reason, I just don't see it panning out that way this time around.  There are still too many wildcard's involved in this one, including the recent rumors of a Four Horsewomen re-union.  Because of the uncertainty of which way they go next, I'm going to go out on a limb and predict the title stays put around the waist of Carmella.
AJ Styles vs Samoa Joe for The WWE World Heavyweight Championship
Prediction – A vintage TNA classic between two of the biggest and best names to ever come out of the company will now headline a major WWE Pay Per View.  Say what you want about Styles being up there in age, he is still the best performer on any card he appears on.
Joe has been a beast since coming up to the main roster 18 months ago and is routinely mentioned in any title picture when healthy.  Joe has everything to gain and truly nothing to lose going into this one.  The pressure is on Styles to continue a nearly year long title reign.
The WWE has already put their biggest belt on a TNA legend in Styles, do they dare do it again with Samoa Joe?  Time will tell but it wouldn't shock me to see it happen.  This is one of the tougher matches to pick but I do not see the reign of Styles on top coming to an end just yet.  I will flip a coin and watch it land on a Styles selection to keep the belt here.
Alexa Bliss vs Ronda Rousey for The RAW Women's Championship
Prediction – Up until Monday afternoon when Jim The Anvil Neidhart passed away, this seemed like a lock of Natalya Neidhart turning on Rousey and costing her the match, keeping the belt with Bliss. Now with the unknown status of Neidhart, who knows which way they take things.
As much as I hate to say this, I still think that they bring Neidhart back, not even six full days after losing her father and stick to the original plan.  Rousey has not been around long enough to carry the belt, and they are already suffering enough backlash from fans for having part timer Brock Lesnar hold the Universal World title.  Two-part timers holding belts on RAW at the same time?  I don't see it yet.  Let's go with Bliss in this one after the shocking appearance by Natalya Neidhart.
Brock Lesnar vs Roman Reigns for The WWE Universal Championship
Prediction – Brock Lesnar is about to be an active competitor for the UFC and WWE.  That's right disgruntled WWE fans, he is not going anywhere. He will be signing a new 3-year WWE contract within the next few days.  With that being said, the WWE cannot run the risk of having "their champion" lose in a legitimate fashion to UFC champion Daniel Cormier later this year.
Mark my words, Lesnar will not have the WWE Universal title around his waist when he fights Daniel Cormier in the UFC.  There is no chance in hell that Vince McMahon takes that risk of having "his" champ lose on such a big stage.
With that being said, that leaves WWE creative with 4 to 5 months to get the strap off Lesnar.  Does it happen at Summerslam?  I believe so.  But to who remains the real question?
My initial thought was Lesnar getting screwed in a plot twist that see's Paul Heyman help Roman Reigns and begin to guide his run as the top heel in the game.  However, recent actions have gone against this. Heyman is clearly in the corner of Lesnar after spraying some pepper spray in the eyes of Reigns on Monday night.  He had us all hooked for a minute with that piece of paper, and by talking in Samoan.  But alas, it was just a ploy.
So, with both Heyman and Lesnar apparently staying put, then what happens?  We've heard of super Cena, well, let's introduce you to Super Reigns, (3 years in the making).  He win's cleanly, and begins to celebrate until a sneak attack by the MITB holder Kevin Owens and Brock Lesnar occurs, allowing Owens to cash in. The WWE has done this to Roman Reigns once before, having him lose to Sheamus only moments after winning the belt at Survivor Series 2015.  Look for it to happen again Sunday night as the credits roll.
You can read parts 1 and 2 below.

NEO Sports Insiders Newsletter
Sign up to receive our NEOSI newsletter, and keep up to date with all the latest Cleveland sports news.