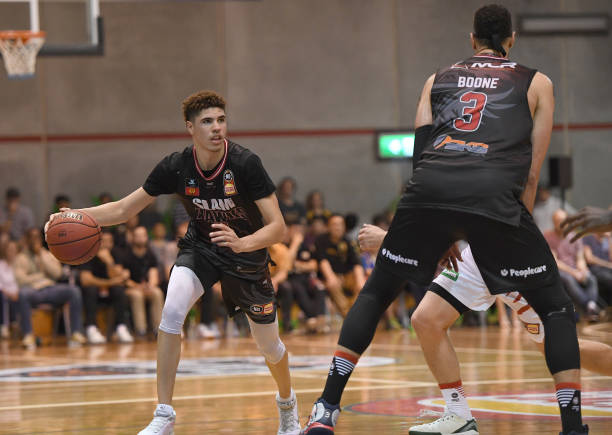 LaMelo Ball, currently starring for the NBL's Illawarra Hawks, could be just the player that the Cleveland Cavaliers have been looking for in the post-LeBron era.
Standing at 6-foot-8, the 18-year-old point guard can do it all on the court, whether that's knocking down a shot from Lake Erie, breaking ankles on his way to the rim or finding the open man with spectacular passes.
Defensively, Ball isn't as unique as he is offensively and his effort could improve, a statement made about many talented scorers. However, his length and athleticism make him a versatile defender and as he develops his basketball IQ, Ball could wreak havoc on the perimeter.
His shot-selection also needs some adjustment but there's far more to like about the young guard than to dislike and the weaknesses that Ball has are ones that can be remedied with solid coaching and experience.
Per Sam Amico, Cavs assistant general manager Mike Gansey liked what he saw from Ball while scouting him on a recent trip to Australia.
An important note because in Cleveland, a team that could very well end up with the top pick in the 2020 NBA Draft, that's exactly what Ball would get from Cavs head coach John Beilein. Further, on a roster that will see several guards — Jordan Clarkson, Brandon Knight and Matthew Dellavedova — enter free agency next summer, there will be ample playing time for LaMelo as well.
That's even with guards Collin Sexton and Darius Garland, remaining on the roster. In fact, with his combination of length and passing ability, Ball's ability to compliment either Sexton or Garland only makes Beilein and general manager Koby Altman's jobs easier.
If one or both of the Cavs' two young point guards can put their egos aside for the betterment of the team, then they'll have no problem operating in a sixth man role — akin to the backcourt rotation that the Brooklyn Nets had last season with D'Angelo Russell and Spencer Dinwiddie. This season will establish who the more talented of the two is between Sexton and Garland but whomever is moved to the second unit in favor of a guard like Ball will still receive a sizable amount of playing time.
Currently making waves as the potential top pick in the 2020 NBA Draft, most people only know of LaMelo because of his outspoken father (LaVar Ball), the antics of his brother LiAngelo Ball or the constant conversation surrounding his brother Lonzo Ball.
However, LaMelo not only could be the best player in the family but he might also garner the most respect on a personal level.
Unlike LaVar, he likes to let his game do the talking. Unlike LiAngelo, he's never been in legal trouble and his NBA talent is undeniable. Unlike Lonzo, he hasn't shown trepidation in standing up for himself and making his own decisions, regardless of his father's wishes.
In fact, of the three brothers, LaVar's presence may be mitigated the most by LaMelo, precisely because of the youngest Ball brother's vibrant personality and dynamic play.
That's why, for the Cavs, Ball could be "The Answer." The Answer was a nickname given to Hall of Fame point guard Allen Iverson and one whose journey doesn't parallel Ball's in the least but whose importance to the franchise that drafted him could be a mirror image.
Though a troubled youth who found himself in legal troubles before he even competed high school, Iverson was the first overall pick in the 1996 NBA Draft after playing lights out for the Georgetown Hoyas.
His nickname, "The Answer," was granted to him after he raised the Philadelphia 76ers from a team that hadn't had a winning record since 1991 to a team that consistently reached the playoffs by his third season with the team.
The Cleveland Cavaliers are only one season removed from a playoff appearance, an NBA Finals appearance to be exact. However, in the last 20 years, the Cavs haven't had a single season where they reached the playoffs without four-time NBA MVP LeBron James on the roster.
James won't be returning to Cleveland anytime soon after taking his talents to Los Angeles but that doesn't mean the franchise has to suffer in NBA purgatory in the meantime.
A player like Ball, who is still a bit rough around the edges as a prospect but who has superstar potential, could return the Cavs' to a playoff team. Perhaps not instantaneously and the team will be relying on their guards more than any other group but in an era where guard skills create the quintessential player, that's nothing that should inhibit Cleveland from being a playoff team.
After all, teams like the Golden State Warriors (Russell, Stephen Curry and Klay Thompson) and Houston Rockets (James Harden, Russell Westbrook and Eric Gordon) will have a similar level of reliance from their guards but nobody sees that as a reason they can't reach the playoffs, or the Finals.
The Cavs will have far more youth and unproven talent than those teams but have a number of interesting players — like Cedi Osman, Kevin Porter Jr. and Kevin Love — that could accelerate their timeline as a playoff-contender.
Lastly, LaMelo's presence in Cleveland will also bring a level of buzz to the arena that hasn't been there since LeBron. The Cavs missed out on the chance to draft forward Zion Williamson, perhaps the most hyped collegiate star of all-time but a Ball brother — and especially one whose game matches the name on his jersey (he's a Ball-er, people) — is a nice consolation prize as far as media attention goes.
A sold-out crowd, playoff-contention and star power are all within reach of the Cavs. All they have to do is select the biggest name in the 2020 NBA Draft.

NEO Sports Insiders Newsletter
Sign up to receive our NEOSI newsletter, and keep up to date with all the latest Cleveland sports news.