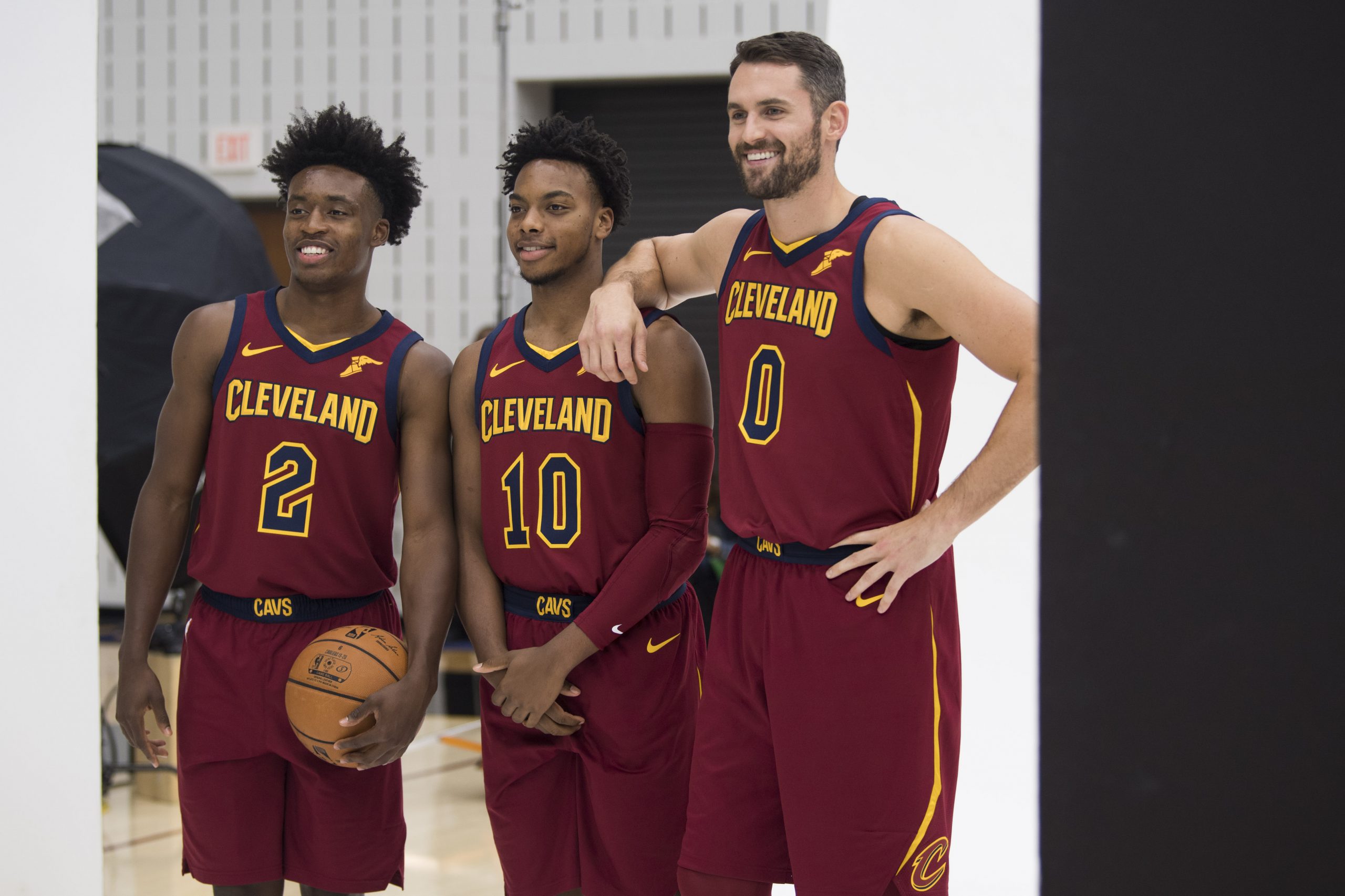 Collin Sexton and Darius Garland want to be the next Damian Lillard and C.J. McCollum. But they'll do it with a twist.
Garland, whose game is most reminiscent of Lillard's due to his penchant for hitting long threes, will be playing shooting guard rather than point guard. Or, at least, that's how Sexton sees it.
At Media Day, when asked by reporters on a potential move to shooting guard with Garland on the team, Sexton replied that he's "not moving anywhere."
That would mean that Sexton will continue to play point guard, although his ability to slither into the creases of defenses and knock down midrange shots is awfully similar to McCollum.
Of course, that doesn't mean that Sexton will be the team's primary ball-handler as there are a couple of other capable playmakers in the projected starting lineup in Garland and forward Cedi Osman.
Even when backup guards like Jordan Clarkson, Matthew Dellavedova and Brandon Knight enter the lineup, they'll likely be as capable of making plays for others as either player, particularly Dellavedova.
That's not necessarily a knock on either Sexton or Garland, as both have shown the potential to be dependable facilitators. However, it's a way to mitigate the two's weaknesses as far as court vision (and in Sexton's case, advanced ball-handling) are concerned.
To the latter point, Sexton may have put plenty of focus on developing his ball-handing ability this offseason. However, seeing is believing and the proof will be in the pudding; the preseason will give Sexton plenty of opportunity to prove he can shake off defensive pressure.
As far as spacing is concerned, the benefit of having a player who has earned a reputation as a deep threat playing shooting guard rather than point guard, is having a player who stretches the floor and creates space for players such as point guards to get to the rim. Sexton (and the Cavs) would have more space with him running point than Garland running point with Sexton spotting up from three.
Looking at the other end, there are always going to be questions on what the ideal matchups for them are considering their lack of size and defensive prowess even though Garland believes they can both guard any position.
I asked Darius Garland who's going to defend shooting guards between he and Collin Sexton.

"We feel like we can both guard any position."

— Greg Swartz (@GregSwartzBR) September 30, 2019
Both are listed at 6-foot-2 though Sexton outweighs Garland (190 pounds compared to 175 pounds) and has a slightly longer wingspan (6-foot-6 compared to 6-foot-5).
Sexton's measurables seem to suggest he would be better defending bigger guards than Garland but Garland could struggle to fight through screens with his small stature, so his ability to guard the pick-and-roll — a staple of NBA offenses — may not be any better than the Young Bull's matador defense. Worse, in fact.
That said, their designations as point guard and shooting guard don't seem to be nominal but technical in nature.
For Sexton, that means strides will need to be made on both ends — from running the pick-and-roll, to running plays, to defending his position — in order for the Cavs to avoid looking at other point guard candidates in the 2020 NBA Draft. As a rookie, Garland is under far less pressure — even as the fifth overall pick in the 2019 NBA Draft.
Nonetheless, if he truly wants to coexist as peacefully as possible with Sexton, he'll need to show he can guard players that will almost always have a size advantage.

NEO Sports Insiders Newsletter
Sign up to receive our NEOSI newsletter, and keep up to date with all the latest Cleveland sports news.