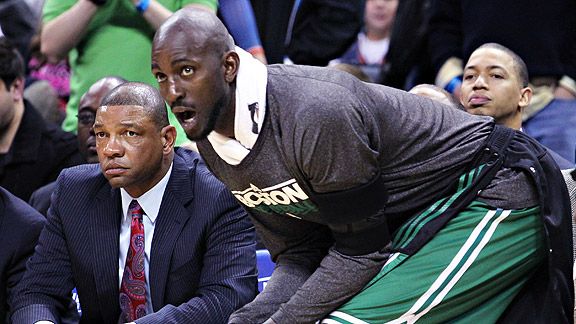 Head Coach Tyronn Lue joked in early September about "inviting" Allen Iverson to be an assistant coach.
On Thursday, Lue made more serious remarks about the possibility of Kevin Garnett, who announced his retirement this week, joining the Cavs' coaching staff for 2016-17.
"I talked to him about it. I know his wife is pushing for it a lot," Lue said following practice Thursday. "Brandi is pushing for it, trying to get him to come and coach. He says he's not ready yet. He goes back, 'I might do it,' but he's back and forth. We'll see. But I'd definitely make a spot for him if he wanted to come back and coach."
The pair have a great relationship from their time together in Boston, where Lue was an assistant on Doc Rivers' coaching staff, and the Celtics won the 2008 Finals.
Perhaps the duo can win another ring together. Maybe KG is the counter to KD – the addition of Kevin Durant in Golden State.
Garnett is revered for his intensity, work ethic, and leadership, and it certainly couldn't hurt the Cavs' chances if they have him around the locker room.
We'll see if Garnett is ready to coach, but after a 20-plus year career, no one would blame him for taking a season to relax.