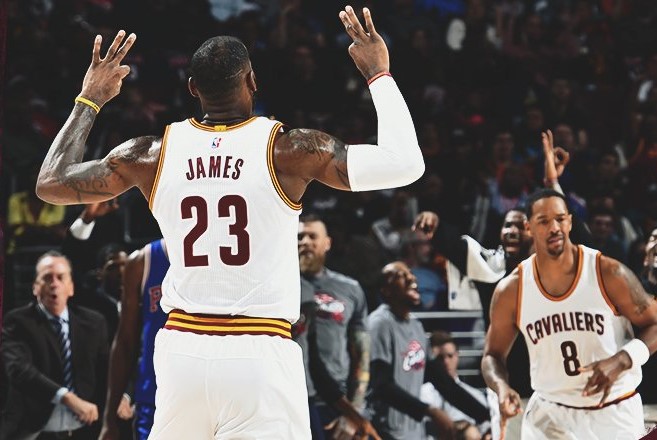 Cleveland— At the end of the second quarter, the Cavaliers looked like they were in for a tough night against the Orlando Magic.
The Magic led by two, 55-53, and the Cavs hardly had an offensive scoring attack. LeBron James, Kevin Love and Kyrie Irving combined for 43 points in the first half, but Cleveland only had three bench points, as opposed to the Magic's 18.
Orlando also continued to pound the Cavs on the boards, and were winning the rebounding battle 27-19.
But after halftime, it really became a tale of two halves, and the Cavs would go on to get the win, 122-102, ahead of their showdown with Boston tomorrow–a game that will have seeding implications heading into the playoffs.
J.R. Smith came out and hit four threes within the first five minutes of the third quarter. Kevin Love added two threes and Kyrie Irving had one, all in the opening minutes as well.
Kyle Korver also returned to the lineup and seemed to regain his shooter's touch. He hit two three-pointers in the third quarter and finished with 11 points for the night.
But even more important than the threes was the fact that the Cavs were getting back to their roots playing team basketball. They had 16 assists in the third quarter alone, and finished the night with 30 as a team.
Behind the onslaught, the Cavs turned a two-point halftime deficit into a 20-point third quarter lead.
And while the offense finally seemed to find a rhythm the Cavs so desperately needed throughout March, LeBron James credited their team defense in leading to their success on the offensive end.
"I like the way we played defensively. We got stops. When we get stops we get out and run, the ball is moving, everybody feels a great rhythm, and that's what we've grown accustomed to being the past three years," James said.
LeBron James response when asked if the Cavs needed the third quarter tonight to feel like they were gelling together. @NEOSportsInside pic.twitter.com/5FAzqpMgKA

— Ashley Bastock (@AshleyBastock42) April 5, 2017
The defense did improve as the game went on, as the Cavs held the Magic to 38 percent shooting, but help side defense in the first half was still an issue. It will be interesting to see if the Cavs' performance in the third quarter tonight gives them an edge heading into Boston tomorrow, especially on the defensive side of the ball.
But one things for sure– LeBron James isn't feeling any pressure.
"[Boston] is going to have a lot of energy, their crowd is going to be great. That's a very good team we're playing against tomorrow," James said.
"I've been to six straight Finals man," he continued. "I'm the last person to ask about a regular season game."
ICYMI: LeBron's thoughts on the Celtics: "I've been to six straight finals man. I'm the last person to ask about a regular season game" pic.twitter.com/WUaK2CzLDD

— Ashley Bastock (@AshleyBastock42) April 5, 2017