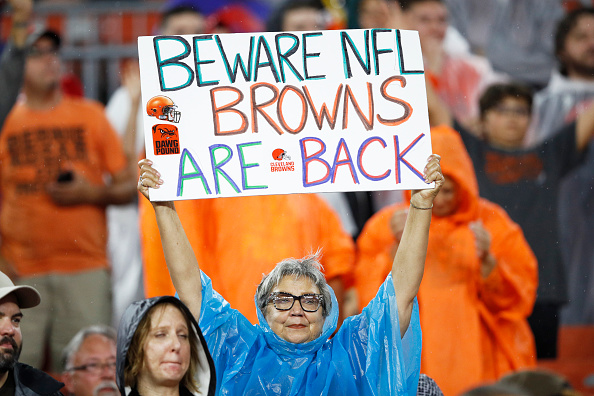 For reasons obvious, it's been a great week to be a Cleveland Browns fan. Just a week or so after telling everyone the team wasn't in a place to go all in, GM John Dorsey stunned the NFL with a handful of massive moves, none bigger than his trade for star wideout Odell Beckham Jr.
Amidst the hoopla and hype now surrounding the team, a friend of mine asked a simple, albeit level-setting question.
"What do the Browns do if this doesn't work?"
It's a fair ask, and one many fans of other teams have run to point out. Sure, on paper, suggesting a team featuring Beckham, Baker Mayfield, Jarvis Landry, Nick Chubb, Kareem Hunt, Myles Garrett, Olivier Vernon and Denzel Ward might not succeed sounds foolish.
That said, lost in the insanity from the past few days is the simple fact Super Bowls aren't won in March. The roster looks incredible now, but we just don't know how it looks on the field.
Essentially, for as talented as Cleveland is heading into the 2019 season, the team still has a lot to prove.
I'm not here to rain on your parade. I've been just as sucked into the Browns excitement as everyone else. Still, there are more than a few factors to consider before blocking off your calendar for potential Super Bowl parades.
Most importantly, we need to see what this team looks like on in the regular season before telling Patriots fans there's a new sheriff in town.
Yes, Cleveland's roster is easily the most talented it's ever been since 1999. At the same time, until we know how said talent plays together on Sundays, we can't really guarantee playoffs just yet.
This team, especially on the offensive side of the ball, has a handful of big personalities. Mayfield, Landry and Beckham are all known for the swagger they carry with them. They've worked out together, and the latter two have been friends since before college, but we've yet to see if these three can coexist, especially if things get frustrating.
Managing so many alphas will also be an important task for Freddie Kitchens as he enters his first year as head coach. While he's made his name as a player's coach, handling such a high amount of young and vocal talent will be no easy feat.
In general, while having such a youthful roster is a point of pride for Cleveland, it also highlights how inexperienced the bulk of these players are when it comes to such elevated expectations.
Much of the roster has zero playoff experience, and has yet to head into a season as a member of a team getting Super Bowl hype. These players are going to have to learn victories don't happen just because you're expected to be good.
Bottom line, it's easy to get excited about the possibility of playing into January, but we won't know for sure if these Browns can make this a reality until they hit the field.
With all of that said, there's reason to believe Cleveland can indeed live up to the hype.
For one, this team already began showing progress last year, finishing the second half of the season with a 5-3 record. This isn't a situation where the players have yet to learn what it takes to win.
Additionally, the team knows what it has in many of its priority players, so there aren't nearly as many question marks hovering over key positions as we're used to.
Not only are the bulk of Cleveland's marquee players locked up for a few years, Dorsey also hasn't completely destroyed the salary cap. As a result, there's no pressure to win it all this year before being forced to start shedding contracts.
Because of this, the young core can grow together without the burden of "Super Bowl or bust." The expectations are increased, sure, but the Browns aren't in a position where failing to live up to them will result in this whole thing being blown up next offseason.
So, yes, we do need to temper our optimism a bit, at least until we see how this team plays under the weight of its newfound hype. That said, the Browns have enough going for them that it's not difficult to think they can pull this off.
Cleveland has finally given fans reason to believe. Now they just need to prove said belief is legit.

NEO Sports Insiders Newsletter
Sign up to receive our NEOSI newsletter, and keep up to date with all the latest Cleveland sports news.