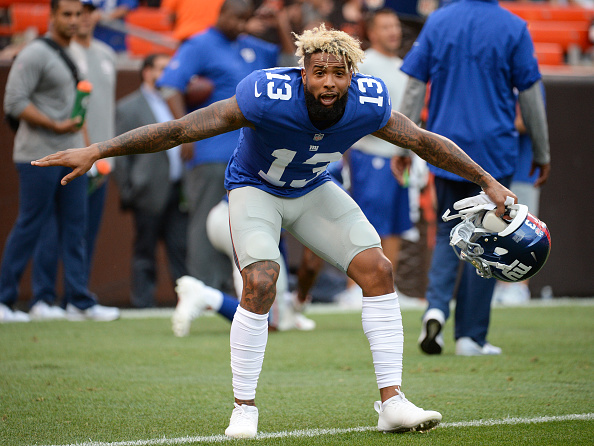 It happened. It actually happened.
After a full week of cryptic tweets, smoke with no fire and at least eight million collective frantic Twitter refreshes, the Cleveland Browns actually traded for star wideout Odell Beckham Jr.
I'd be lying if I told you I haven't re-read the story multiple times just to confirm it's real. This is what happens when the same rumor goes on for days before anything actually goes through.
As crazy as this trade is on its own, the real shock comes from what it means for Cleveland. By making such a blockbuster move, acquiring easily one of the best wideouts in the NFL, the Browns are sending the league a message.
This team is ready to contend.
Sure, we knew the Browns were starting to make strides in the right direction. They found their quarterback of the future in Baker Mayfield. They hired a coach the team seems fully behind in Freddie Kitchens. They went from an 0-16 wreck to a 7-8-1 team full of potential in a calendar year. Cleveland fans truly had reason to believe a playoff spot was achievable for the first time in decades.
With this move, holding out hope for a wild card berth might be setting expectations too low.
The Browns now feature an offense with former LSU teammates Beckham and Jarvis Landry, along with up-and-comers Nick Chubb and David Njoku. Kareem Hunt will eventually be added to the mix. Running the show will be the first franchise quarterback this team has had since the 80's.
Defensively, GM John Dorsey has been hard at work upgrading the front seven, adding Olivier Vernon and Sheldon Richardson to a line featuring Myles Garrett and Larry Ogunjobi.
I'll say it again. The Browns' window to contend is now wide open.
While each of the aforementioned additions helped pave the way for Cleveland's turnaround, this trade for Beckham is what pushes the team over the top.
In Beckham, the Browns are acquiring a wideout who's logged 44 career touchdown receptions. Who's only failed to top 1,000 yards receiving once in his five-year career. Who's already made three Pro Bowl appearances in that time.
They also acquired a wideout who will no longer catching passes from an aging Eli Manning, but instead from the player who set a rookie-record for passing touchdowns last year.
Make no mistake, this trade was Dorsey's signal to the team that it's time to start dreaming big.
There will be some who are hesitant to accept this move. Trust me, when pushing for this deal a few weeks ago, I was met with notable resistance. Some fans were worried about the cap implications, while others said, "if Cleveland wants a receiver so bad, just grab one in the draft."
If you still feel this way, I'm not sure what to tell you.
Dorsey has been working shrewdly so far in free agency, only adding Richardson and retaining wideout Breshad Perriman. Neither was signed to a cap-killing deal. As a result, Beckham's $19.5 million cap hit in 2019 doesn't push the Browns to the brink when it comes to spending. Even if this move doesn't pan out, an out-clause in his deal allows Cleveland to cut ties after the 2020 season if need be.
As for the argument that the Browns should've just used their first-round pick on a wideout, well, it appears they did just that by parting with the 17th overall pick in this trade. I'm willing to bet Beckham is far closer to a sure thing than any rookie the team could've selected instead.
Which brings me back to my main point. The Browns are no longer a team planning for the years ahead. They're are no longer focused on piling up draft picks, building with as many rookies as possible and saving up cap space for down the road. They're ready to start winning. Now.
Consider the trade for Beckham your latest proof of this.

NEO Sports Insiders Newsletter
Sign up to receive our NEOSI newsletter, and keep up to date with all the latest Cleveland sports news.